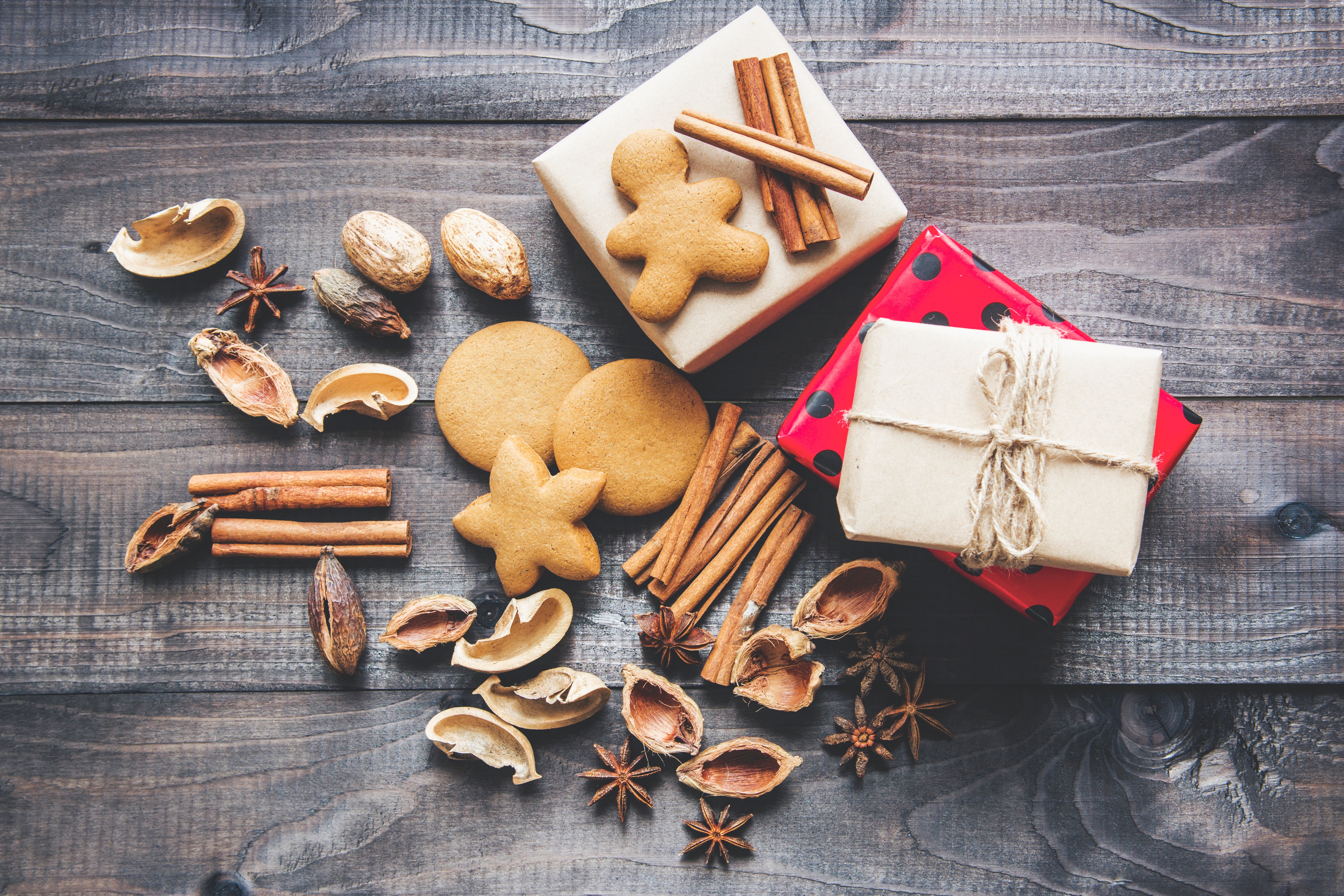 In December, offices and workspaces around the country get in on the holiday spirit with annual parties that include snacks, drinks and games. And, if you're particularly unlucky, a disastrous The Office-esque not-so-Secret Santa. Depending on your office culture, these events might be hosted off-site at a local bar or restaurant, but for others, the annual holiday party is a potluck-style affair—and the competition for the best seasonal snack is high.
Picking the right dish to bring to an office potluck can be a real challenge: you don't want to get too experimental, but you also don't want to be accused of phoning it in. Essentially, you're looking for a crowd-pleaser that will be easy to store in an office fridge and, if needed, can be reheated in an office microwave. While we've got nothing against a tasty seven-layer dip or a solid crudité platter, we also think that creative bites with personality make for a great holiday party upgrade. With that in mind, we asked a group of chefs and event coordinators for their top recommendations for bold office-party eats and here's what they had to say.
Shaved Brussels Sprouts with Hazelnuts and Pecorino

Laurence Edelman, Chef/Owner at 
Left Bank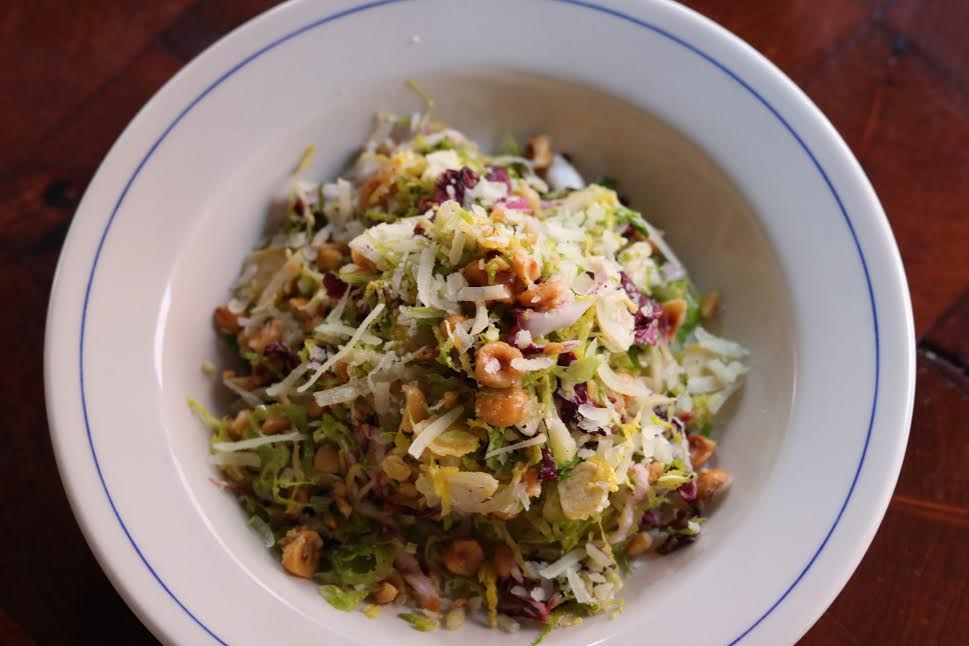 If ease is your potluck priority, a cold salad or side is definitely the way to go. It's pretty hard to get stressed over a dish that doesn't need to be reheated, but choosing a simple dish doesn't require compromising in the flavor department. Case in point? This shaved brussels sprout slaw, which is finished off with bright citrus dressing, rich hazelnuts, and a salty zip from Pecorino cheese. Chef Laurence Edelman of NYC's Left Bank praises shaved sprouts for their low-maintenance service style; once they're out on the potluck table, "they can sit for hours" without losing their crunch and zest. His freeform recipe allows you to adjust the amounts of each element to suit your palate (and that of your co-workers').
Ingredients:
Shaved brussels sprouts (can be shaved with a mandoline or a sharp knife)

Toasted hazelnuts (spread on a baking pan in a single layer, toast in the oven at 350° for 10-15 minutes)

Shaved Pecorino cheese

Lemon wedges (a quarter-lemon per serving)

Olive oil to taste
Directions:
Layer the shaved brussels sprouts, shaved Pecorino and toasted hazelnuts in a travel-safe salad server.

Right before service, toss all ingredients with olive oil, jjuice from the squeezed lemon wedges, salt, and pepper.

Serve at room temperature.
Spicy Hummus

Tarik Fallous, Chef/Owner at 
Au Za'atar
Hummus and veggies are a party-snack classic for good reason; dips are super-customizable, easy to transport and devoured by adventurous and finicky eaters, alike. But if you'd rather not grab a tub of Sabra from Fairway and call it a day, Chef Tarik Fallous of Au Za'atar in Alphabet City has a pepper-infused spicy hummus recipe in a vivid and holiday-apropos shade of red.
"It's an easy crowd-pleaser, and it's on the light side, [which is a nice change] when there's a ton of heavy eating happening during the holidays," says Chef Fallous.
Ingredients:
2 cups boiled garbanzo beans, drained

3 tbsps fresh lemon juice

⅓ cup tahini

1 tbsp olive oil

1 tsp minced garlic

½ tsp cumin

½ tsp kosher salt

½ tsp red pepper flakes

1 grilled capsicum pepper

⅛ tsp cayenne pepper
Directions:
Pulse the garbanzo beans, lemon juice, and garlic in a food processor until well-mixed.

Add grilled capsicum pepper, tahini, olive oil, cumin, and salt. Process until lighter in color and creamy.

Add red pepper flakes and cayenne pepper, process until well-mixed.

Cover and set hummus aside at room temperature to let the flavors meld.

Store in refrigerator until it's time to serve.
Winter Mushrooms

Justin Nuebeck, Executive Chef at 
Bedford & Co.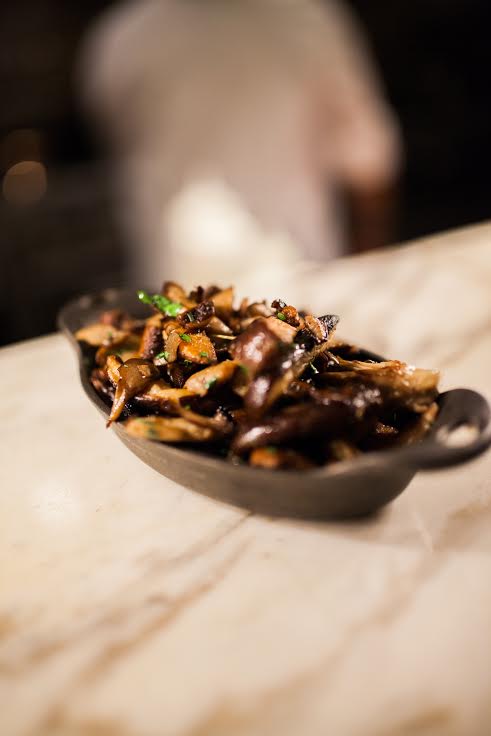 Winter can be a tough season for the vegetarians among us, as fresh local produce is tough to find and the rich, comforting dishes associated with cold weather tend to rely on meat and dairy. But satisfying veggie appetizers with seasonal flavors are definitely out there and since they can be enjoyed by meat-eaters and vegetarians alike, they're a great choice for an office potluck. Chef Justin Nuebeck of Bedford & Co., located in the Renwick Hotel, offers up a mushroom dish that's shareable and simple to store in an office kitchen. According to Chef Nuebeck, "[Winter Mushrooms are] super-easy to make, yet they seem impressive."
Ingredients:
1 lb mixed mushrooms (shiitake, maitake, trumpet), sliced

1 cup packed watercress

1 Honeycrisp apple, sliced

½ cup chestnuts

1 tsp canola oil

1 tbsp chopped garlic
Vinaigrette:
⅓ cup sherry vinegar

1 tsp Dijon mustard

1 cup olive oil

1 medium-sized shallot, diced and sautéed

1 tbsp chopped thyme

1 tbsp chopped parsley

Salt & pepper to taste
Directions:
Sauté mushrooms and garlic in oil until golden brown. Set aside.

Sauté chestnuts in butter until golden and fragrant. Set aside.

Combine vinaigrette ingredients in a sealed jar and shake vigorously to emulsify.

In a non-reactive bowl, combine mushrooms, watercress, apple and chestnuts, with vinaigrette to taste. Season with kosher salt and fresh-ground pepper.
Thanks to holiday happenings and Super Bowl viewing events, winter is the prime season for chicken wings. Spicy, comforting, and handheld, wings are also very easy to make ahead of time (arguably, they're better that way because it allows more time for the bold flavors to develop). For an island twist on the typical wing, Freda Gore of Caribbean Culinary Tours & Vacations uses jerk spices and a banana-ketchup dipping sauce. She also bakes her wings, rather than frying them, which makes them "easy to transport without making a mess, and a bit healthier." 
Ingredients:
Chicken Wings:

3 lbs chicken wings

6 tbsp olive oil

4 tbsp jerk seasoning, wet or dry (pre-mixed, available at supermarkets)

Banana Ketchup:

3 ripe, firm bananas

4 tbsp olive oil

1 small onion, finely chopped

4 cloves of garlic, finely chopped

1 cup crushed tomatoes

2 tbsp tomato paste

2 tbsp honey or brown sugar

1 tbsp ground ginger

Juice of 1 lime

3 tbsp dark rum

Salt & pepper to taste
Directions:
Combine wings, olive oil, and jerk seasoning. Mix to coat the wings and marinate for 1 hour.

Preheat the oven to 375° F.

Cover a baking sheet with foil and place the wings on it in a single layer.

Bake for 40 minutes or until crispy.

In a medium pot, warm the olive oil over medium heat.

Add onions and garlic and cook until soft (about 1 minute).

Add crushed tomatoes and tomato paste and cook, stirring until combined.

Chop the bananas roughly and add to the tomato mixture along with the honey, ginger, lime juice and rum. Stir lightly for 1-2 minutes.

Pour mixture into a food processor and pulse into a smooth paste.

Scoop into a bowl, cover and cool.

Serve banana ketchup alongside jerk chicken wings.
In recent years, cupcakes have replaced regular cake as the go-to dessert for office birthday celebrations, which makes total sense. These tiny treats are pre-portioned, easy to carry one-handed and undeniably cheerful. For all of these reasons, they're also a great pick for a holiday-potluck treat. The cupcake mavens at New York-based baking-kit service Red Velvet NYC recommends their Candy Cane Cupcake recipe for such occasions; they're rich chocolate cakes, topped with peppermint buttercream and decorated with crushed candy cane "sprinkles."
Ingredients:
Cupcakes:

8 tbsp butter

½ cup Dutch-processed cocoa powder

1 ⅔ cups cake flour

1 tsp baking powder

1 tsp baking soda

1 tsp salt

1 ¼ cups sugar

6 oz buttermilk

2 eggs

Frosting:

16 tbsp butter

3 cups confectioner's sugar

½ tsp peppermint extract
Directions:
Preheat the oven to 375° F. Bring butter to room temperature.

Over high heat, boil ½ cup of water in a small saucepan.
In a medium bowl, mix cocoa powder and boiling water until smooth. Cool in refrigerator.

Whisk together cake flour, baking powder, baking soda, and salt in another medium bowl. Set aside.

In a large bowl, with an electric mixer, cream the softened butter (for cupcakes) and sugar until light and fluffy. Add eggs, one at a time and beat until smooth. Scrape down the sides of the bowl.

Alternate adding the flour mixture and the buttermilk, beating until just combined. Slowly pour in the cooled cocoa mixture and stir until smooth.

Divide the batter evenly among oven-safe paper baking cups, filling each two-thirds full. Place on a baking sheet and bake 15-19 minutes, until a toothpick inserted into the center comes out clean.

Remove from oven and allow to cool for 30 minutes on a wire rack.

Sift confectioner's sugar over a bowl and set aside.

In a medium bowl, beat butter (for frosting) until pale and creamy, 2-3 minutes. Gradually add confectioner's sugar and peppermint extract, beating on medium speed until fully incorporated.

Frost cooled cupcakes using a piping bag. Sprinkle with crushed candy canes.