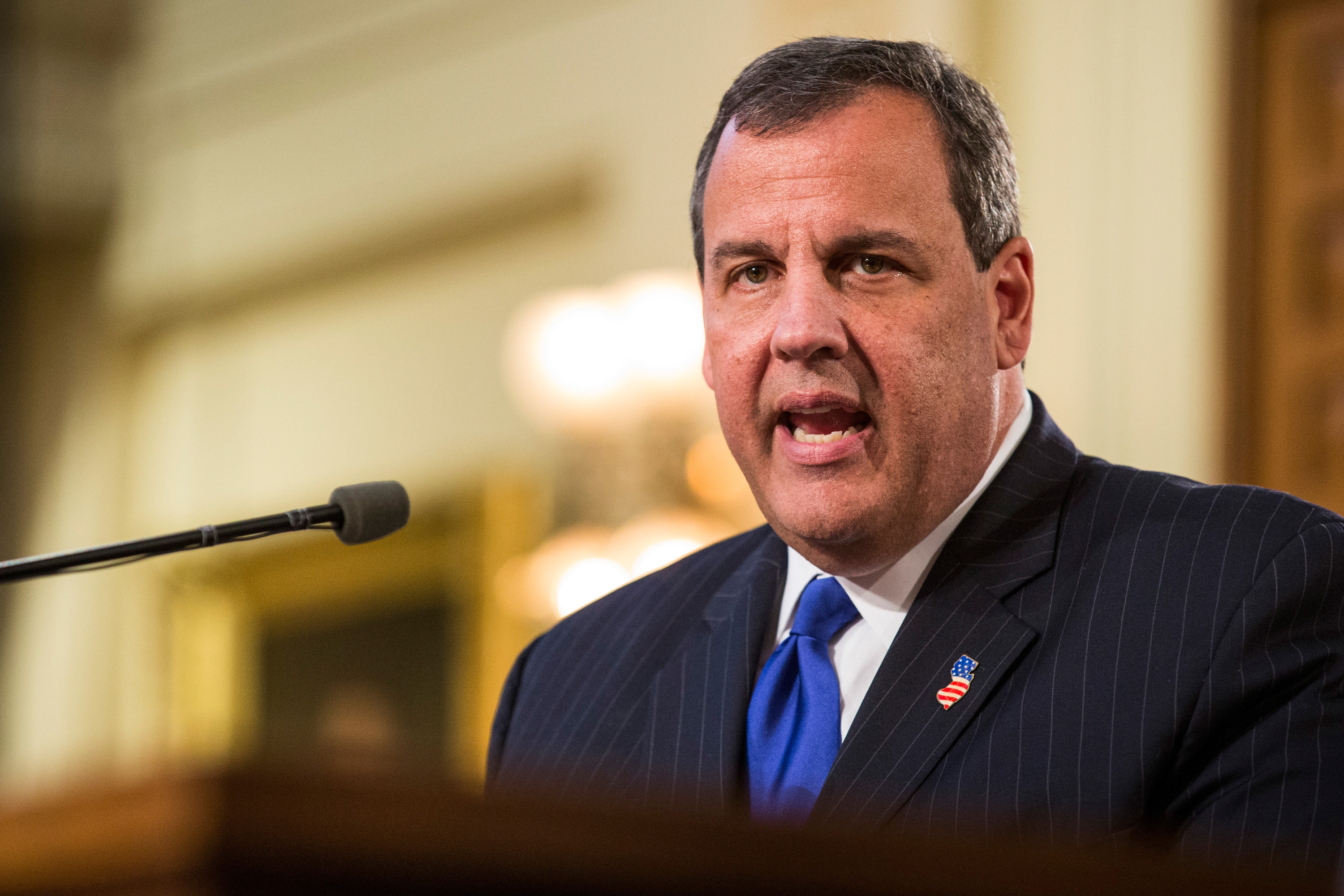 Gov. Chris Christie on Monday nominated Assembly Minority Leader Jon Bramnick's daughter-in-law and Sen. Colin Bell's wife for judgeships in one of his last major moves before leaving office.
Christie put forward Anne Marie Bramnick, who is married to the Republican assemblyman's son, for the state Superior Court. She currently works at the lawmaker's law firm – called Bramnick, Rodriguez, Grabas, Arnold & Mangan – and spent seven years as an assistant prosecutor in Union County, according to the firm's website. She's also the daughter of GOP fundraiser and 2008 U.S. Senate candidate Anne Estabrook.
The governor also nominated Sarah Beth Johnson, who is married to Bell (D-Atlantic), for the Superior Court. Johnson has been a partner at the law firm Fox Rothschild since 2006, according to a resume provided by the governor's office. Bell, who was appointed to the state Senate in September after Sen. Jim Whelan died, lost his seat in the Nov. 7 election to Assemblyman Chris Brown (R-Atlantic).
The nominations must be approved by the state Senate. Atlantic County Democrats told The Press of Atlantic City that Bell won't vote on his wife's nomination.
Christie proposed Joan Bedrin Murray, wife of Christie spokesman Brian Murray, for the state tax court. She is currently an administrative law judge in Newark and a former commissioner of the Morris County Board of Taxation, according to her resume.
Christie also decided to re-nominate Michael Lavery — who served as the New Jersey State Republican Committee Chairman this year — for another term at the Delaware River Joint Toll Bridge Commission. Five months ago, the governor said he had no idea who Lavery was when Republican gubernatorial nominee Kim Guadagno picked him to lead the state GOP.
Here is a list of the nominations announced Monday by the governor's office:
JUDICIAL NOMINATIONS
Nominate for appointment Anne Marie Bramnick (Westfield, Union)
Nominate for appointment Ellen Torregrossa O'Connor (Middletown, Monmouth)
Nominate for appointment Lisa A. Puglisi (Burlington, Burlington)
Nominate for appointment Michael J. Rogers (Bloomsbury, Hunterdon)
Nominate for appointment Thomas J. Buck (Milltown, Middlesex)
Nominate for appointment Thomas K. Isenhour (Middletown, Monmouth)
Nominate for appointment Kurt Kramer (Cherry Hill, Camden)
Nominate for appointment Edward S. Cooper (Scotch Plains, Union)
Nominate for appointment Lara K. DiFabrizio (Scotch Plains, Union)
Nominate for appointment George H. Gangloff, Jr. (West Deptford, Gloucester)
Nominate for appointment Joseph M. Chiarello (Millville, Cumberland)
Nominate for appointment Michael E. Joyce (Pennsauken, Camden)
Nominate for appointment Sarah Beth Johnson (Margate City, Atlantic)
Nominate for appointment Marc R. Brown (Cranford, Union)
Nominate for appointment James J. Ferrelli (Mount Laurel, Burlington)
Nominate for appointment Thomas D. McCloskey (Flemington, Hunterdon)
Nominate for appointment Gary K. Wolinetz (Plainsboro, Middlesex)
Nominate for appointment Shereé Velita Pitchford (Dunellen, Middlesex)
Nominate for appointment Patrick Bradshaw (New Brunswick, Middlesex)
 JUDGE OF THE TAX COURT
Nominate for appointment Joan Bedrin Murray (Denville, Morris)
 CAPE MAY COUNTY BOARD OF TAXATION
Public Members
Nominate for reappointment LuAnn Wowkanech (Ocean City, Cape May)
Nominate for reappointment John Snyder (Marmora, Cape May)
 CUMBERLAND COUNTY BOARD OF TAXATION
Public Member
Nominate for appointment Carlos Mercado, Jr. (Vineland, Cumberland)
 STATE BOARD OF EDUCATION
Public Members
Nominate for appointment Elaine Bobgrove (Haddon Township, Camden)
Nominate for appointment Fatimah Burnam-Watkins (Linden, Union)
 PINELANDS COMMISSION
Public Member
Nominate for appointment Edward J. McGlinchey (Longport, Atlantic)
 DELAWARE RIVER JOINT TOLL BRIDGE COMMISSION
Public Member
Nominate for reappointment The Honorable Michael B. Lavery (Hackettstown, Warren)
 SOUTH JERSEY TRANSPORTATION AUTHORITY
Resident/Outside of 30-Mile Radius
Nominate for appointment Bryan J. Bush (Sewell, Gloucester)
 STATE ATHLETIC CONTROL BOARD
Nominate for appointment Doug Long (Upper Deerfield, Cumberland)