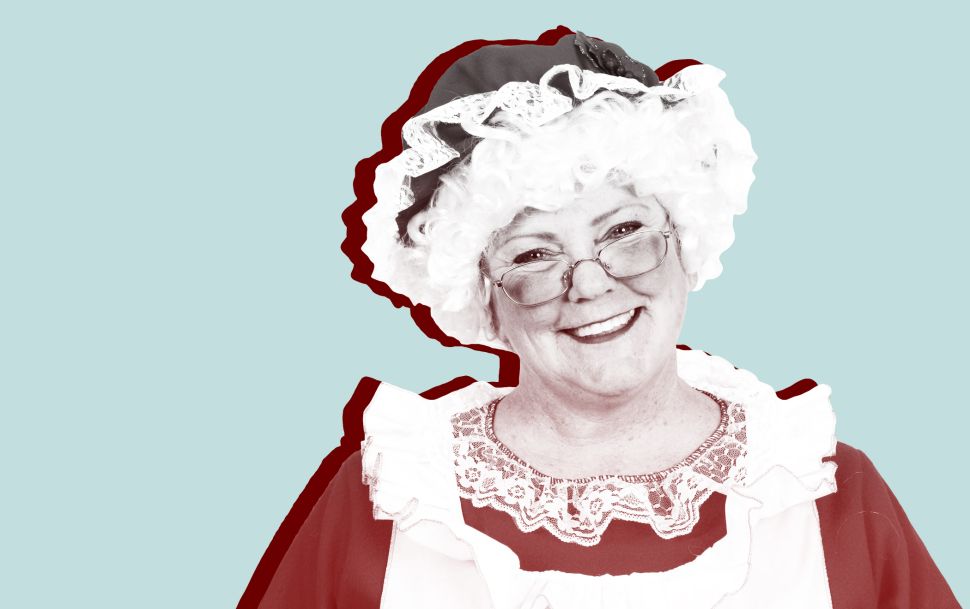 "Who are you?" I asked the wig in my Manhattan bedroom.
As I applied makeup for my first gig as a solo Mrs. Claus, I interrogated the pompadour on its mannequin head, hoping the hairdo would send me signals from Santa's beloved but generic sidekick.
Two months ago, Mrs. Claus was the furthest thing from my cynical 43-year-old mind. But after daily news reports about natural disasters, mass shootings and men abusing power, I felt so helpless I hoped Clark Kent would rush into Starbucks and emerge in a cape. Someone had to fight the bad guys before the end of 2017.
As Christmas approached, I clung to positive tales from actor friends who play Santa Claus each year. One buddy, a Coney Island magician, described a Christmas party where he answered a deaf child in sign language. The guests almost believed he was magic. Another performer recalled visits to children's hospitals, where sick little ones waved to him through windows in isolation rooms.
Their stories triggered memories of me sitting on St. Nick's lap when I was four years old. I know there are bad Santas, but my experience was all positive.
Seeing that vision of my own small face in my mind made me wish I could have that effect on today's kids. They certainly need a superhero with the world we're living in. My baby niece and two nephews deserved to feel like they were surrounded by kind, nurturing adults in their youth. When I imagined becoming a Kringle, my spine tingled.
"You're the last person I would think of to play Mrs. Claus," a girlfriend told me in the gym locker room, where so many of my yearning thoughts turned into personal projects. The challenge excited me.  
I practiced my persona by showing up in costume at my family's Thanksgiving in Indiana. My nephews and niece didn't squeal with joy, but they didn't run in fear either. They just sort of stared. My cousin, a professional photographer, set up a backdrop in the basement and snapped enough portraits to help me join a Mrs. Claus Facebook group. Members digitally embraced me with comments like, "Welcome, sister" and "doesn't she look fun?"
I scanned through their profile pics, enjoying the many different manifestations of Mrs. Claus, the holiday helpmate who doesn't have an established first name. There were hair bows, bobbed wigs and red and green jumper dresses covering white peasant blouses. Some had even attended the Charles W. Howard Santa School, the Harvard of Kringle institutions in Midland, Michigan, or the Professional Santa Claus School in Denver. I was definitely one of the younger, less-experienced members.
At 5 feet 10 inches, I am a former musical theater dancer with big expressions and a Rockette's posture. I couldn't pull off a grandmotherly version of Mrs. Claus.
I would have to be me as her, I thought when I looked at the costume pieces I'd laid out on my bed. My first gig had arrived, a volunteer job in my neighborhood. Wearing a long-thermal undershirt, red tights and a wig cap, I analyzed my accessories.
My initial Amazon purchase was the Gibson Girl wig for $40. With a limited selection of ready-to-wear costumes ranging from dowdy to tawdry, I decided my Mrs. Claus would be platinum blonde, like an attractive woman starting to go grey. Scarlet gloves on my dresser promised a pop of color while keeping my hands warm on a cold night.
Never a wife myself, my third finger would hold the blinged-out ring I purchased in Chinatown for $14. On my bed, a high-necked white blouse and crimson vest awaited me. My long black and white striped skirt would gather up like a bustle, giving me the silhouette of a sporty Edwardian time traveler.
With no children of my own, I welcomed the chance to explore this motherly character, first mentioned vaguely in stories of the mid-1800s. At the New York Public Library, I found a 1948 ad portraying her as a nag in a kerchief: "Be sure that bag's full of Fels-Naptha Soap," she scolded Santa. I preferred an illustration of the highly educated Miss Alice Purinton, who was featured in The New York Times in 1915. The graceful young woman oversaw toy designs for the U.S. Patent Office and was thought to be a real Mrs. Claus.
I thought about a phone call I had with Darla Stacy Bicknell, the Dallas Mrs. Claus, whose website shows her in a variety of looks, from a traditional apron to a stunning one-of-a-kind red gown inspired by the movie White Christmas. "You have to have a special quality that is welcoming to everyone," she said of the character.
I remembered these words while dressing for my neighborhood party. I added my red Navy pea coat and hooked a white lace scarf across my shoulders. In my hand, I carried an antique briefcase filled with Christmas library books, including "A Visit From Saint Nicholas" by Clement Clarke Moore. My Mrs. Claus would be a book nerd, just like me.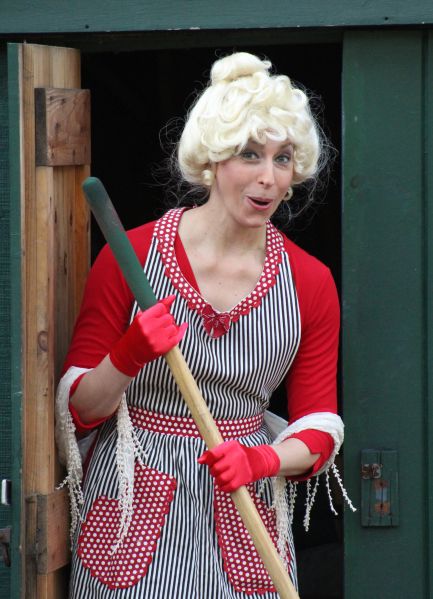 I floated out of my apartment onto the front stoop where two neighbor children played on the steps. "You're not real!" one of them taunted. "Yeah," said the other.
Boughs-of-holly I wasn't real. I wanted to stand with my arms akimbo, telling them I had just joined the International Brotherhood of Real Bearded Santas, which recently open membership to Mrs. Clauses like myself.
Instead, I continued to the end of the block, enjoying stares from astonished drivers. I felt like Superman on the first night of his career.
It was getting dark. I quickened my pace.
At the park gate, I remembered advice from Ed Taylor, founder of the Santa Claus Conservatory, an online educational center that coaches more than 2,000 members through informative webinars. A full-time Kringle who has appeared in Chrysler and Coca-Cola ads, he told me to always have a grand entrance: arms up.
"I just got in from the North Pole," I yelled too loudly to a few people drinking hot cocoa. "What a flight, but now I'm here. Merry Christmas!"
My voice screeched, but most of them cheered politely. An organizer told me to "go be Mrs. Claus," even though, as this was my first real gig, I wasn't entirely sure how to go about it. But once someone plugged in the Christmas tree next to where I was supposed to stand I felt more at home. A crowd of 60 had gathered. They sang "Joy to the World." The air was ablaze with color and song. I twirled and felt high as a sleigh ride.
Mrs. Claus had entered my soul.
Two friends gasped when they saw me. "You're really her!" one of them said.
An aspiring politician asked my name as we posed for pictures. "Mrs.," I said, sweet as eggnog. When he persisted, I spelled it: "M-r-s period space. I live at the North Pole." He ate it up. Women smiled.
Wanting to reach the kids, I sat on a bench, remembering one thing I'd heard resoundingly from other Mrs. Clauses through my research: Many children are scared of Santa, but they'll go to his wife, who appears more human.
Sure enough, a boy sat beside me and told me about his favorite Christmas gift: a Nerf gun. I saw how his feet didn't touch the ground and how his mother memorized every swing of his little legs. Next year, he might not believe in me. This year he did. I showed him my ring from Santa. Then two girls told me they would see my husband that week. "Tell him it's his turn to clean the reindeer barn," I said. Their mom laughed. I asked one boy to open my suitcase. He pulled out "The Polar Express" and read it to me.
"You're a good reader," I told him. He grinned.
Two hours later at home, I tried to pull myself out of the sky and into my pajamas. I knew I wouldn't sleep. I had found a calling—as Santa's wife.
Ann Votaw is a freelance writer in New York who has a M.A. in Health Education. She teaches yoga and physical fitness to adults 60 and better.