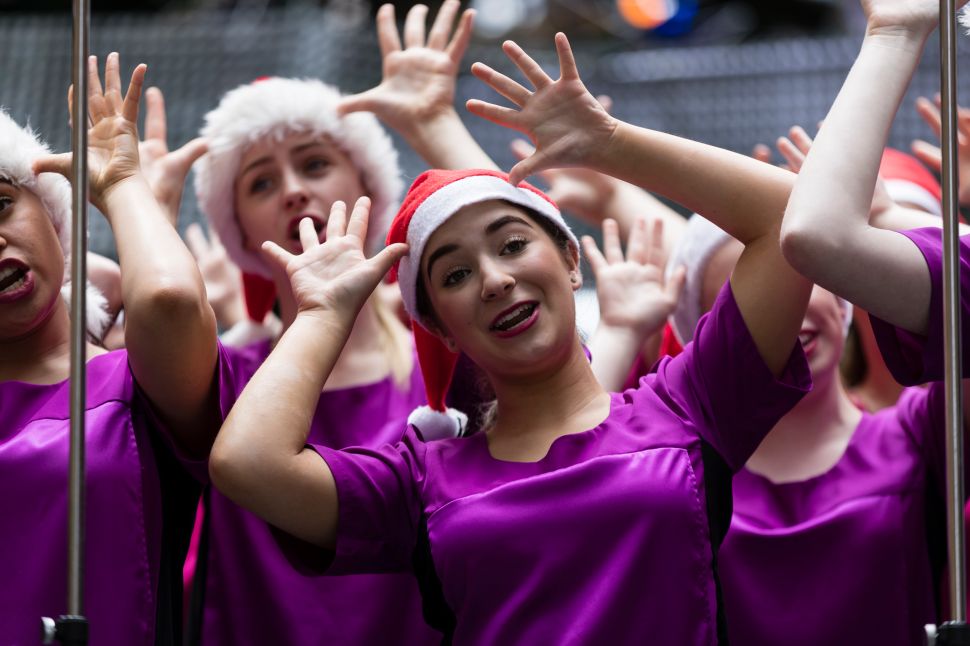 Looks like Mariah Carey and Pentatonix have some Christmas music competition.
British songwriters Harriet Green and Steve Anderson teamed up with Dr. Joe Bennett, a musicologist from Berklee College of Music in Boston, on a scientific project to create the happiest Christmas song ever. The resulting tune, "Love's Not Just for Christmas," premiered on YouTube yesterday and is now available on Spotify.
The song was commissioned by Intu, a group of British shopping centers.
"They wanted to make the shoppers feel a little happier," Bennett told Observer.
As a first step toward a new Christmas classic, Bennett analyzed 78 holiday songs that were streamed on Spotify in the United Kingdom during the week of December 25, 2016. He focused on particular aspects of the songs, such as lyric themes, tempo, musical key and sleigh bell usage.
Bennett found eight broad themes among the holiday earworms:
Home (family, gifts under the tree)
Love (finding that special someone at Christmas)
Lost love (feeling lonely at Christmas)
Parties (dancing, mistletoe)
Santa (and his reindeer)
Snow (snowmen, sleighs, cold winters)
Religion (Nativity story)
Peace on Earth
"The lyric themes addressed really haven't changed since the 1940s," Bennett said.
Indeed, songs from the 1940s and 1950s, like Bing Crosby's "White Christmas" and Eartha Kitt's "Santa Baby," took up many of the Spotify slots.
Almost half of the songs featured sleigh bells, and 95 percent of them were in major keys. The average tempo was 115 beats per minute.
Green and Anderson took this information and went to work, creating the "ultimate" Christmas song featuring all these characteristics. "Love's Not Just for Christmas" was the result.
The song was recorded by the London Community Gospel Choir, which has worked with Madonna and George Michael. The upbeat, sleigh bell-laden track features the word "Christmas" 21 times, along with references to stockings, tinsel, mistletoe, wishes and wrapping presents.
"It's a really great product, weaving together themes in the research," Bennett said. "That makes it more danceable and gets heart rates pumping."
While Christmas music is often called "unbearable," Bennett said it still had value.
"I'm a musical inclusivist, and it's about doing it as well as it can be done," he said.
"Love's Not Just for Christmas" will be played at Intu malls throughout Britain the holiday season. Listen here and see if it will join "All I Want for Christmas Is You" on your yuletide playlist.