The coastal view.
Courtesy Cliff House
The cottage costs $9,500 for a four night stay, with a four night minimum in the winter.
Courtesy Cliff House
Christmas at Cliff House.
Courtesy Cliff House
"We work closely with the founders of Naturopathica and Red Flower products, which are known as passionate leaders of holistic products," said Director of Spa and Wellness, Dawn Page.
Courtesy Cliff House
There are two fireplaces in the lobby, along with fireplaces in the suites.
Courtesy Cliff House
The beds feature local linens, courtesy of Maine Cuddledown.
Courtesy Cliff House
The Tiller overlooks the ocean and serves seasonal food with a "farmer to fisherman" tagline.
Courtesy Cliff House
Of course, you could always just go in the summer.
Courtesy Cliff House
If all this talk about Meghan Markle starring in Hallmark Channel original movies has made you wish for one of your own, there's still time to visit the idyllic cliffside town of your binge-watching dreams. Cliff House Maine is just a short flight from New York, but it feels like its own festive world, complete with glittering Christmas lights and just the right amount of seasonal décor. It's so charming you'll consider starting a new life in Maine, despite the low temperatures. 
The resort has been perched atop Bald Head Cliff since 1872, with each room offering views so expansive you might consider waking up at the crack of dawn, just to Instagram the sunrise. This fall, the hotel opened 132 new guest rooms, including 40 luxury suites and one charming cottage, which is ideal for holiday parties.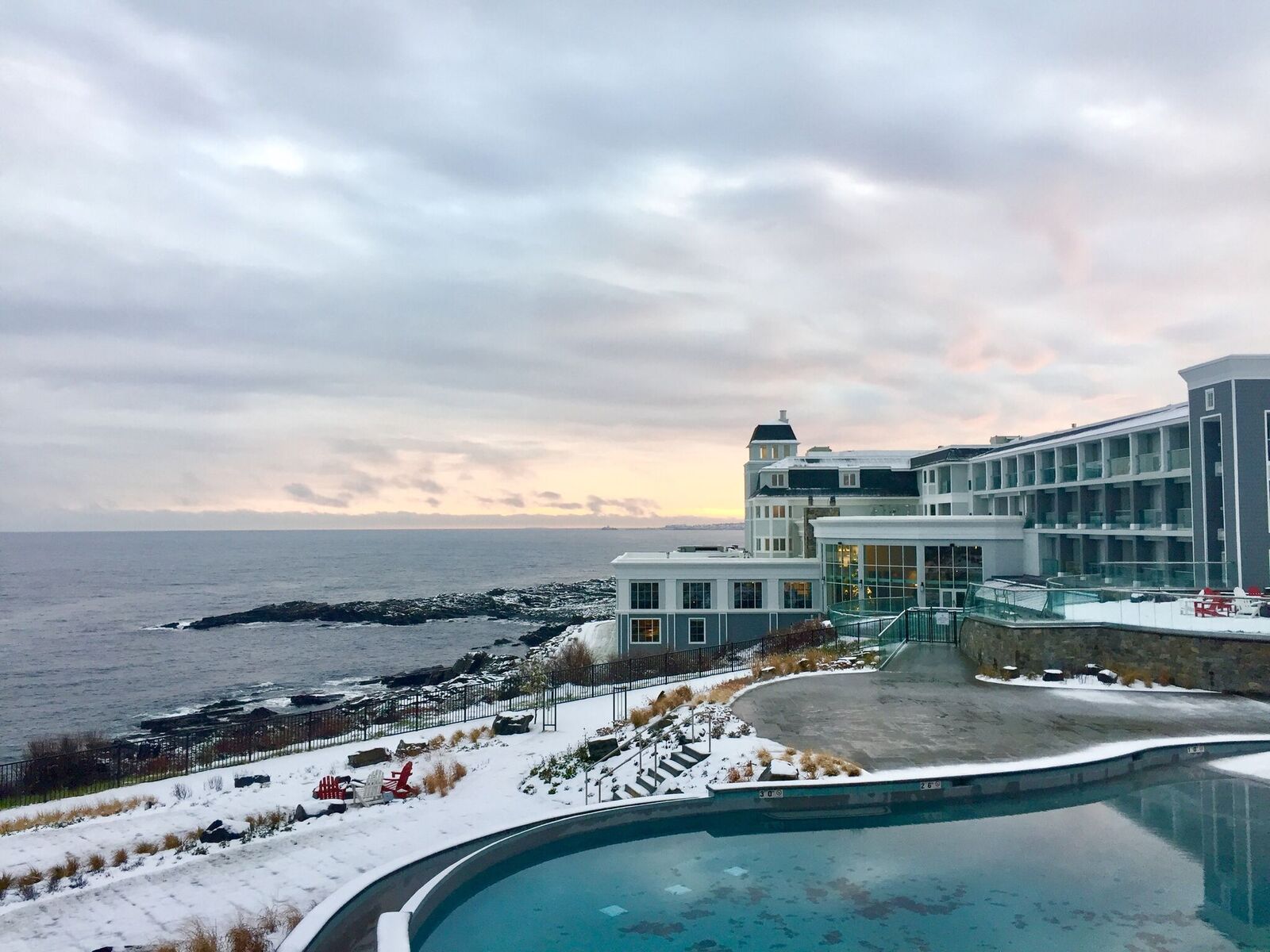 The resort's staple (aside from the view), is a 9,000-square-foot spa. Instead of a dimly lit relaxation room where people hide out after having their treatments done, the open room overlooks the ocean, equipped with sets of binoculars. And the products, for the most part, are local, courtesy of natural beauty brand Red Flower.
"When carefully selecting products for The Spa at Cliff House, we look for selections that harness the 'wild and free' mantra of our spa," Director of Spa and Wellness Dawn Page told Observer. "The Seaside Sanctuary, located atop of the cliff of our namesake, with surrounding floor to ceiling windows, provides a special opportunity for guests to experience the convergence of the elements in the most peaceful environment. With natural sunlight to light and warm the room, each guest can comfortably connect with nature and discover one's most authentic self."
Despite the Instagram-worthy views, the resort is considering offering its own version of a digital detox and since cell reception is pretty spotty on the cliff, it's basically already in place.
Of course, if you truly want to turn a visit to Cliff House into a wellness retreat, there's a fitness center, nearby hiking (or strolling through the Marginal Way Preservation, if that's more your speed) and an outdoor hot tub. For the truly adventurous, there's sea kayaking, fishing, paddle boarding, ice skating, snowshoeing and surfing, which continues year-round (just bring a head-to-toe wetsuit).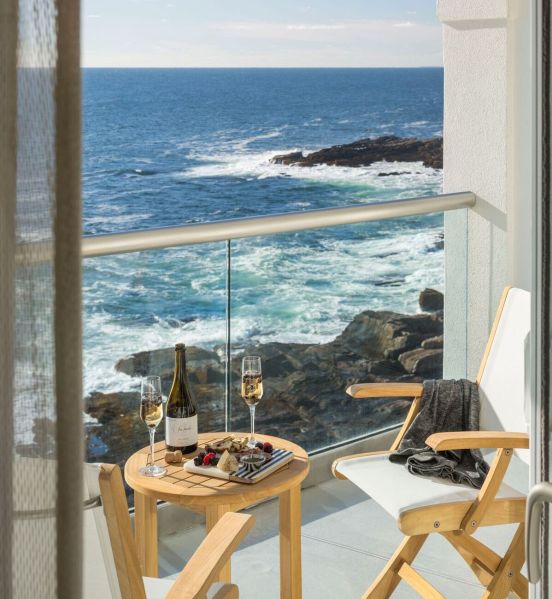 The hotel's love for all things local continues with the menu at The Tiller, which is the onsite "farmer to fisherman" restaurant. They serve regional beers and fresh seafood, some of which is caught right outside. "As someone who goes foraging and fishing personally, sourcing seasonal ingredients from local farms and fisherman is very important to my values and the culinary culture at Cliff House," Executive Chef Rick Shell said. They recently opened a Bard Coffee, a favorite local café, hailing from Portland, Maine.
While all of this sounds ideal for a summer vacation, Cliff House is now open for their second winter and they've been busy so far, capitalizing on storm watching and cozy wintertime activities, including local shows from the Ogunquit Playhouse (which take place during the winter in Portsmouth, New Hampshire, just a short car ride away). It's all so idyllic you'll want to spend every holiday season bundled up by their fireplaces, instead of commuting through the snow and slush in the city.