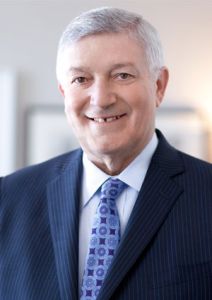 Incoming Assembly Speaker Craig Coughlin has picked Anthony "Skip" Cimino to be the next executive director of the Assembly Majority Office, choosing a former Democratic assemblyman and lobbyist as his top aide.
Cimino represented the 14th legislative district in the Assembly from 1988 to 1992 and later served as commissioner of personnel in former Gov. Jim Florio's administration. He was most recently a partner at the lobbying firm Kaufman Zita Group.
"I am proud that someone with Skip's experience in the public and private sectors will lead the Assembly Majority Office during this critical time," Coughlin (D-Middlesex) said in a statement. "Skip's depth of knowledge will be a tremendous asset for our caucus and for our state."
Prior to joining Kaufman Zita Group, Cimino was the president and chief executive of Robert Wood Johnson University Hospital in Hamilton for five years. He's also a former Mercer County freeholder and member of the Hamilton Township Board of Education.
As an assemblyman, Cimino introduced the nation's first bicycle helmet law for children 14 years old and younger, a policy that is now used in 21 states, according to Kaufman Zita Group.
"I am honored to have the opportunity to serve our state again and am eager to get to work on the many issues before us," Cimino said in a statement.  "I thank Speaker-Designate Coughlin for placing his trust in me and look forward to working with him, his caucus and the men and women of the Assembly Majority Office to move New Jersey forward."
Cimino will be Coughlin's top Assembly staffer, as the executive director is in charge of advancing important policy initiatives and dealing with the Senate and governor's office. Coughlin will take the speaker's gavel from current Assembly Speaker Vincent Prieto (D-Hudson) on Jan. 9 when a new Legislature is sworn in.
Cimino earned his undergraduate degree at Providence College and graduated from the New Jersey Military Academy as a commissioned second lieutenant.