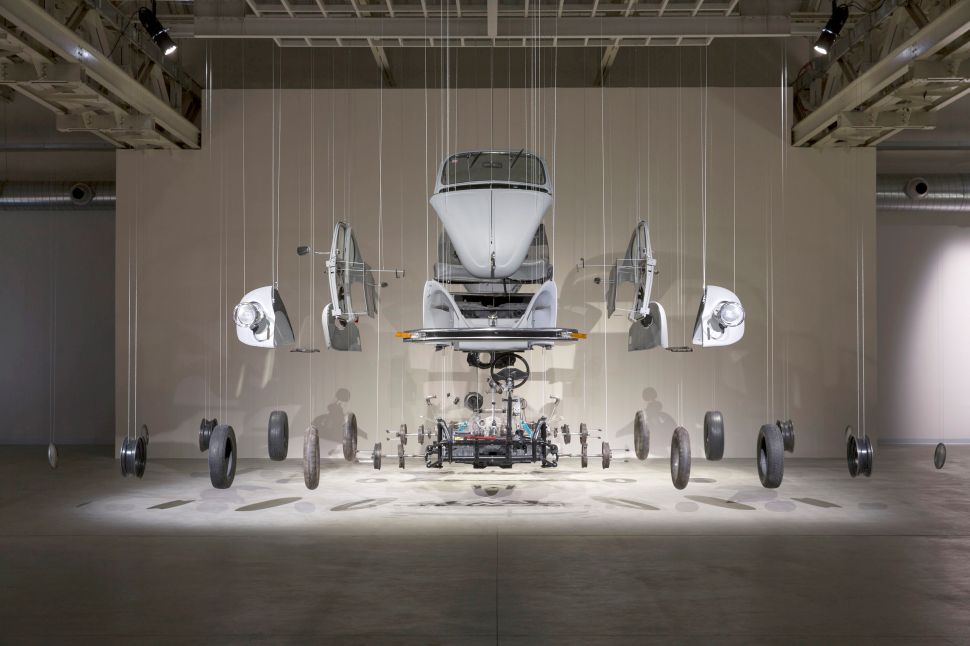 At the Guggenheim Museum in Bilbao, Spain, a new exhibition gathers together the work of more than 100 artists who attempt to capture something seemingly easy yet tantalizingly difficult to define: space. "Art and Space," on view through April 15, 2018, spans 60 years of abstraction in art to showcase how we visualize and mythologize space in all its forms. More than just musing on the great extraterrestrial unknown, the exhibition examines spatial perception as an abstract concept, both physical and philosophical, that we navigate in our everyday lives
"This show isn't about the way science or philosophy can be illustrated by art," curator Manuel Cirauqui told Observer. Instead, it's meant to reveal how the way we think can shape the way we see. The exhibition takes as its point of departure an unlikely duo: Spanish modernist artist Eduardo Chillida renowned for his monumental geometric sculpture works, and midcentury German philosopherEduardo Chillida best known for his ontological theory of Dasein, or what it means to "be" in an abstract sense. Together, they created an artist's book, rendered in Heidegger's handwriting on 12 textbook-sized cement slabs, which greet visitors when they enter the galleries. It's from this book, published in 1969, that the exhibition takes its name.
According to Cirauqui, that was the year humanity became obsessed with understanding space. "1969 marked the first time that man landed on the moon," he said, noting other major contemporaneous cultural touchstones revealing a collective preoccupation with space, such as the premier of the iconic film 2001: A Space Odyssey (1969), Italian magical realist novelist Italo Calvino's Cosmicomics (1964) and French writer George Perec's book of essays Species of Spaces (1974). "It was then that we entered a time where the questioning of space essentially became a contemporary condition."
"Art and Space" charts the spread and mutation of this condition through the work of well known pioneers of abstraction such as Lucio Fontano and Eva Hesse, as well as lesser known artists of the same era like Anna Maria Maiolino, Mary Corse and Waltercio Caldas. "I felt that it was incredibly important to include artists that aren't always included in the conversation around midcentury abstraction," Cirauqui said, noting that the preoccupation with space was a global phenomenon.
The exhibition continues from the 20th century into the present digital age, when air space has become paramount, transmitting airwaves and data around us at all time. The importance of this seemingly empty space filled with all of our most valuable information and communications is expertly explored within the exhibition in the work of Agnieszka Kurant whose meteorites, which levitate above their respective pedestals thanks to magnets, showcase the air between the two surfaces as much as the material objects themselves.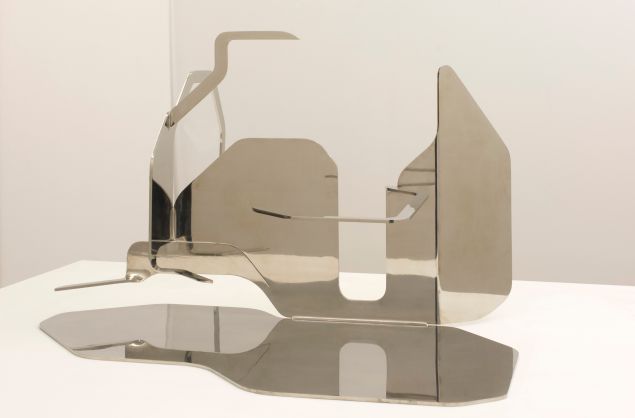 The ability to make space out thin air is referenced again, albeit differently in Cristina Iglesias's Untitled (Alabaster Room), a wall-mounted iron and alabaster structure that hangs over a corner of gallery like a rough-hewn awning, offering small refuge—a safe space, if you will. Cirauqui noted that within Art and Space, Heidegger writes that "we must learn to recognize that things themselves are places and do not merely belong to a place," which is what inspired him to include Iglesias's work alongside Richard Long's floor bound Bilbao Circle made of slate fragments and Lee Ufan's minimalist canvases showcasing grid-like forms. By defining or otherwise mapping the space around them, these works become "like propositions for places," said Cirauqui.
Indeed, the importance of place when it comes to the issue of space can't be undermined when it comes to this exhibition. "Art and Space" is part of the Guggenheim's year-long programming commemorating 20 years in its billowing Frank Gehry-designed Bilbao building. The now-iconic structure has long represented the way architecture can play with space and define a place.
But by mounting an exhibition inspired by Chillida and Heidegger's collaboration, the museum is also riffing on the specifics of its place. Just before World War II, Spain was in the midst of a civil war between a left-leaning party and a nationalistic front. The northern Basque region, in which Bilbao is situated, was under the rule of dictator General Francisco Franco who had Nazi assistance from Germany. It was this alliance that resulted in the devastating bombing of Guernica—just a 30-minute drive from Bilbao—in 1937 to quell insurgence.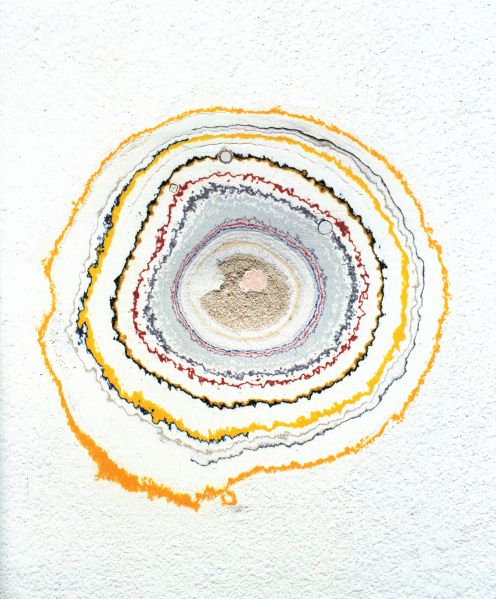 Heidegger had joined the Nazi party in the 1930s, which makes his collaboration with Basque-born Chillida all the more surprising. Their combined return to the region at a time when Spain is once again grappling with civil discord while the rest of the West faces a renewed uptick in nationalism infuses "Art and Space" with a subtle political undertone. Cirauqui said that he didn't intend the show to be partisan one way or another, especially since "Heidegger's philosophies deal with metaphysics—they ultimately question the universal aspects rather than the specifics of human experience."
But that doesn't mean Cirauqui was willing to turn a blind eye to the past to realize this exhibition in the present. "I wanted to make sure the show is full of female, Jewish and non-Western artists from the last six decades." Those who have been left out—or forcefully excluded—in the dominant cultural narratives of modernism that saturate society today. In that way "Art and Space" is as much about making space in history as it is exploring its potential in the future.
Margaret Carrigan is a freelance writer and editor. She planned to go to law school but she did terribly on the LSAT, so she got a master's in art history instead. She lives in Brooklyn with her cat, who is named after Alyssa Milano's character from the early aughts CW smash hit series Charmed.