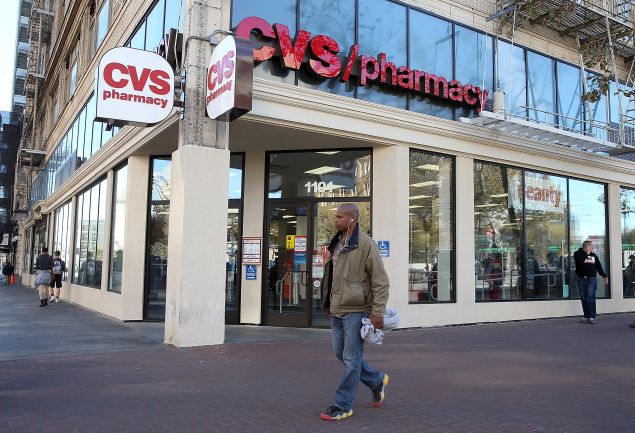 Will your insurance bills be as long as CVS receipts now?
Last night the pharmacy chain confirmed its long-rumored acquisition of Aetna, America's third largest health insurer. The $69 billion cash and stock deal marries Aetna's data-based approach to medicine with CVS' retail expertise and physical store presence.
"We will create a health care platform built around individuals," CVS president and CEO Larry Merlo said in a statement. "We look forward to working with the talented people at Aetna to position the combined company as America's front door to quality health care."
"Our combined company will be more competitive in the marketplace and accelerate progress," Aetna chairman and CEO Mark Bertolini added.
Merlo will be in charge of the new venture, while Bertolini will serve on the CVS board along with two other Aetna directors.
Lawton Robert Burns, professor of health care management at the University of Pennsylvania's Wharton School of Business, told Observer that the merger showed the increasing diversification in health care. But he questioned the rationale of this particular partnership.
"What are these companies going to do together that's adding quality and efficiency that they couldn't do separately?" Burns asked.
According to the press release, CVS will transform some of its 9,700 U.S. pharmacies into community health centers which offer services like nutrition counseling and vision and hearing tests. The centers will be staffed by pharmacists and nurse practitioners who can answer questions about both general health concerns and chronic conditions.
CVS already runs about 1,100 in-store clinics, but until now they didn't offer any guidance on insurance questions. With the Aetna merger, that will change: customers will be able to get information about their health insurance coverage, including cost management.
But Burns called that strategy "BS," motivated only by CVS' panic over Amazon's rumored move into the pharmacy business.
"Fear and trembling motivates lots of mergers," he said. "It's not an offensive strategy, it's a defensive strategy."
Wall Street also reacted poorly to the merger news. Aetna stock was down about one percent this morning, while CVS shares were down almost six percent.
Aetna has struggled to keep up with larger rivals like UnitedHealth. And the insurer's planned acquisition of Humana earlier this year fell through because of antitrust issues.
The CVS-Aetna merger will face similar regulatory scrutiny from a Justice Department increasingly wary of corporate consolidation. Law enforcement officials actually sued last month to block AT&T's purchase of Time Warner.
But Burns said CVS and Aetna should worry less about antitrust and more about how they serve their customers.
"The whole pharmacy game is built on convenience," he said. "But if you increase convenience without improving quality or reducing cost, the customers aren't gonna like it."