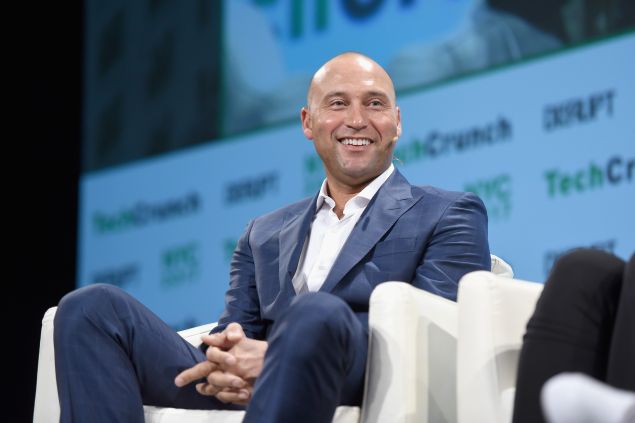 Derek Jeter might be the new co-owner and acting CEO of the Miami Marlins, but he hasn't made any permanent decisions on homes in the area just yet.
The former New York Yankee, whose deal to purchase the Marlins was finalized in September, is reportedly renting a 19th-floor apartment in a brand new condo building, the 95-unit Grove at Grand Bay. Jeter and his wife, model Hannah Davis, recently welcomed their first child in August. The newly expanded family of three reportedly moved into the Coconut Grove unit at the beginning of November.
They're "renting with an option to buy," reports Gossip Extra. The five-bedroom, six-bathroom unit features 12-foot ceilings, multiple balconies, bay views and an outdoor kitchen.
The 5,200-square-foot unit at 2669 South Bayshore Drive is listed for sale for $6.5 million.
Jeter, who served as captain of the Yankees from 2003 until he retired in 2014, opted for a variety of apartments and townhouses while living in New York during his 20-season tenure—he first lived in a sleek 88th-floor penthouse at United Nations Plaza in Trump World Tower, before opting for a lovely West Village brownstone at 56 Bank Street, where he lived until 2015.
Perhaps the couple will decide they want a larger home once they've settled in to their new city, however. After all, Jeter does seem to be rather fond of megamansions—his seven-bedroom, nine-bathroom Tampa Bay home, which he had built in 2009, spans over 30,000-square-feet.