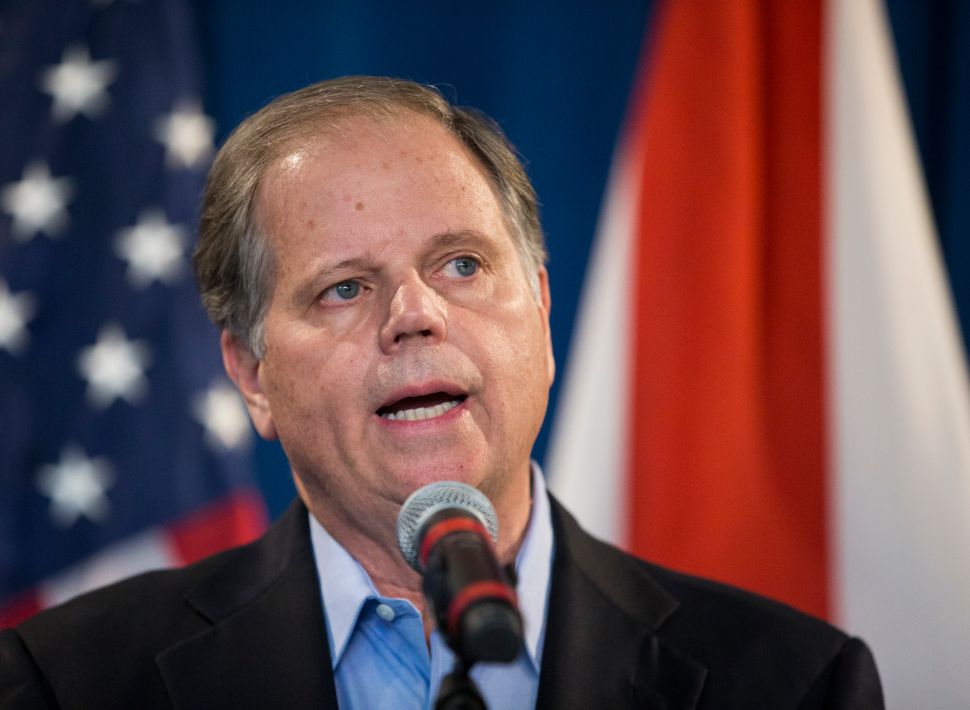 Doug Jones is not yet a full-fledged senator for the state of Alabama and his opponent, Roy Moore, still refuses to concede despite the final tally of the votes. It's just one of several bizarre turns in this senate race that has left Americans scratching their hands.
"No, it was hard to believe all the time, not just at times," Jones told Seth Meyers during an appearance on Late Show after the host asked him how he felt about the race.
Jones is the first Democrat to hold the Alabama senate seat in 25 years. His opponent, Moore, lost the race despite a presidential endorsement from Donald Trump amid a possible sexual misconduct scandal. Multiple women have come forward accusing Moore of inappropriate sexual behavior while they were teenagers, with some saying they were as young as 14 at the time of the encounters. The Republican has denied all allegations, though inconsistencies in his explanations have arisen. Outside of the sexual misconduct allegations, Moore's behavior on the campaign trail has been questioned several times, such as when he brandished a gun on stage during a packed rally.
"What we saw, your opponent seemed a little extreme at times," Meyers joked.
Jones is the senate-elect as he has not yet been certified. In a recent interview, he was asked about the similar sexual harassment allegations that have been made against Trump, to which he said our focus should be to "move on."
"I wasn't talking about moving on from those allegations," Jones insisted. "I have consistently had women's empowerment issues at the forefront of my campaign."
The professional world, from entertainment and media to politics, seems to be going through a purge of sorts at the moment as more and more women come forward with accusations of sexual misconduct. "That is what I have been for," Jones said.
"I think the people of Alabama voted for me, to put me up there to try to talk about health care and those issues. And I want to get up there and do those issues. But that doesn't, by any stretch, mean I don't think those issues, and those women who have made those allegations, aren't important. They need to speak out and everybody needs to pay attention to them."
You can watch the fuller interview in the videos below:
https://www.youtube.com/watch?v=3_xbk9Q0EqY
https://www.youtube.com/watch?v=ygA5qUgis3E