Want to know about the brand that Observer (and countless others) are considering to be "the next big thing" in menswear? Look no further than DYNE, the futuristic label founded by Chris Bevans, who was once the global design director of urban apparel at Nike and held a handful of other impressive gigs at Sean John, Rocawear and Billionaire Boys Club.
Considering DYNE is the Greek word for 'power' and 'force,' it comes as little surprise that the pieces Bevans creates are made with an active lifestyle in mind—equipped with the advanced technology necessary to support just that. To call these styles sporty doesn't quite cut it; from their Portland, Oregon studio, DYNE produces waterproof jackets in rubberized technical jersey, sweatshirts with breathable panels and antibacterial sweatpants. In fact, DYNE's own e-commerce site labels each item with a laundry list of its forward-thinking technical functions, adding a little something extra to the subdued color schemes and modern fits.
For poof that DYNE is on the minds of quite a few fashion folk, consider that Bevan's label is headed to Pitti Uomo in Florence, Italy on January 9, 2018 to compete in the Woolmark International Prize. DYNE already scooped up the regional prize for menswear in the U.S. competition this past July, alongside Zaid Affas for womenswear. The award for such a title? A hefty sum of $70,000 Australian dollars and entry in the global finals. But Bevans didn't use the money to go on an inspiration vacation or to hire a major social media star to take over his Instagram; he used those funds to invest in fabrics for the global finals. That, my friends, is the mark of a truly serious designer.
Here, Bevans tells Observer more about his preparations for the Woolmark International Prize, including the very active way he's testing out his ever-evolving technologies.
How are you currently preparing for the Woolmark International Prize?
There's a lot of prep work to just present, but for me, it was about making sure all the styles are made to my exact specifications. It's all in the details, but I don't want to share too much, because I want it to be a surprise for the judges and the world.
Can you tell us anything about the pieces you created?
What I can say is that wool is the perfect base for a high-end performance brand like DYNE, because a Merino base is so strong and breathable.
Which technical pieces are you wearing this winter?
We did a reversible bomber that has waterproof performance material on one side and on the flip side it has eco-friendly faux fur.
How do you test out the more technical pieces from your collection?
I live an hour from the beautiful Mount Hood so I'll be boarding and wear testing our newer product. The whole DYNE team rides so we're gonna push the gear to the max to see what we need to improve.
How do you feel about heading to the global finals?
I grew up as a track and field athlete and dreamt of representing the USA in the 400m at the Olympics. This feels like that for me, only I'm just a bit older…
Are you looking forward to doing anything when you arrive in Florence?
I didn't put much thought to it actually, I've been so focused! DYNE will also show a co-lab with the environmentally friendly brand Save the Duck along with our main collection, so I'll be a bit busy. But I would like to have a nice dinner and some wine; I'm simple.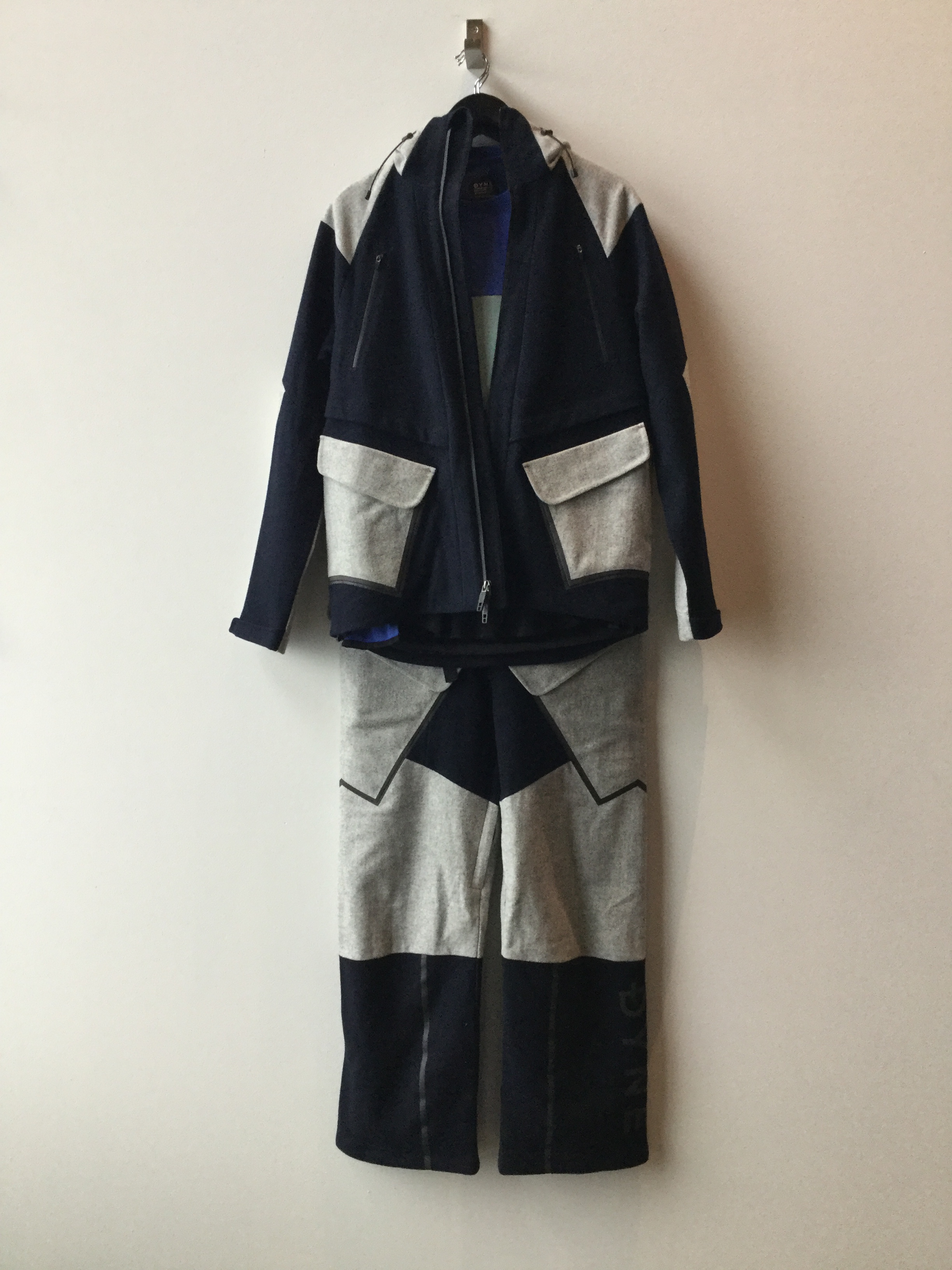 What is a dream technology that you'd like to include in your collections one day?
Knitting censors that communicate with your wireless device, but without compromising the natural fiber of the yarn.