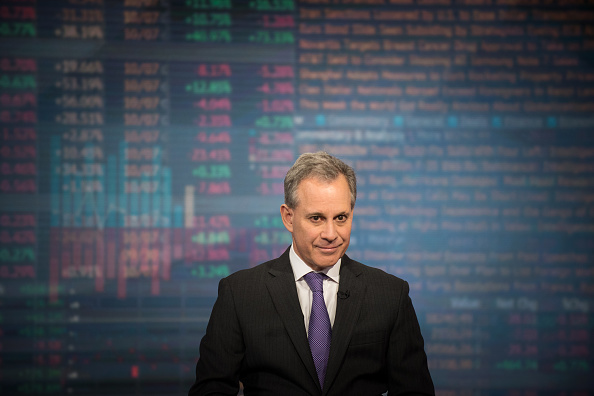 New York State Attorney General Eric Schneiderman announced Thursday that he is suing the Federal Communications Commission to protect "net neutrality" rules after the commission voted to repeal the regulations earlier in the day.
The FCC voted Thursday to scrap "net neutrality" rules established under former President Barack Obama in 2015, which prohibited broadband providers from blocking and slowing down applications. The FCC argued that the move would increase transparency, protect consumers and encourage investment, innovation and competition.
But opponents say the FCC instead is opening the door to Internet service providers such as Comcast and Verizon to charge higher amounts for consumers who use services such as Netflix, and could limit access to the Internet, innovation and the free exchange of ideas.
"New Yorkers deserve a free and open Internet and that's why my office will sue to stop the FCC's illegal rollback of net neutrality," Schneiderman said in a video released on his Twitter page on Thursday. "We'll be filing a claim to preserve protections for New Yorkers and all Americans and will be working aggressively to stop the FCC's leadership from doing any further damage to the Internet and our economy."
He said the vote is "an early Christmas gift" to big telecommunications companies and that it gives Internet service providers another way "to put corporate profits over consumers."
"This new rule would enable ISPs to charge consumers more to get access to social media platforms like Facebook and Twitter and give them the leverage to degrade high-quality video streaming until and unless someone pays them more money to clean it up," he continued. "Even worse, today's vote would enable ISPs to favor certain viewpoints over others. Even if they promise not to do any of these things today, there will be no rule against them changing those promises down the road."
Seven months ago, the attorney general said, his office started investigating "a flood of fake comments" submitted to the FCC during the public comment period for the "net neutrality" rules. He said they found at least two million fake comments that used the stolen identities of people throughout the country, including 100,000 New Yorkers.
"We asked the FCC to help in our investigations but waited months to hear back," Schneiderman added. "I called on the FCC to delay today's vote and help us with an investigation into the corrupted rule-making process. FCC leadership pushed ahead with their vote today anyway and ignored the massive scam that corrupted the public record."
In recent months, Schneiderman has sued Trump with numerous lawsuits looking to stop the president's plans in areas such as immigration, health care, education and LGBT rights.
He has sued the president over his executive orders barring entry to people from Muslim-majority countries, his efforts to repeal former President Barack Obama's Affordable Care Act and his decision to end the Deferred Action for Childhood Arrivals program for undocumented youth brought to the United States in their early childhood.