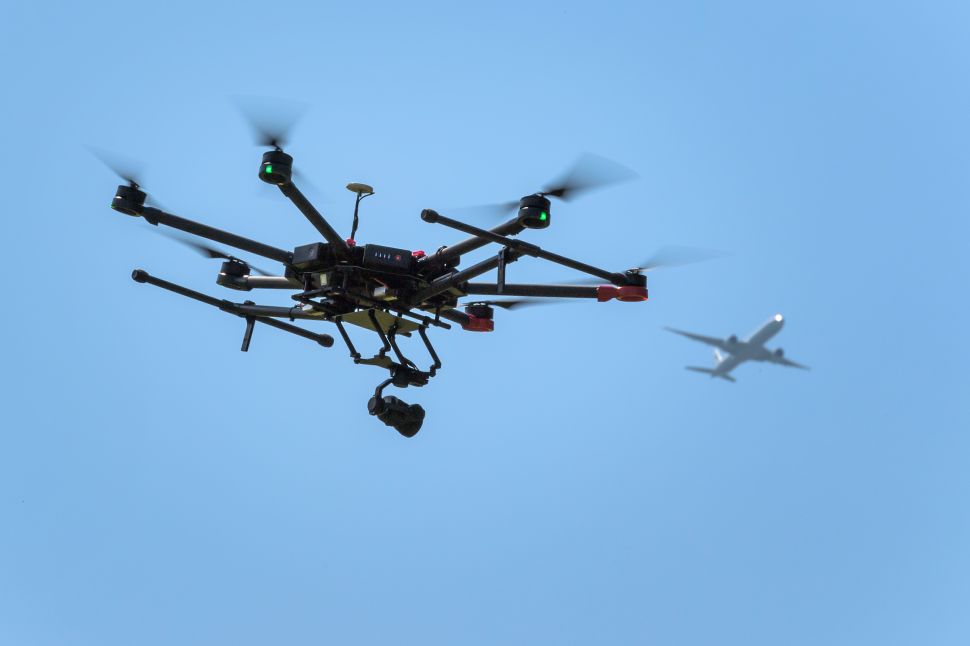 We all remember January 15, 2009, when U.S. Airways flight 1549 struck a flock of Canadian geese on its climb out of LaGuardia airport. Captain Sullenberger experienced a dual engine failure from the multiple bird strikes and guided the crippled jetliner safely to a water landing on the Hudson River. It was the moment that inserted a new fear into our collective consciousness that few had been aware of before: what happens if the plane you're on collides with a bird? As was widely reported at that time, the incident was quite an anomaly—planes are put through rigorous testing to ensure they can handle those types of incidents without leading to aircraft damage or engine failure.
But could there be a new threat on the horizon—one we haven't yet accounted for?
No one can argue the fact that drones are here to stay—loved as they are by hobbyists, photographers, surveyors, engineers and children alike. (Oh, and Amazon, of course.)
As the Wichita Business Journal recently reported, the Federal Aviation Administration (FAA) expects the number of small drones to triple by 2021, with 3.5 million in consumer hands.
Given that the FAA issued a report late last week finding that drone collisions with commercial airplanes are likely to be much more damaging to the aircraft than bird strikes, one has to hope that procedures will be ramped up in the coming years as the number or hobbyist drone operators rapidly grows. The report was issued by the Alliance for System Safety of UAS through Research Excellence (ASSURE), who conducted extensive research throughout 2016. According to the FAA, it currently receives about 250 reports of drones in airport vicinities each month, and that number has been quickly increasing.
The report confirms that the plastic composition of most small drones along with their cameras, lithium batteries and metal components would be far more destructive to an airplane than a bird. The tail and engines are specifically more vulnerable, along with the cockpit windshield. The report also concluded that current bird-strike certification regulations are not appropriate to test the effect of a collision with an unmanned aircraft.
But over the past several years we have seen the FAA proactively reacting to the pending influx of both commercial and recreational small drones, or UAVs (Unmanned Aerial Vehicles) as they are known in the industry. On the hobbyist side, the FAA requires most small drones to be registered and display a unique registration number. Meanwhile, legislation passed in 2016 to require commercial drone operators to certified.
In the United States, extensive bird strike simulation (using 4 and 8 pound dead birds) is required for any new aircraft to be certified by the FAA. In the tests, birds are catapulted into the engine and windshield at real life speeds. Yet drone strike testing is not currently required as part of any aircraft certification process.
Birds can be a problem at any airport, but  the risk is increased at airports surrounded by bird-attracting habitats, such as water or nearby landfills. New York's LaGuardia airport is a prime example. But mitigation methods—such as the use of long guns, dogs roaming airport property and scarecrow-like tactics—are often quite effective.
The main reason, at the moment, that little is being done to lessen the risk of drone collisions, is that because of sheer number, the likelihood is seen as small. Look up into the sky, chances are you'll spot a bird (or twenty) before a drone, if you see any at all.
So the simple take away here is that your plane is more likely to have a mid-air collision with a bird rather than a drone. However, impact with a drone would be far more damaging than a bird strike, due to its harder plastics and components. And with no testing, it's harder to predict what effect a drone collision would have on a commercial aircraft, and plan for that eventuality.
Kyle Bailey is a television news aviation analyst, pilot, and former FAA Safety Team Representative. Follow him on Twitter: @Kyleb973.