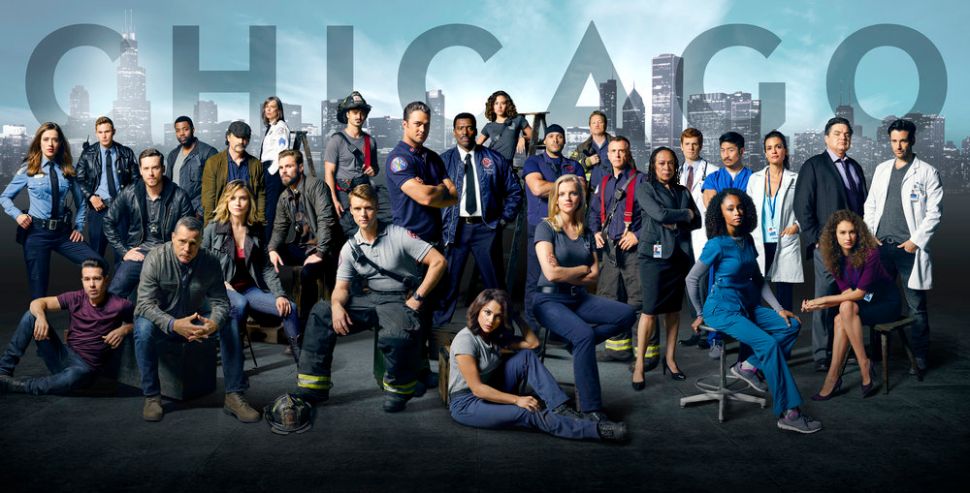 When you're trying to break into the entertainment industry—whether it be as a writer, director, actor, set designer, and so on—every aspiring professional has at one point has asked themselves this one question: Los Angeles or New York? Relocating to either Hollywood or Manhattan has, for decades, felt like the necessary move to catch that big opportunity.
But times they are a changin'. Thanks to new tax breaks and competitive incentives, there's been a seismic shift in the amount of TV and film being shot outside L.A. and New York. And while Vancouver, Toronto and Atlanta have put themselves on the map, it's Chicago that has both the political support and budding artistic community to reign as the new premiere city for TV and film. Dick Wolf and his successful trifecta of shows Chicago Fire, Chicago P.D. and Chicago Med, can be largely credited for putting it on the map.
On these hit NBC series, the city is practically a character in itself. Chicago plays a large, central role in each show. Oliver Platt, who currently stars on Chicago Med, referred to the City of the Broad Shoulders as the true "Capital of America."
"I'm a New Yorker, I love New York, it's my home, but Chicago is arguably much more of an international city," Platt commented to Observer recently. "Working here is fantastic. There's a lack of pretension. A roll up your sleeves, grounded attitude towards the work people do here which is incredibly refreshing. In New York, you walk into an art gallery and some 18-year-old dressed in all black looks you up and down. This doesn't happen here. It was a revelation for me."
The heartland's sensibility towards work is attractive to filmmakers and actors who are tired of the ostentatiousness of New York or vapidity of Los Angeles. S. Epatha Merkerson, who currently plays the role of Hospital Chief Sharon Goodwin in Chicago Med, but became famous in another Dick Wolf's title, Law & Order, is considering a permanent move.
"I'm originally from Detroit," Merkerson said. "I've lived in New York nearly 40 years now, but I find Chicago to be like a midwest Hollywood. The theatre and music scene is what I love most."
Actor David Eigenberg, also most well-known from his stint in a Manhattan series, Sex and the City, seems to have drunk the Chicago Kool-aid. Star of Fire since 2014, he gushed about how much nicer the people are and how much cleaner the city it is. "I love this job," he said. "It's my favorite job."
Okay, but what about winter? The city's temperatures regularly dip below freezing with wind chills below zero. But being on location is part of the job, as Fire executive producer Derek Haas explained, and he doesn't shy away from outside shoots.
"Every given episode is about location," Haas said. "We've gone every way from the Southside to River North, towards the Pier, on the lake, Waukegan, Soldier Field, Wrigley Field, top of the Sears Tower, the list goes on. We go places in Chicago people who've lived their entire lives have never been. When those bells go off, you never know which way you're going, which gives us the ability to travel out and tell interesting stories."
Eriq LaSalle, co-executive producer of Med, agrees, and part of what makes Chicago such an appealing filming location, is the city's sheer size and number of interesting locations to feature. "The goal is always to make the city more of a presence. We don't want to always shoot skylines and skylines," LaSalle said, a goal perhaps inspired after so many years on E.R., a fictionally based Chicago series. "We want [to show] the nuances of the neighborhood, the overtness, texture of the people, the food. The challenge is to find more ways to bring Chicago in as much as much as we [dive] into it."
And this production's infatuation with their setting seems to have caught on. Shows like Netflix's Easy makes the most of the city's sights, and you can expect more series to follow suit; Lena Waithe, who won an Emmy for writing the standout episode of Master of None's standout season two episode, "Thanksgiving," is currently filming an autobiographical drama series in her home city, called The Chi.
Chicago's mayor, Rahm Emanuel, stands out as one of the city's biggest supporters of these location productions. He even made a guest appearance as himself on Chicago Med.
"The city has been fantastic to all the shows," P.D. executive producer Rick Eld said. "And we're happy they want to keep us happy. It's a hard business. The passion of the fan base is great."
"There's no show without the fans," P.D. star Jason Beghe added. "The numbers in Chicago are cuckoo! Like half the people here watch. But people come from all over the world come to see us film, which is crazy to me."
Eld, however, isn't so surprised by the franchise's international fan base. "A good story is a good story," he said. "Trying to protect a city and its citizens is a universal storyline."
With Illinois offering up a 30 percent film tax credit (among the highest in the country) on all qualified expenditures, including post production, the job opportunities for local talent has grown exponentially. Chicagoans account for the bulk of behind the scenes crew, most of which have been on staff since Day One, a fact that head costume designer for all three Chicago shows, Susan Kaufmann, is most proud.
"We're self sufficient," she said. "I use all local designers for jewelry. Local tailors for custom suits and shirts. We pull our PA's out of Columbia, DePaul, and other schools here. We start them at the bottom, train them to find where their niche is, and then after two years, we let them fly. Half of our crew have started from the ground up. And if they choose to move on, they already have a beautiful resume to go with them."