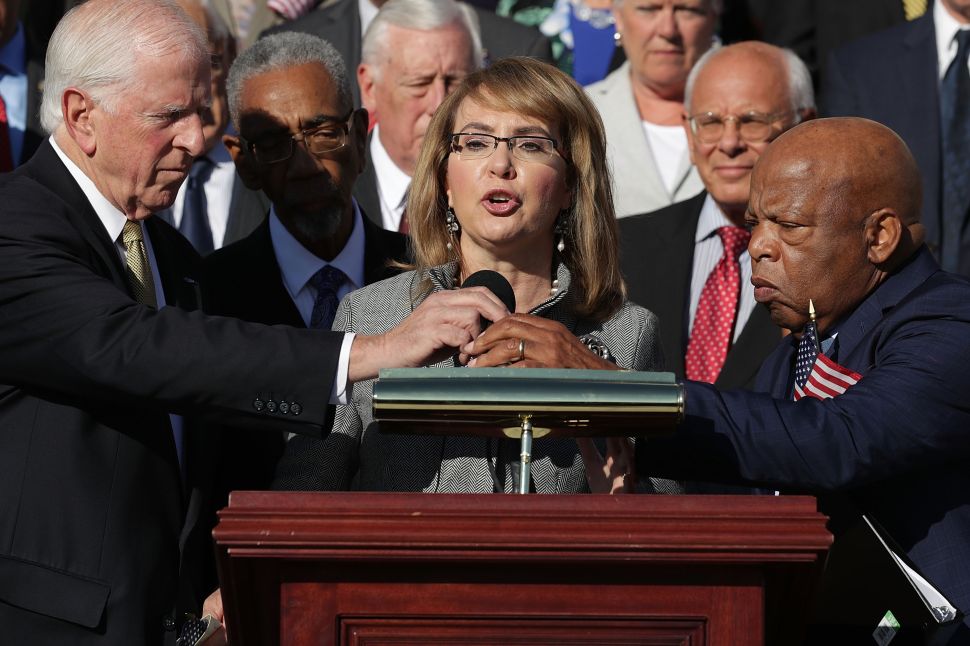 Former Congresswoman Gabrielle Giffords is challenging Republican incumbents with a six-figure ad buy. Financed by the advocate's gun safety group, Giffords, the ads pressure representatives to vote against the Concealed Carry Reciprocity Act. Slated to appear before the House this week, the bill requires states allowing concealed weapons to recognize concealed carry permits issued in other states.
"In the wake of our country's worst mass shooting, Congress came up with its most dangerous idea yet: nearly anyone with a hidden loaded gun would be allowed into your community. No background check? No training? No questions asked," says a female narrator over images of police officers and firearms. "Will Jason Lewis side with law enforcement, or the gun lobby?"
Politico reports that the television ads target Congressmen Rodney Frelinghuysen (R-N.J.) and Jason Lewis (R-Minn.). Additional online ads focus on Representatives Steve Knight (R-Calif.), Ed Royce (R-Calif.), Miami Waters (R-Calif.), Mike Coffman (R-Colo.), and Lee Zeldin (R-N.Y.)
"The ads call on voters to speak up about this dangerous bill and call on their leaders put the safety of communities before the interests of the gun industry," Giffords' executive director Peter Ambler told Politico.
After surviving an assassination attempt while meeting with constituents in Tucson in 2011, Giffords became a leading advocate against gun violence. The former congresswoman consolidated her activism and gun reform movements into Giffords in 2016.