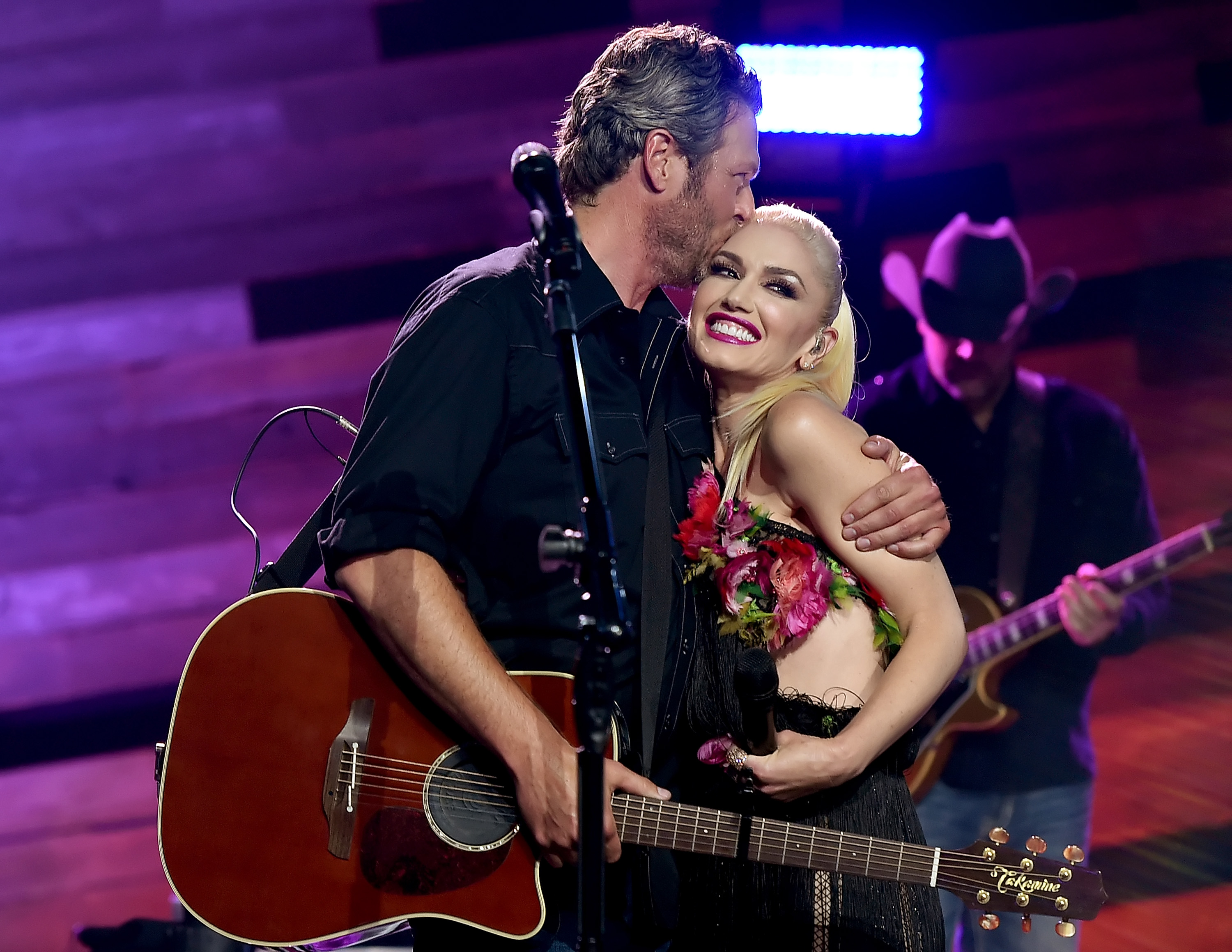 No, Gwen Stefani and her boyfriend Blake Shelton haven't broken up—they simply prefer to serenade each other instead of speaking. In a recent Williams Sonoma's Facebook Live with celebrity chef Giada De Laurentiis, Stefani revealed that she and People's "Sexiest Man Alive" regularly pretend life is a musical.
"We're like we're in a musical constantly and we just sing. We don't actually talk to each other, we just sing like a musical and everything we sing is like 'I love you.' Like, it's pretty much the whole time [about] how great we are," she told Laurentiis during their cooking demonstration. Perhaps her ex-husband Gavin Rossdale wasn't as interested in trying this unique approach to keeping the romance alive.
Apparently, Shelton cooks "mostly things that are bad for you" and everything's fried. That's certainly a new approach for Stefani, who's "always been on a diet."
[protected-iframe id="c9505d6e598a4ff5695f92f63e01a9f3-35584880-97646654″ info="https://www.facebook.com/plugins/video.php?href=https%3A%2F%2Fwww.facebook.com%2FWilliamsSonoma%2Fvideos%2F10155931817454812%2F&show_text=0&width=560″ width="560″ height="315″ frameborder="0″ style="border:none;overflow:hidden" scrolling="no"]
Proving she hasn't given up on dieting completely, Stefani carefully monitored the ingredients used by De Laurentiis. "How many workouts is that?" Stefani asked as the butter was added to the Apple Parmesan Pie they were making. The Voice judge also revealed that she doesn't have the patience for cooking, but she does make an Italian Christmas at home with her beau. However, instead of making the traditional Feast of the Seven Fishes, the couple opts for the "craziest carb fest." Maybe Stefani is destined to be like fellow '90s star Sarah Michelle Gellar, with her very own cookbook and baked goods recipes.
Stefani's Christmas album, "You Make It Feel Like Christmas" (complete with a cameo from Shelton) is being sold and played at Williams Sonoma, so this partnership does make sense. Unfortunately, the former No Doubt member didn't film a Facebook live at the New Jersey Cracker Barrel she visited in November, but she did go live on Instagram while promoting her album there. Just think of all the macaroni and cheese she could show her fans how to make (but it would require a few sticks of butter).