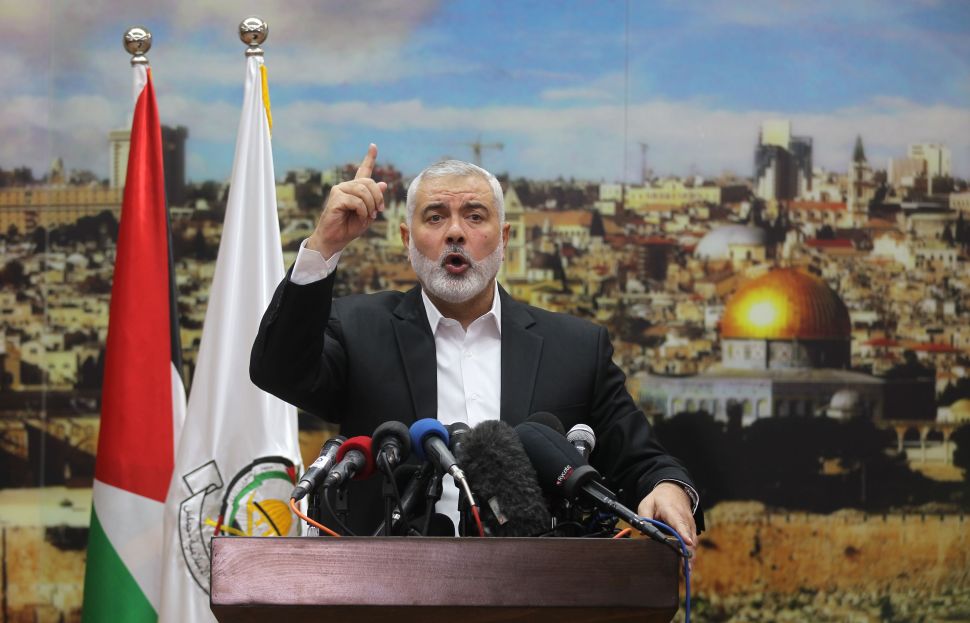 Hamas is shopping for new friends and allies to buy into their facade of political leadership after the United States recognized Jerusalem as the capital of Israel.
Yet for every mealy-mouthed moment that this terror group has claimed to shift focus per their latest legitimacy bid, Hamas has continually proven that violence and death remains at their core.
With their own motives of endless strife until they've carved out a state "from the river to the sea"—meaning over al of Israel—Hamas was ready for this decision. Leader Ismail Haniyeh was hitting the phones Sunday, according to the group, urging the Arab League to rally the troops, in a manner of speaking, and put up a regional unified front against the U.S. embassy move. Naturally, Haniyeh bonded with Palestinian Authority President Mahmoud Abbas over the news, deciding they're so enraged that they would mutually back the "Days of Rage" protests. Hamas said Haniyeh and Abbas also discussed "the need to mobilize all media effort" in their corner.
After Trump's announcement, Haniyeh called up Russian Deputy Foreign Minister Mikhail Bogdanov, a conversation in which Hamas said their leader "warned of the serious repercussions that will arise" if the embassy move goes through as promised, with Bogdanov panning the move as violating international resolutions while "expressing his solidarity with the Palestinian people."
And sure enough, Hamas went from zero to intifada in less than a day.
"The U.S. decision is an aggression, a declaration of war on us, on the best Muslim and Christian shrines in the heart of Palestine, Jerusalem," Haniyeh said in Gaza City on Thursday, before protests launched. "We should work on launching an intifada in the face of the Zionist enemy."
The Hamas leader laid bare that main peace process impediment: they're not interested in just East Jerusalem as a future Palestinian capital in a two-state solution. "Jerusalem—all of Jerusalem—is ours," he declared. In an official statement, Hamas called Jerusalem a sacred city for "Muslims, Christians and legitimate Jews"—prepping, apparently, to clear the "illegitimate."
"It is the united capital of Palestine. It will always be a Palestinian city," Hamas said, calling on all to "support the Palestinians in their continuous struggle to liberate their homeland and establish their independent state with Jerusalem as its capital."
And now, Haniyeh hopes he can rally unity behind a cause that's less about Camp David accords and more about the destruction of Israel. He called for an Arab and Islamic summit to align their Jerusalem strategy, and for Arab nations to not "normalize" Israel. He's called on the Palestinian Authority to "get out of the dark chapters of the Oslo Accord" and end any security cooperation with Israel "to pave way for armed resistance in the West Bank."
He's been itching for this moment, and now he wants all with pro-Palestinian sympathies to come along for the Hamas ride. After all, Haniyeh is confident they'll be willing to overlook those old Hamas goals and infamous Hamas tactics if the cause is defiance of a new U.S. policy that quickly garnered detractors in the non-terrorist arena.
Hamas' mobilization is not unlike the siren of other terrorist groups who for years have been crying, "O Aqsa, we are coming" and have already begun to argue that there's new reason for alliance with their cause. The Taliban declared that the Jerusalem decision "showed that America is directly involved in all Muslim miseries that have angered Muslims for decades, usurped their homelands, killed their people and are trying to destroy Islamic values." Al-Qaeda urged sympathizers to open their pocketbooks to fund the intifada.
Hamas is hoping for a fast-track to legitimacy, power, or any combination thereof. They want the world to think they're the pied pipers of political resistance to the United States and Israel. But they are merely a terrorist group. They will continue to attack civilians. And they will refuse to stop until they've arrived at a one-state solution: a Palestine without Israel.
Bridget Johnson is a senior fellow with the news and public policy group Haym Salomon Center and D.C. bureau chief for PJ Media.