There's something undeniably surreal about the West Village during the holidays. The neighborhood, always quaint and scenic, becomes almost Disney-esque when you add sidewalk Christmas-tree vendors on cobblestone streets, to-go cups of exceptional hot chocolate and holiday lights twinkling from brownstone windows. While a West Village stroll makes for a charming December activity, it can also be a tricky endeavor in brisk weather. Between the wind whipping down wide avenues and the frigid conditions on the narrow lanes near the river, the West Village sets you up for chapped skin, sniffly noses, and the need for hearty, warming dishes.
That's exactly what you'll find at Greenwich Grille, an Americana-influenced eatery on Seventh Avenue South. Chef Harold Moore (of Harold's Meat and Three) recently took over the kitchen, and he designed the menu to satisfy classic pub-grub cravings, but with elevated ingredients and techniques. The result is a casual and comfortable restaurant with excellent throwback cocktails, a killer burger and deliciously-nostalgic desserts.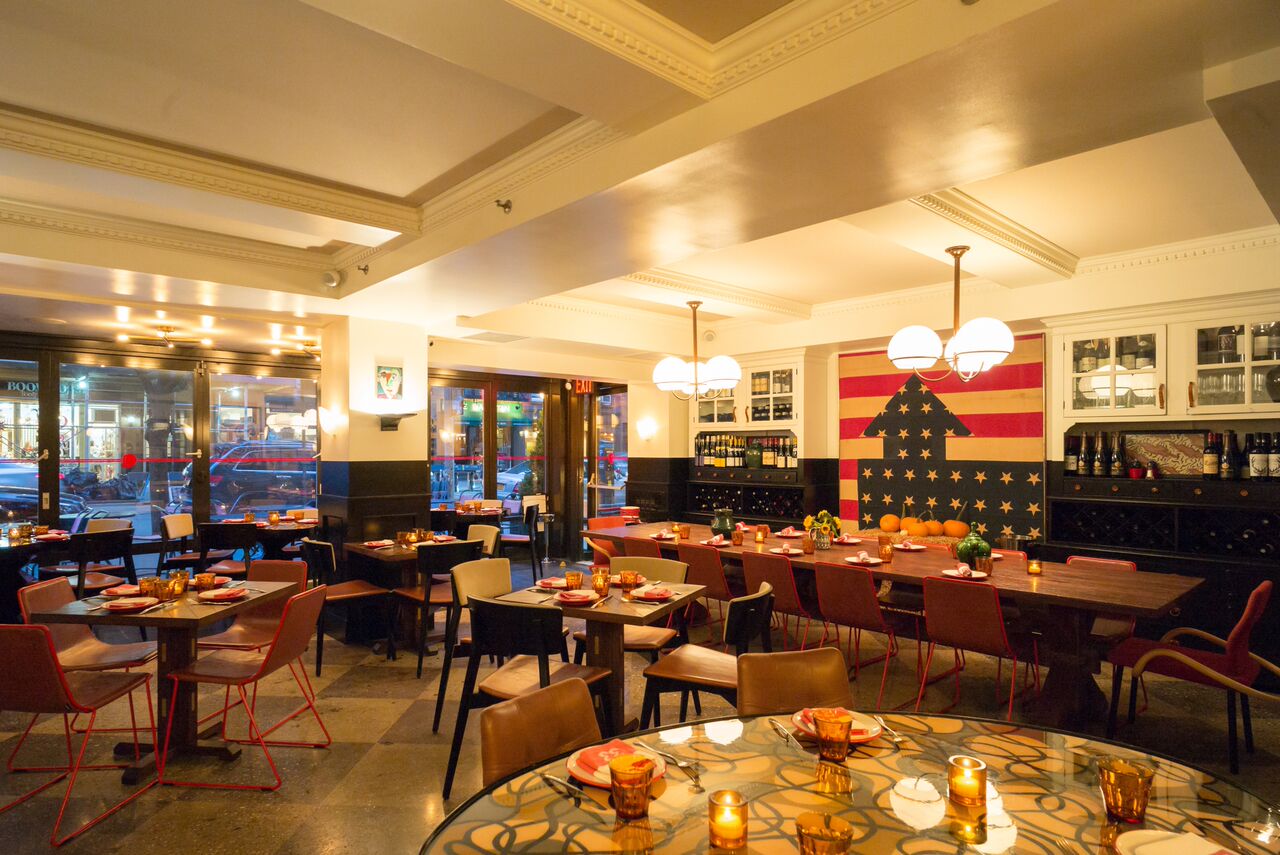 The decor at Greenwich Grille contributes to its cozy vibe and warm familiarity. It's all about the dark wood, Edison light fixtures and walls decorated with on-theme objets, including an American flag from the '70s, an array of framed vintage photographs and an art-deco mural. Behind the bar, you'll find a pair of flat-screen TVs, where you can watch whatever "the game" is that night. The overall effect is a friendly space that combines the low-key allure of a dive bar with a touch of casual elegance. In Food Network parlance: think Ina Garten meets Ree Drummond, with a dash of Guy Fieri (but a version of Fieri who's actually in on the joke).
The food at Greenwich Grille hews closely to American menu classics, but with a keen attention to detail and a focus on prime ingredients. If you're swinging by for an after-work drink, the dinner menu features a snack section, with shareable items like bacon-topped deviled eggs ($9)  and honey-roasted cashews made in-house ($6). Greenwich Grille's appetizers include refreshing starters like an avocado salad with tomato, cucumber, radish, onion and jalapeno ($18) and albacore tuna with ginger, soy and yuzu ($18). Need something a bit heartier to start your meal? You don't want to miss the beyond-satisfying beef short-rib chili ($14). Featuring toothsome chunks of short rib, this beautifully-spiced chili (which does contain beans…sorry, Texans!) arrives topped with sour cream and scallion, plus a wedge of house-made cornbread.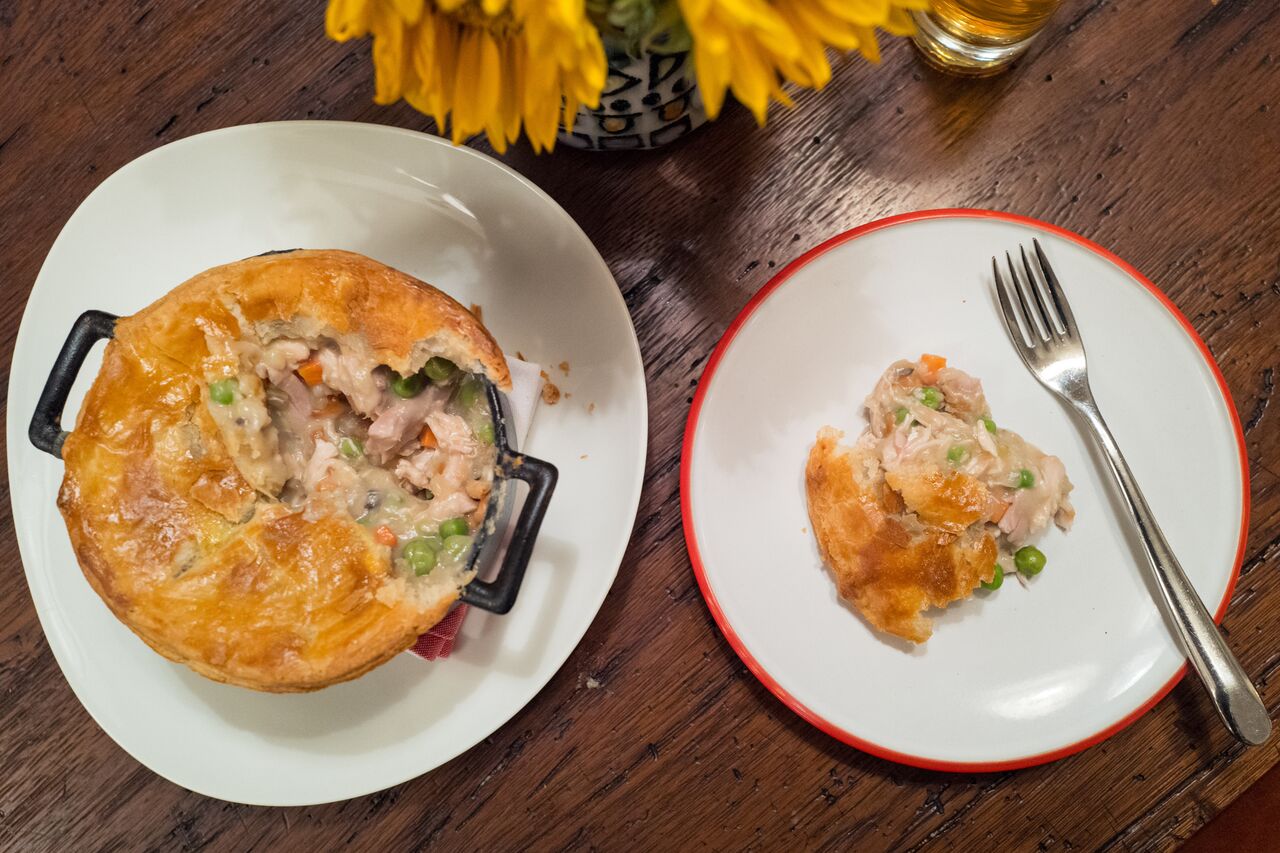 Chef Moore's entrées aren't exactly the kind of dishes where you actually want to know the calorie count; this is, after all, a comfort-food menu and they're not going to apologize for it. Luckily, that means that you're guaranteed to find impeccable versions of your favorite guilty pleasure eats. Greenwich Grille's Tavern Burger ($22) uses a Pat LaFrieda patty, which they top with aged white cheddar, lettuce, onion, tomato, and a "special sauce." Perfectly crisp French fries are included in the price of the burger, which is a growing rarity in New York City restaurants.
In this writer's opinion, a cold-weather visit to Greenwich Grille wouldn't be complete without the very aptly-named Old School Chicken Pot Pie ($26). It's an individually-portioned pie with a flaky, butter-laden crust, though the dish could very easily be shared between two. The pie is stuffed with a rich gravy, white-meat chicken and plenty of root vegetables. If you prefer your chicken on the crispier side, the crunchy and peppery rendition of fried chicken at Greenwich Grille ($27) definitely delivers.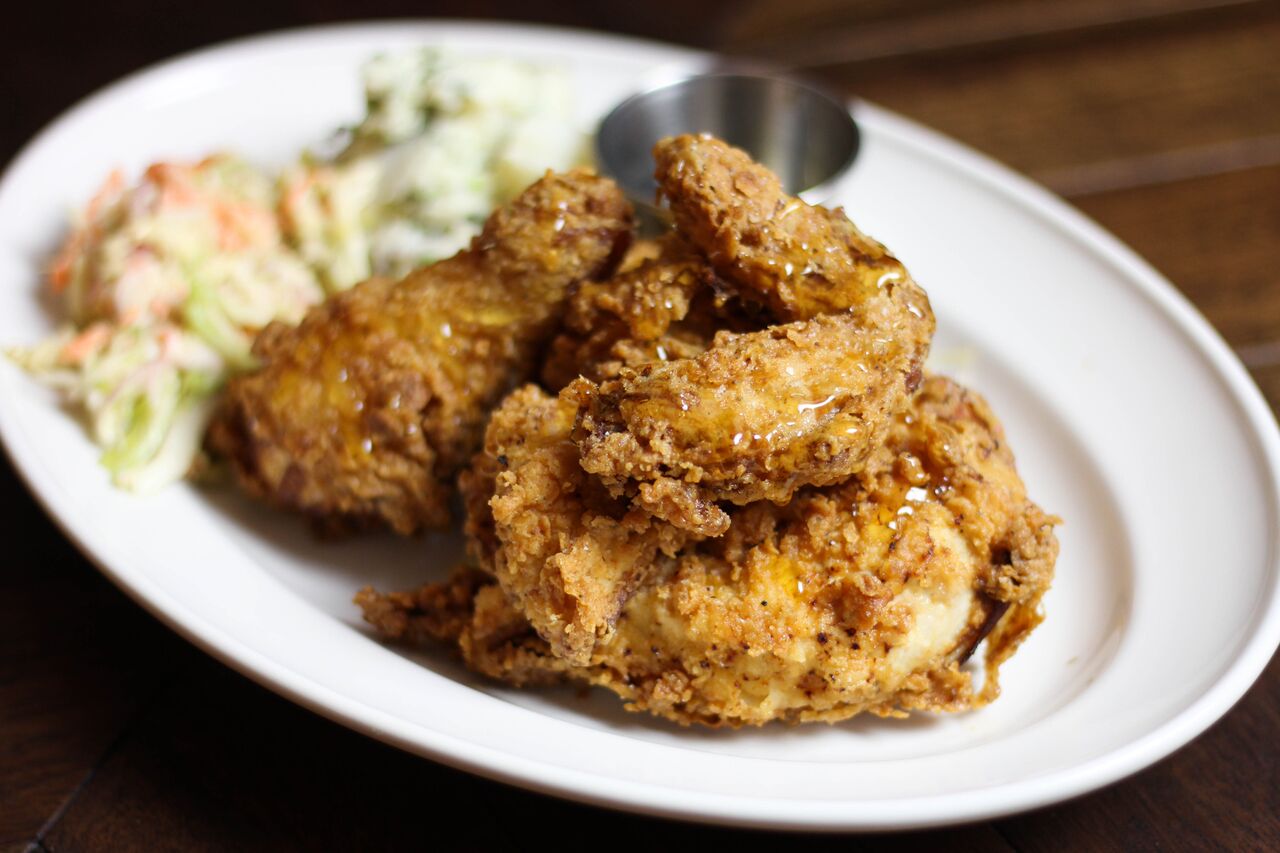 Like Greenwich Grille's savory offerings, the desserts draw from American traditions and pleasant childhood memories. The coconut cake ($12) is a signature of Chef Moore's and it's a triumph, avoiding the excessive sweetness that plagues so many layer cakes.
The cocktail menu focuses on bar classics, but with creative twists. Their variation on a margarita is called the Agave Stinger and features blanco tequila and lime, but also incorporates burnt-honey sugar and a chunk of honeycomb. They're also doing their part to re-establish the flavored martini as a respectable libation, perhaps trying to undo years of Sex and the City-related damage. Greenwich Grille offers both an espresso martini, with espresso, vodka, and Kahlua, and a not-too-sweet pineapple martini, both inspired by cocktails found at the Jersey Shore.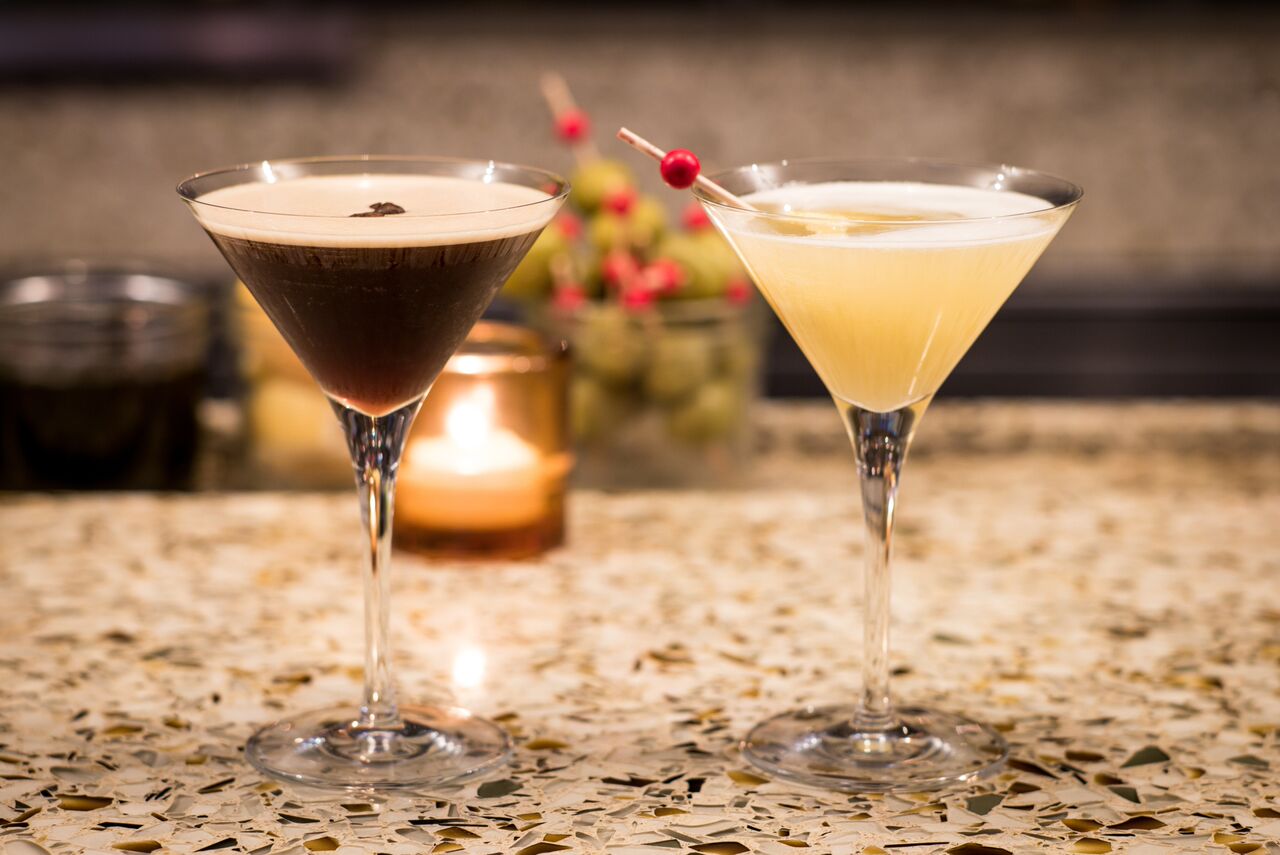 Greenwich Grille opens for dinner Monday through Sunday, and they also serve brunch on the weekend. If you need a robust repast after a day of West Side shopping (or to keep you warm and full for an epic Netflix binge), Greenwich Grille has you covered.