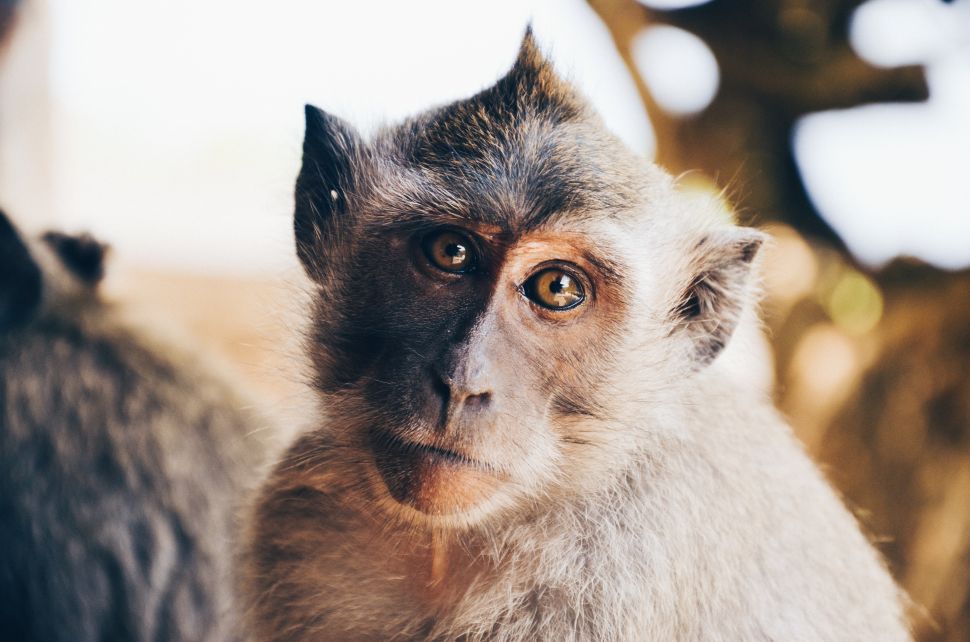 Can cuddling be beneficial for your health? A new study analyzing the connection between red-bellied lemur monkeys' "huddling" behavior and gut health may have new scientific implications for humans, too. The British study, published last week in the Journal of Animal Ecology, aimed to investigate a link between the creatures' social patterns of physical contact and their levels of gut microbial composition, a measure of gut health they argue to be a critical component of immunity and a dynamic link between an individual and the ecosystem.
According to the researchers, the key to maintaining high immunity within red-bellied lemur monkey communities was maintaining a high level of close physical contact. "In close social groups like red-bellied lemurs, social environment is key to immunity. Animals that touch each other more tend to spread microbes, both good and bad, but eventually frequent social contact leads to a synchronised microbiome. Because microbes tune immune defence, this can be seen as a form of cooperative immunity: Sharing microbial allies and enemies makes infections by opportunistic pathogens less likely," said lead study author and and graduate student at Oxford's Department of Zoology, Anna Raulo.
The study was inspired by recent research into mammals' gut microbiomes and its crucial role in immune system development, digestion, behavior, and fitness. "It is important to understand what builds up a healthy gut microbiome, and the role that the wider social and ecological environment plays in this. Understanding that social environment and stress are directly linked to gut microbiome, could go some way to explaining why the western world experiences so many epidemics of autoimmune diseases, and help us to better treat people with them," said Raulo. The research is especially fascinating because it highlights the delicate balance between animals' health, the environment, and society, as well as insight into the ways humans' gut microbiomes are influenced by social and environmental factors.
The team's findings pave the way for further insight into social environment and hormonal changes triggered by stress cause physiological reactions within the body. For example, stress-relieving physical activity that spread bacteria while proliferating a sense of social closeness could potentially create assimilation between your gut microbiomes and that of those around you. In other words, cuddling, hugging, sex, or simply living in close proximity to someone has the potential to spread more than just endorphins; as bacteria is transmitted between social groups, physiological systems can synchronize, resulting in improved immunity for all parties.
"[Primates] also cope with stress through social means, by seeking and giving affection, grooming and touching each other, and so do people. This way, social contact also balances stress. Regardless of whether they are blood relatives, people that live in close quarters, also come to share similar gut bacteria," Raulo explained.
The findings are cited as a natural component of evolution; physical touch is needed for many species to survive, habilitating a closeness that allows for improved social dynamics and a cohesiveness as a group. "In the evolution of cooperative groups," the study writes, "individuals increasingly work 'as one.' Thus, when the functional unit of the species shifts from individuals towards groups, immunological, physiological and behavioural synchrony become more adaptive." More research still remains to be seen for the study's findings to be directly attributed to humans. In the meantime, however, it's comforting to know that when we display affection, we're reaping unexpected physical health benefits in addition to emotional benefits.