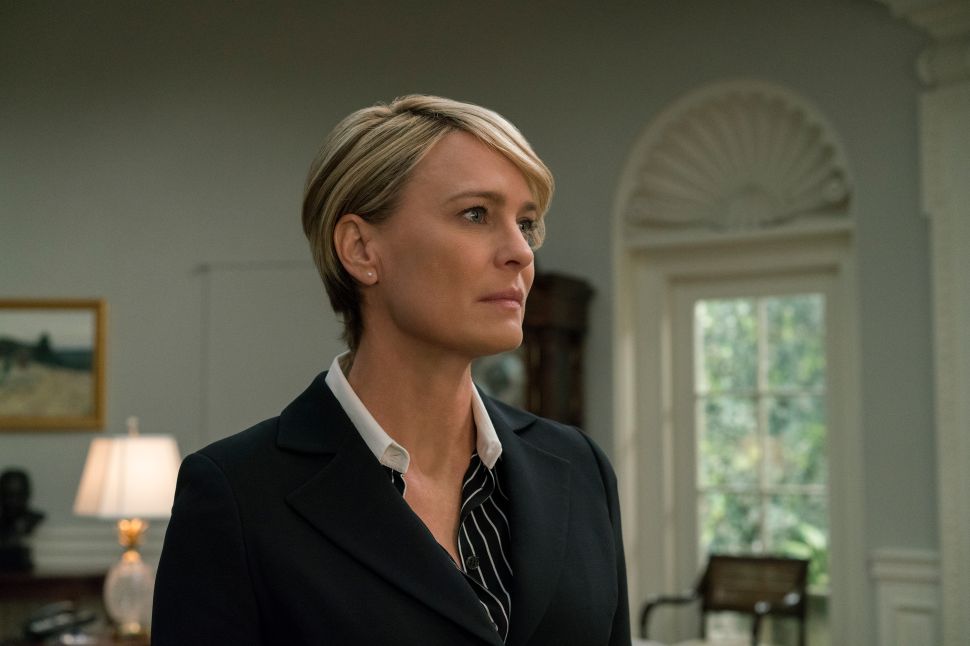 Should we just appoint Jessica Chastain as entertainment Czar at this point? After she publicly lobbied for Robin Wright to take over as the lead character on Netflix's House of Cards, the streaming service announced today that its sixth and final season would finally resume production with Wright front and center. Let's do this, Madame President.
Content chief Ted Sarandos made the announcement Monday morning after weeks of speculation surrounding the future of House of Cards following the sexual misconduct allegations against star Kevin Spacey.
"We are excited to bring closure to fans," he said at a USB conference, per THR.
Series producer Media Rights Capital had shutdown production on the show following Star Trek: Discovery star Anthony Rapp's first accusation against Spacey. Since then, rumors have floated that Netflix was considering a spinoff series rather than move forward with its flagship show. Now, we officially know that that's not the case. It is expected that Spacey's Frank Underwood will be written an off-screen death somehow.
"Netflix will not be involved with any further production of House of Cards that includes Kevin Spacey. We will continue to work with MRC during this hiatus time to evaluate out path forward as it relates to the show," Netflix said in a statement in early November. "We have also decided we will not be moving forward with the release of the film Gore, which was in post-production, starring and produced by Kevin Spacey."
"While we continue the ongoing investigation into the serious allegations concerning Kevin Spacey's behavior on the set of House of Cards, he has been suspended, effective immediately," MRC also announced last month.
The Observer has learned that this final season will consist of eight episodes, rather than the standard 13, and likely resume production in early 2018. It was believed that the vast majority of House of Cards' sixth season had already been written prior to Rapp's allegation. This extended hiatus will allow the writers more time to shape the final run of episodes.
Wright had previously been at odds with Netflix over the pay disparity between her and Spacey. Now that she's the platform's last hope—and a deserving one—of landing its flagship series' last season, Netflix better show her the money.