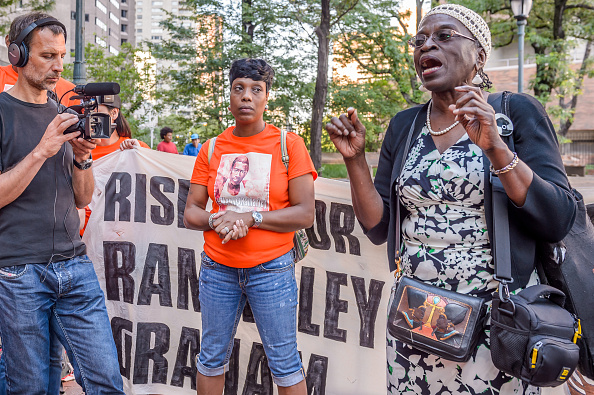 A week before Council members vote for the next speaker of the City Council, Brooklyn Councilwoman Inez Barron is entering the race because she thinks it is time for a black speaker.
Last week, reports indicated Manhattan Councilman Corey Johnson got support from Rep. Joseph Crowley (D-Queens/Bronx), head of the Queens Democratic Party, and Bronx Assemblyman Marcos Crespo, head of the Bronx Democratic Party. Mayor Bill de Blasio, who was in Iowa as the deal was publicized, also expressed support for Johnson. Johnson's presumptive victory would be the first time the city is not led by a person of color since Christine Quinn was speaker from 2006 to 2013. The outgoing speaker, Melissa Mark-Viverito, is a Latina.
Brooklyn Councilmen Robert Cornegy and Jumaane Williams are still in the race. While Cornegy has simply stated the race is not over, Williams expressed frustration with the selection process and wondered why none of the five candidates of color were selected.
Barron, an African-American woman and a Democrat, blasted the power structure that has "for so long dominated" which candidate is elevated.
"I'm running because I think it's our turn," she told Observer. "We had the traditional speakers, white men. We've had white women. We've had a Latina woman, a Latina. So the city population at this point is majority black and Latino. We have never had a black speaker. There were candidates who put their name in to be considered. None of them have indicated that they will stay in the race until the nomination and selection that will take place on January 3."
She said she has spoken with all of the candidates of color and that they agreed to drop out if they get their preferred committee. Bronx Councilman Ritchie Torres, Queens Councilman Donovan Richards and Upper Manhattan Councilman Ydanis Rodriguez have all conceded.
"I did not intend to be a candidate," Barron continued. "My position was I would get behind the black candidate who was committed to going forward. None of them are committed to going forward to the end."
When asked about Cornegy and Williams publicly stating they are staying in the race, she claimed they're "in it day to day to day."
"They're not in it beyond the point at which they can be given some so-called considered plum committee chair," she added.
Barron expressed disappointment over people accepting the agreement.
"I think that it's unfortunate that those persons who are Council members who were elected by the constituents in their communities are not willing to make a decision independent of the control of county leaders…and masters that influence what it is and in fact control what it is that they do and control how they vote," she said.
Barron's entry into the race marks the first female candidate in this year's race. Ahead of the announcement of Johnson's presumptive victory, all eight candidates were men. Her entry is even more significant in light of the number of female Council members  dropping from 13 to 11.
"I'm excited about this venture," Barron continued. "The people were…enthusiastic last night when the announcement was made. They feel that this is what they are entitled to…everyone has had their turn. Why would we go back to the old boy network?"
Barron and her husband, Assemblyman Charles Barron, a self-proclaimed black radical and socialist, run Operation P.O.W.E.R., a community organization linked to the ideology of the Black Panther Party — to which Charles Barron once belonged — which mostly controls the Democratic Party in East New York.
Inez Barron is known for her advocacy on police brutality issues, and was among the Council members who voted against the Right to Know Act, a package of police reform bills that were revised as part of a compromise with de Blasio, Mark-Viverito and the NYPD. The Council passed the bills.
In response to news of Barron's candidacy, Williams told Observer "the issues are beyond me or any particular candidacy."
"I'm glad that others are involved to help push the importance of elevating leaders of color in powerful positions within government," he said in a statement. "I am particularly glad that women, whose voices are also too often marginalized, are confronting this issue head on."
But he denied that the issues he has raised have anything to do with committee assignments and insisted they are "far beyond my candidacy."
"They are real and must be addressed in a real and systematic way during the next term," Williams continued. "I welcome Councilmember Barron's voice to that end."
Torres, for his part, told Observer Johnson won because he had sufficient member support.
"He had the deepest well of member support," he argued. "That is why he won. Race matters in politics, of course. It matters in American history. I have found in politics, as in life, personal relationships matter more than common complexion, and no one has more personal relationships in the City Council than Corey Johnson. That is why he won and that is why he will be speaker, and everything else is background noise."
When asked to elaborate on the "background noise," he would not comment on any specific individuals.
"He is destined to be the next speaker and if you have no member support, then what is the rationale for a speaker candidate?" he continued.
He was not aware of what Barron was referring to when she claimed candidates had agreed to drop out in exchange for the committees they desire. But he maintained that as a former speaker candidate, he believes it is better for candidates to "exit gracefully" when they are defeated.
Through spokespeople, Cornegy and de Blasio declined to comment. Crespo, Crowley, Richards and Rodriguez could not be immediately reached for comment on Wednesday.