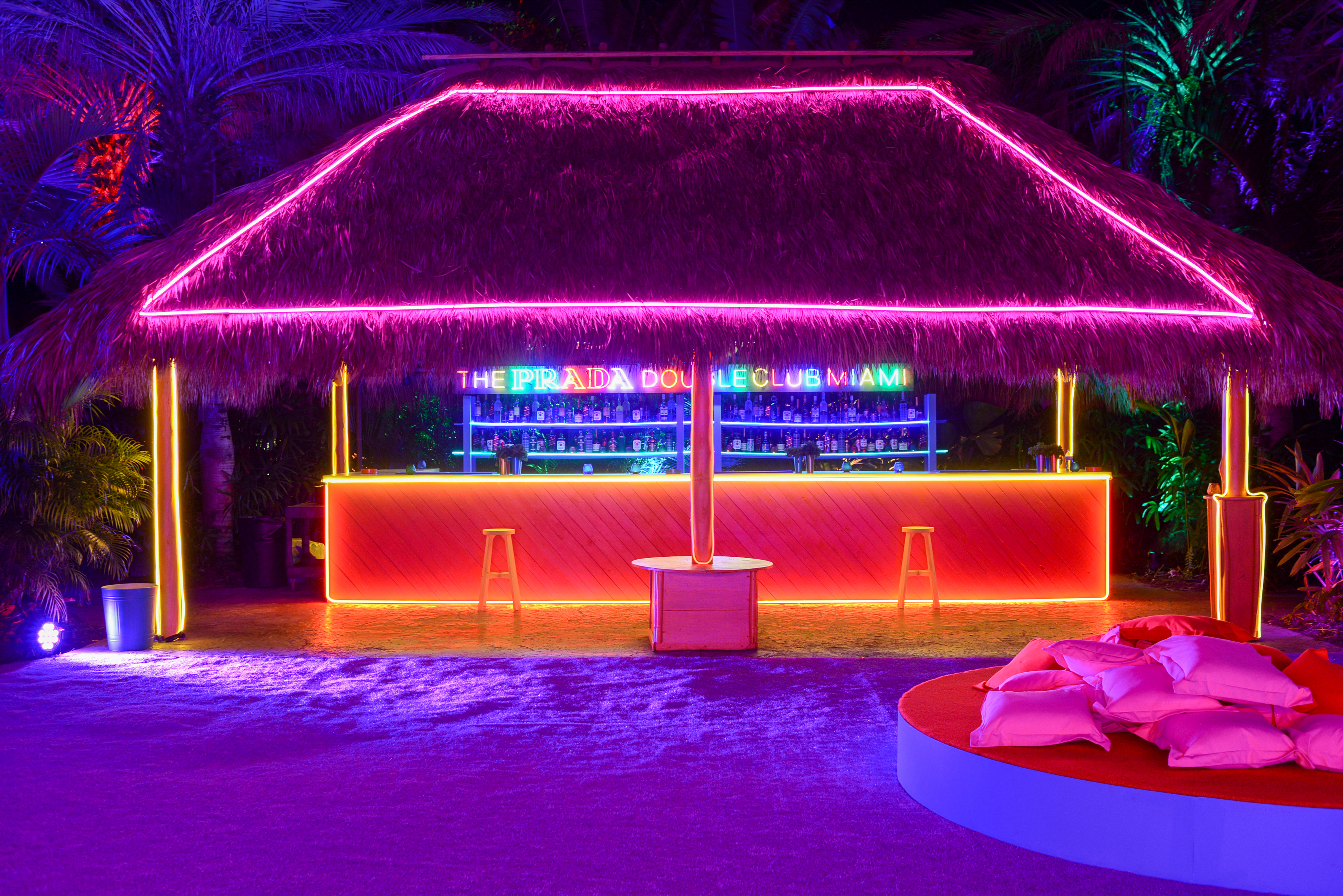 This year, the coolest nightclub at Art Basel Miami Beach is only open for three evenings. And it happens to be hosted by Fondazione Prada.
The Prada Double Club Miami is located on an unassuming block on the edge of the Wynwood neighborhood, just around the corner from the Perez Museum. Behind the velvet ropes, helmed by suited bouncers and edged with cool kids wearing printed Prada button-downs, is a glorified playground for fashion types.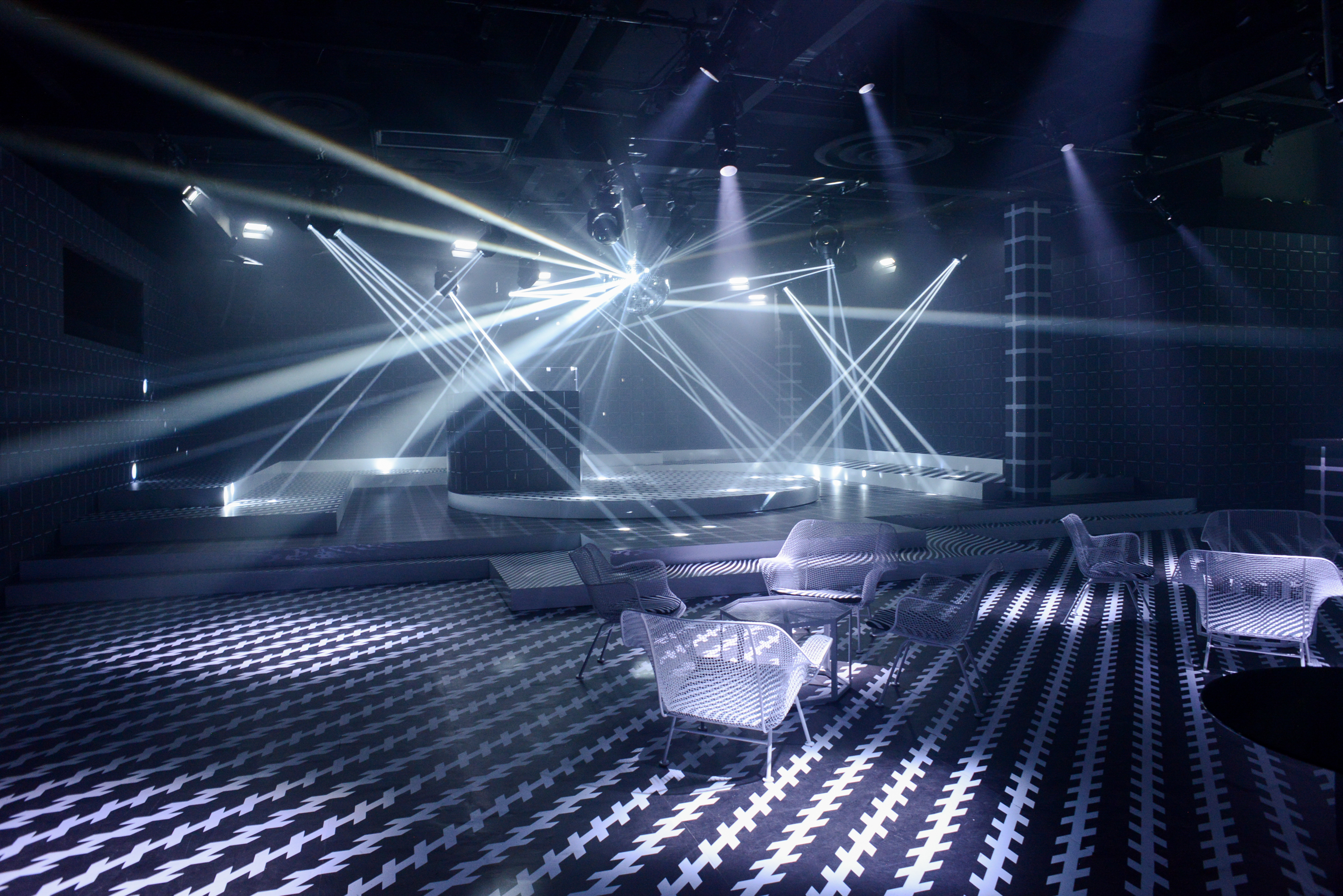 Artist Carsten Höller designed the two-part space, which is housed in a former ice cream factory that was turned into a 1920's film studio complex, allowing partiers to experience two evenings in one. After strolling through a path of colorfully illuminated trees and fauna, revelers encounter the first room, which is imagined entirely in black and white. Light bounces off the massive disco ball installation from the ceiling, illuminating the mixed print of the floor and the slowly rotating circular DJ booth at the center. At the bar, even the labels of the liquor bottles have been converted into shades of black and white; the only source of color there is the bartenders' faces, which are covered with eerie grey paint.
"I want guests to feel like they are the only element of color in the monochromatic side that has only greys, blacks and whites, as if a foreign element in a black and white movie," Höller explains. Naturally, the music matches the décor and this space is home to techno beats.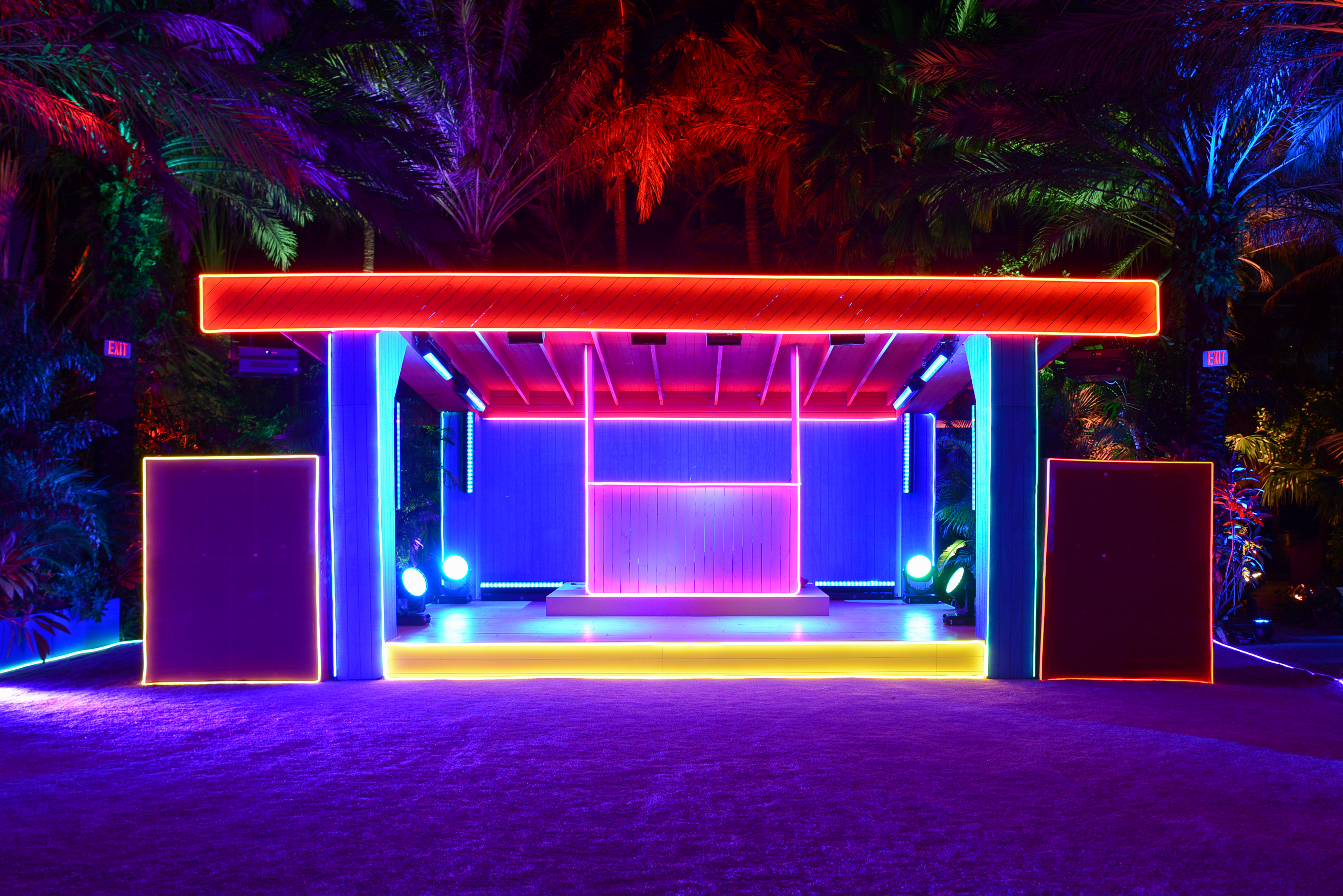 For a more colorful experience, head to the second part of the Prada club: an outdoor stage lined in bright dashes of neon light and edged with even more palm trees and greenery. According to Höller, this is "where the tropics hit a bit too hard."
Yes, the bar here is tropical-themed as well, with plenty of pineapple and watermelon cocktails to go around, accessorized with wild straws—plus empanadas to nibble on. The tunes played in this section skew more towards rap and performance groups from the Caribbean and South America—Wyclef Jean performed here on opening night.
This marks the second time that Höller has created a "schizophrenic" Double Club for Prada; in 2008, he turned a Victorian warehouse in London into a bar, restaurant and disco that contrasted Congolese and Western cultures.
Prada Double Club Miami opened on Tuesday, December 5 with a major bash, attended by Miuccia Prada, Höller, Diplo, Adriana Lima, Jonathan Anderson, Daniel Arsham, Rita Ora and Ricky Martin. The following night, Observer spotted Virgil Abloh, Sita Abellan (both of whom returned for a second evening) and Louis Vuitton's Nicolas Ghesquière in the crowd.
The club is open for just one more evening, on Thursday, December 7, with musical guests Method Man & Redman, Princess Nokia and Arman Nafeei. We have a feeling that, for the third night in a row, this will be the club to be at, until at least 2 a.m.