England's Francesca Annis is back on Broadway, and, she's not in Castle Elsinore anymore. The Children, which opened this week at the Samuel J. Friedman Theatre, is her third Main Stem outing—but her first time appearing in a play other than Hamlet.
Shakespeare's classic tragedy "premiered" on Broadway Nov. 26, 1761, and has been revived there 65 times, most recently in 2009. In all that, Annis is the only person to have played both Ophelia and Gertrude: In 1969, she was the lover of Nicol Williamson's Hamlet, and 26 years later she turned up as the mother of Ralph Fiennes' Hamlet (a on-stage pairing that led to an off-stage partnership of 11 years).
"That's the great thing about my profession: You can keep going on and making changes and playing new characters," Annis says with a light shrug. "I always think you make a big change every decade, and then you're off to different parts. You can express different aspects of yourself. It's quite something. Like a lot of actors and actresses, the important thing is where you are in the present. When I played Ophelia, I felt Ophelia was the most important part in the play. Then, when I played Gertrude, I thought, 'God! Ophelia is not such an amazing part. Gertrude is a much better part.' I know a lot of people don't think it's a good part, but I felt it was."
She has other little distinctions where that came from. "I think that I was the only person to play Lady Macbeth before I played Juliet," she postscripts. "I played Lady Macbeth when I was very young in Roman Polanski's film version of Macbeth. I was only 26 at the time, and then I went to the Royal Shakespeare Company to do Juliet."
Both her co-stars in The Children have been known to belly up to The Bard on occasion: Ron Cook was Polonius to Broadway's last Hamlet (Jude Law); Deborah Findlay pleaded for the quality of mercy across the pond before coming here to win an Obie and an Outer Critics Award for recreating her work in Top Girls and Stanley.
Not that a Shakespearean skill set is particularly useful in coping with the considerable demands of The Children—although its slowly growing body count is as pervasive and high as Hamlet's. Also, there are no children in The Children, save for one whose performance is phoned in and therefore unheard by the audience.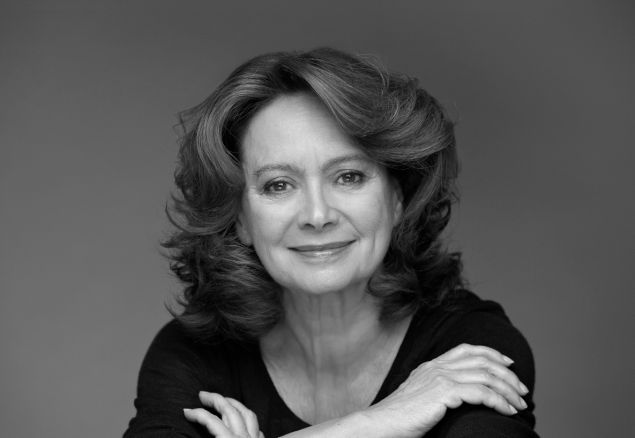 The stage is sparsely populated with a trio of sixtysomething ex-nuclear physicists. A married couple (Cook and Findlay) and a colleague they haven't seen in 38 years (Annis) come together in the couple's cottage kitchen on England's east coast—not by accident and not far from where an earthquake has struck the nuclear power plant they helped build, causing a meltdown that has contaminated the country.
At first glance, the play looks like another round of Harold Pinter's Old Times, a resumed romantic triangle—only rekindled with radioactivity—but soon a sense of impending doom creeps over the audience. Domestic small-talk about banana bread and yoga gives way to big talk about dying cattle, "exclusion zones" and rationed electricity, punctuated by that old British standby, 'Did you say you want tea?'"
"It's a slow-burner of a play," allows Annis. "The brilliance of it is that it's in real time. It actually happens in the time that you see on the stage. You get their lives, their relationships and where that has brought them. It's something to pack all that into an hour and forty. People think, 'Oh, it's a play about three nuclear scientists.' Actually, it's a play about three normal, ordinary people who happen to be nuclear scientists, facing up to taking some sort of responsibility, especially as you get older. It's very easy—my God, don't we all do it?—to become complacent as you get older because, basically, you're pretty worn out from years of being concerned with so many things. Maybe you've been politically active or disappointed or whatever. You just think, 'Now, this is my time.  Now, the younger ones must just get on with it.'
"Actually, this play is about confronting the older generation and saying, 'Don't give up. We've still got responsibility, and now is the time we all must stand up and be counted.' I find it interesting—and very, very appealing—that it, also, is a play about people who are getting on and, for once, doesn't deal with incontinence, depression, giving up, Alzheimer's. These are just three active, working people, and I love that."
Hence, the title—and implied irony—of The Children, a meditation on the older generation taking responsibility for the poisoned legacy they've left their young.
"We all behave like children because we abdicate responsibility," declares Annis. "We abdicate responsibility to those who are taking over or to those we think should have the answers so then we can lay it at their doorstep. But, funnily enough, just when people are becoming so jaded and cynical about politics, they are at the same time being empowered and beginning to think, 'If we don't get out there and do something, if we don't vote next time, things are going to get even worse.'"
The Children is the first time Lucy Kirkwood's voice has reached these shores. At 32, she is, according to Independent, "Britain's brightest young stage writer" and "the most rewarding dramatist of her generation." England's flavor of the decade, she won the Best Play Olivier last year for Chimerica and all sorts of thoughtful, ruefully funny plays wrapped in surprising titles (Guns or Butter, Cut and Uncut, NSFW, The Umbilical Project and It Felt Empty When the Heart Went at First But It Is Alright Now). Manhattan Theatre Club, the producers importing her debut opus here, just signed her up to write a science play.
Annis crossed paths with the playwright two years ago when Kirkwood cast her in a 21-minute film short she'd written and was directing called The Briny, about a recently divorced woman who believes she's experiencing a sympathetic pregnancy with Kate Middleton. At around the same time, she was performing a play called Blood at the Royal Court, directed by James Macdonald. Both wanted Annis for The Children.
"I have to be fired up about working in the theater because it's quite grueling—and long term, et cetera, et cetera—but I have to say, when I picked this play up, it was such a page-turner. I just read it in one. It kept taking me back, as I think it does on the stage," said Annis. "Lucy is completely brilliant. She writes about matters that concern us all, but she doesn't pontificate about them."
Annis was born in Kensington, London, six days after V-E Day, to an English father and a Brazilian-French mother. Both were sometimes actors and moved to Brazil where he ran a beach nightclub and she was the star singer. After six years of that, they returned to England, and Annis began a convent education—with such earnestness that she really did seriously consider getting herself to a nunnery. "I think I probably made the right choice for me," she drily concedes in hindsight.
Ballet training in the Russian style at the Corona Stage Academy sent her off on that tangent, but it abruptly dead-ended one day when she found herself precisely at the right place at the right time. "I had an interview—'a casting session,' I think it's called—for Cleopatra at four in the afternoon, but my ballet teacher said, 'Absolutely no way are you missing your class to go to some stupid film interview.' I said, 'OK.' But, at two o'clock, I was buying ballet shoes around the corner from where the interview was to be held, and, being a good middle-class girl, I just popped in and told them, 'I'm terribly sorry, but I can't come.' Can you imagine they cared if I came or not? The receptionist said, 'Oh, that's OK, but look: There's Joseph Mankiewicz. He's going for the door now.' He was leaving for Italy and would not have been there at four o'clock. They called him back, and we chatted in the hall, and then he asked me, 'Well, would you like to come to Italy for a screen test?' And that was it."
The world might have been focused on the Roman filming of Cleopatra because of the Liz Taylor-Richard Burton scandal that erupted on the set, but Annis was oblivious. "Like all media mayhem, you can be on the inside of it and not notice it at all," she points out. "I was very young, and Elizabeth completely took me under her wing. She was wonderful with children and felt I was too young to be exposed to the film world and set. When we were on the island off the coast of Italy where we were filming, she wouldn't let me stay down with the crew—of course, I was dying to stay down with the crew, being at all those parties—but she said, 'No, no, you'll come and stay with me and Richard at the big hotel on the other end of the island.' I was very protected from all the paparazzi and the stuff that was going on.
"One thing I learned working with her has been with me all my life: It is possible, as she did with her family, to have a completely normal life when you are such a huge star. It didn't infect every tiny little aspect of her being. She didn't strike me as being deeply neurotic—of course, she was madly in love at that time. She was like royalty because it sat naturally on her shoulders. You weren't with somebody who was permanently in a state of worry that her reign was coming to an end."
From that bit role (Eiras, the handmaiden who fetches Taylor her asp), she stepped up to leading lady, opposite Richard Conte, in The Eyes of Annie Jones. When she got to her dressing room, it was filled with irises (as in Eiras), with a note from Taylor.
That feature and most that followed were under-distinguished—save for Polanski's Macbeth, where she famously did the "Out, damned spot!" speech sleepwalking nude. "It's a great, great loss to the film industry that Roman has not been allowed to work more broadly," lamented Annis. "He was a wonderful filmmaker to work with."
She likens him to David Lynch, who directed her in Dune. "They are supreme in their area. They shared their thoughts and ideas around. The thing about Roman is he has a great eye for composition and would talk about why he was composing the shot the way he was, how he creates anxiety in the public's mind just by the way he puts the angle of the camera. It wasn't just any old close-up. He knew how to draw you in, and he shared that with all of us. He listened if you had an idea. He didn't always follow your idea, but you had a voice, and it was very creative to work with him."
Annis did her share of feature-film series—with the Carry On gang, with Margaret Rutherford's Miss Marple, even with Flipper—but the bulk of her career has been spent in series on British television, where she specializes in glamorous heroines (Emma Bovary, Jacqueline Kennedy Onassis, Lillie Langtry). The latter, her only actress role, ran from ages 15 to 75 for 13 seasons and earned her a BAFTA award.
In 2009, she returned to the London stage, to the National, in Time and the Conways, playing the emotionally myopic matriarch recently essayed here by another of Broadway's ex-Ophelias, Elizabeth McGovern. Annis' only other un-Shakespearean performance in New York was at the Park Avenue Armory four years ago, playing the mother of Russian grandmaster Garry Kasparov in his 1997 chess clash with the I.B.M. computer known as Deep Blue. "That was fantastic. They only do event things there. We had big screens all around. It was a bit like being in a sparring match."
That experience and her current one remind the actress what it's like to play to a demonstratively responsive audience. "New Yorkers believe in entertainment with a capital E, and so do I," says Annis. "You listen to The Children, and, once you get it, you really go with it and roll with it. We've had to make slight adjustments ourselves because we were in a much smaller theater in London, with a slightly different audience. The marvelous thing about New Yorkers is they're up for it immediately. They want to have a good time. English audiences can be a bit more complacent and sit back and say, 'OK, do it to me,' where, here, they're in their seats and ready to go."