Actress KaDee Strickland thrives on fear. Star of Hulu's Shut Eye, which premiered its second season on December 6, Strickland initially signed onto the series because she found the role of protagonist Linda Haverford frightening. The Georgia native, with her steady southern drawl, clarified that she wasn't "boogey man scared," which was not surprising since she's very vocal about her love for horror movies, but that she was scared creatively.
"The first time I read the script in October 2015, I was terrified," she said. But that's why I ran towards it. Like, no one has ever asked me to do this."
Beloved for her work as Dr. Charlotte King on Shondaland's Private Practice, she's not so easily likeable as, as Linda on Shut Eye. She's callous, unfaithful and a ruthless con artist.
"I knew that the producers involved, [in particular Breaking Bad's John Shiban] were ones I respected. I've seen what they've done with characters that are seemingly unredeemable, and then you can't believe how much you fall in love with them. You can see their humanity even when they do these abhorrent things," Strickland said.
The steaming network's drama introduces viewers to the underground crime syndicate that runs the psychic network in Los Angeles. Linda is a former Las Vegas stripper who's married to Charlie Haverford (Jeffrey Donovan), a failed magician overseeing multiple fortune-teller storefronts. But living con to con has taken its toll on the Haverfords, especially on their teenage son, Nick (Dylan Schmid). They now find themselves desperate to get away from the Romani family rule. While the show's storylines sometimes gets a little muddied with mafia violence and strong sexual scenes, it's the psychological exploration into the fraudulent world of working mediums that makes the series a compelling watch.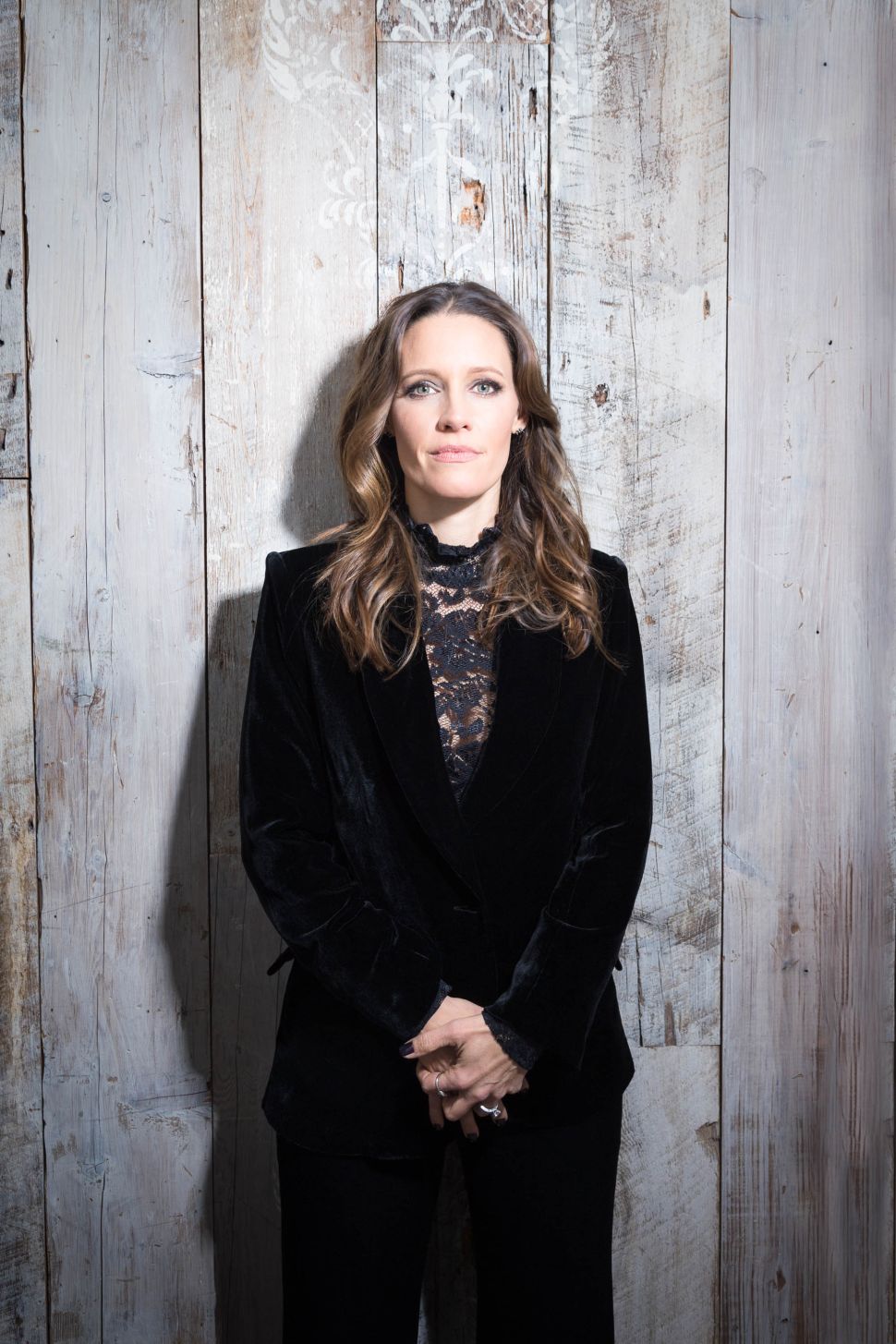 "I did a tremendous amount of research," Strickland said, visiting numerous fortune tellers in the lead up to taking on the role. "In person, that's where you understand how they work. They were regimented. In essence, it works like a factory system. I would notice the clock on the table. Watching them casually check the time was funny to me because suddenly 'Your time's up,' and you're being shuffled out for the next customer."
"But there are also ones that will give you all the time in the world," Strickland noted. "The longer you stay, the more time they have to weave their web, and the more likely you are to feel special, which will then make you spend more money."
Prior to this job, Strickland had seen astrologers from time to time, and a friend had once gifted her a visit to a medium that claimed to speak with angels. Coming from the deep south, where fortune tellers are given no credence whatsoever, she understood the taboo and irresistible curiosity.
"These people have a remarkable intuition. Hack or not, I believe they can look at a person and read them very quickly and clearly," Strickland said. "They have a gift in cold reading and it stands across all mediums. [With] astrologers, there's a bit of science to it, but there's still an element of sizing someone up based on what they're wearing, if they have on a wedding band, the size of your purse, or if you're carrying a backpack. These are all tells. And the need to believe in something is a very powerful thing to explore."
Strickland also read The Confidence Game: The Psychology of the Con and Why We Fall for it Every Time, a book by Maria Konnikova that gives numerous different accounts of people who've faked professions.
"I highly recommend it," she said. "With the caveat that you should be prepared to never purchase anything online again, like things on social media or share your point of view, because you become aware that there are people out there who survive on your habits and needs."
As Shut Eye shows, getting your fortune told can be an exhilarating experience, filling your brain with lovely thoughts. But the occurrence can also suffused with terrifying premonitions, leaving a person with obsessive worries they never had before. It's the latter that mediums feed on; these people become their most dedicated customers.
"Season two is more of a character study,' Strickland said. "How did these characters get here and why. How far are you willing to go to protect your family, doing bad things for the right reasons. It's the aftermath and the processing of that rapid fire chaos of season one."
While watching this series, it's difficult not think about how this kind of deception and psychological manipulation far transcends the business of fortune tellers and the extreme effect a persuasive, charismatic personality can have on people looking for a leader. World War II instantly comes to mind, as does the following dedicated to our current White House. Even the most self-aware can fall prey to pointed political campaigns, targeted advertising, cult-like churches and pyramid schemes. We see it happen over and over again in the news, but rarely do we give a thought to their recovery.
In season two, Linda is having an existential crises. She's questioning Charlie's sanity and her own. Out of options, Linda has no choice but to reinvest in her marriage, a turn which Strickland was happy to see happen as she describes working alongside Donovan to be incredibly fulfilling.
"With Jeffrey, we were both unafraid to be really unpleasant with each other, and I think that is historic in long marriages," Strickland said. "We weren't apologetic about that and it was so fun. Afterwards, we hang out and talk about our kids. It's great that even while working on dark shows, that you can have a laugh when you're not rolling. That's really important to me."
Strickland also laughed when the topic of her IMDB page was broached. Someone recently hacked into her account and added the erroneous information that she gave birth to twin daughters this past July.
"That's the internet, man," Strickland said, who has one 4-year-old son, Atticus, with fellow actor Jason Behr, her husband of nearly 12 years. "For some reason, someone who's really clever and way more advanced in technology than I am, went as far as to even name these (non-existent) twin daughters (Caroline Matilda Behr and Emmeline Victoria Behr). Yeah, my husband and I were thrilled to hear about it!"
But Strickland doesn't stress of fear Internet trolls. She's impressively grounded in that aspect of her career and unlike most actresses, straight up admits to reading the comments.
"When season two dropped, I checked my Twitter feed. I know that's playing with fire, but in this day and age, fire can be rewarding at times," Strickland admitted. "And I couldn't believe how within 24 hours, how many people had already watched the whole thing. I have a very wonderful cliff-hanger-esque type of ending in which I make quite a bold statement, and it made hashtag status so quickly! People jumped right on that snappy line. Knowing people sit down and watch, and then want to go back and rewatch—to have that kind of appetite for the characters—is great. I love it."
Emily Bicks is a pop culture journalist and TV enthusiast whose work can be seen in Variety, Refinery 29 and Tribune Media. She writes about entertainment for Observer. Follow her on Instagram and Twitter @missbicks.