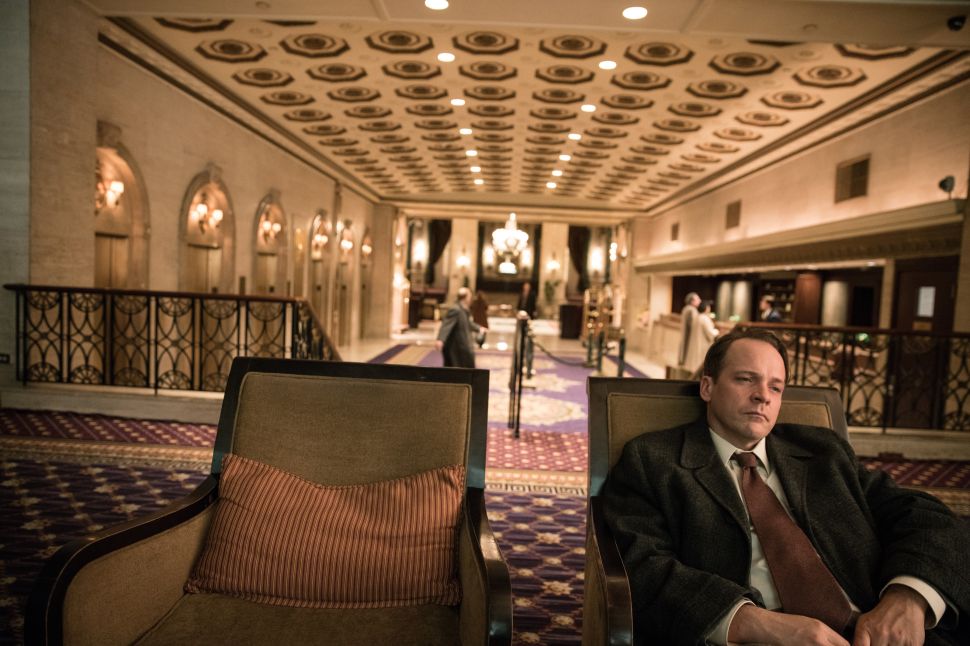 A government cover-up involving LSD, a 13-story fall out a hotel window, secret germ warfare laboratories, a CIA allergist, Rogers and Hammerstein's biggest Broadway flop and an autopsy on a hematoma-marred corpse buried for 41 years: for six decades, these puzzle pieces have nagged at a tortured son endlessly chasing the elusive truth of his father's suspicious death. And Errol Morris wants answers.
Spanning 258 minutes over a half-dozen episodes, and debuting on Netflix on December 15, Morris's epic true crime investigation Wormwood is many things—just don't call it a documentary. As far as director Morris is concerned, it's the cinematic equivalent of an Everything Bagel. "I don't know quite how to describe it either," he said, when I admit to finding it hard to define.
The Oscar-winning filmmaker, who received his Academy Award for 2003's riveting single-subject study The Fog of War: Eleven Lessons from the Life of Robert S. McNamara, has been rebelling against that category for decades. As far back as 1988, the marketing materials for his breakthrough non-fiction film The Thin Blue Line referred to it as "a new kind of movie mystery"—which famously led to an overturned murder conviction that set an innocent man free.
"I used to get annoyed when people talked about reenactments in The Thin Blue Line," said Morris. "I would say, 'You have to understand: I'm not really reenacting things that I necessarily believe to be true. I'm reenacting things to come to a deeper understanding of what might have happened.' But many of the reenactments are of things that I do not believe happened."
Morris and his principal Wormwood interview subject, Eric Olson, are convinced that foul play led to the death of Eric's father, Frank Olson, in 1953. Frank was a straight-laced military scientist operating out of the Fort Detrick Army Base in Frederick, Maryland, and was privy to all sorts of biological weapons at the dawn of the Cold War. His first-hand knowledge of covert operations made him a high-value employee—and a potential liability, too, if his resolve ever wavered.
According to the U.S. government, while visiting New York City during Thanksgiving week in 1953, Olson either "falls or jumps" out the window of Room 1018A at the Hotel Statler. And that's all 9-year-old Eric and his family are ever told. "At that moment, the world stopped making sense entirely," said Eric in the film—especially since his mother never seems to question it at all.
Not until June 10, 1975 does the family get a bit more clarity, when the Rockefeller Commission publishes a detailed analysis of illicit CIA activities that details in passing how a government scientist was unknowingly given LSD and later died from a fall.
Investigative reporter Seymour Hersh helps the Olsons confirm that the scientist is their father. And, remarkably, President Ford invites them to Washington D.C. to personally express his regret over the situation—the only family in history to ever get an apology from the president in the White House for a government act. The also get specially released CIA documents explaining the incident. The Olsons take legal action, and the government ends up giving them a $750,000 settlement.
But Eric still doesn't have the closure he needs, especially when he realizes that the "choppy, elliptical, patched together, incoherent" CIA documents don't really make sense. They're also filled with odd details—like how Frank and his colleagues go to a performance of Rogers and Hammerstein's Me and Juliet, but then leave halfway because Frank has a meltdown.
Two decades later, still haunted by his father's death, Eric exhumes Frank from his grave in 1994, providing the opportunity for a forensic evaluation. The verdict: a blow to the forehead reveals that he actually suffered injuries before he went out the window. Frank's death, which had evolved from unfortunate accident to tragic suicide, seems now more than likely to have been a murder—or even possibly an execution.To connect the dots in Wormwood, Morris uses all the narrative and formalist techniques honed over his long film career. His signature reenactments are even more polished and extended, using gorgeously evocative cinematography by Ellen Kuras and featuring actors like Peter Sarsgaard, Molly Parker, Bob Balaban and Tim Blake Nelson to make Frank's life more vivid.
But Morris considers himself a collagist as much as a filmmaker, in the way he canvases the screen with text, photographs, official documents, and newspaper clippings. His interview subjects are also shot with not just two or three cameras but 10—and at times the frame fills up with the various angles simultaneously. "I don't know anybody else who's shot interviews with 10 cameras," he says. "And edited them quite in that way, which is a kind of collage effect in and of itself."
Old film clips pepper Wormwood, too, including Laurence Olivier's Hamlet and its story of a troubled prince wanting revenge for his father's untimely death. The title itself is a reference to Shakespeare's tragedy, as well as to the Book of Revelations in the Bible, both of which make passing reference to the bitter plant. "It fit a lot of needs for the title," says Morris. "Ultimately it's about bitterness."
This quest for answers has always been a hallmark of Morris's career. "I'm a great believer in truth and meaning," he says. "Because I'm an investigator, investigators have to believe in truth—real investigators—or why would you be doing it in the first place? You have to believe there's a world out there where things can be uncovered."
In the Trump era, his belief may be under assault like never before. "People have been denying the truth for probably as long as there's even been that concept of truth," says Morris. "But truth hasn't changed. As much as I like to blame everything on Trump, what's interesting—and frightening—is the effect the internet has had. I'm fond of pointing out that 100 years ago, 99.99 percent of human idiocy went unrecorded. And now we have the internet."
Stephen Garrett is the former film editor of Time Out New York, whose articles on the movie industry have also appeared in Slate, Esquire, and Rolling Stone, among other outlets. He is also the owner of Jump Cut, a marketing company that specializes in making trailers and posters for independent, foreign-language and documentary cinema.