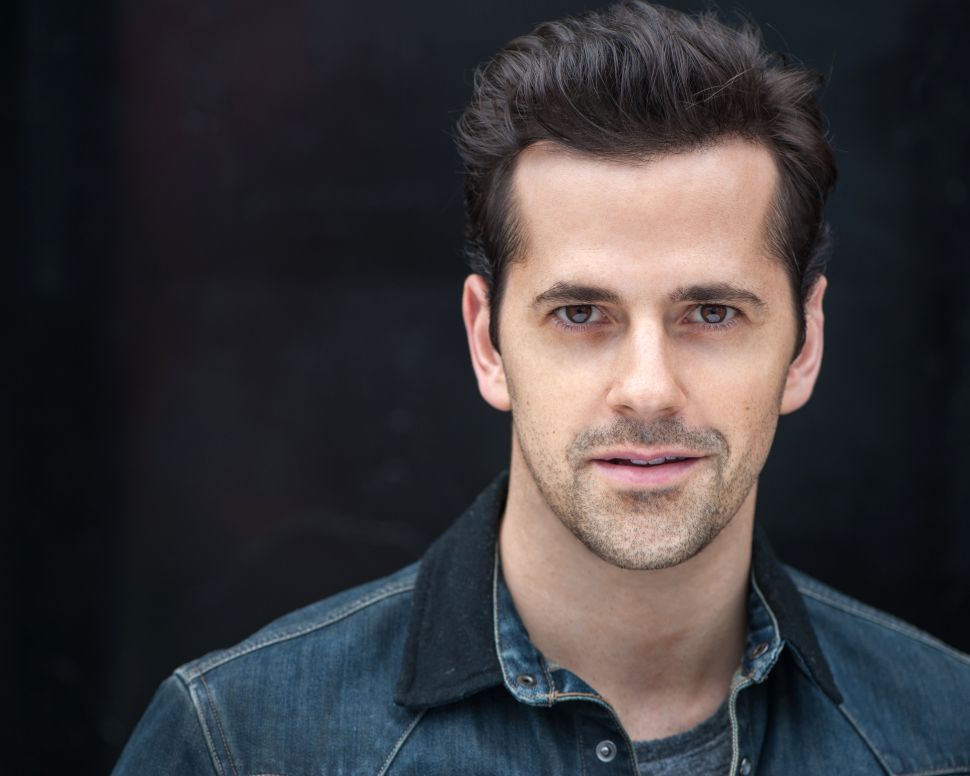 If you were described a Broadway show in these three words: "dance and Frankenstein," you'd probably imagine something like Peter Boyle in his Mel Brooks film getup shuffling through "Puttin' on the Ritz" while gutturally annihilating the title lyrics.
Well, think again. Come December 21, Ensemble for the Romantic Century (Eve Wolf, Executive Artistic Director) starts previewing Mary Shelley's Frankenstein for a December 27 opening at the Pershing Square Signature Center, and it's most certainly alive…Alive! with Robert Fairchild in the title role. Quite a beauty-and-the-beast conundrum, that—to present the ballet hunk and all-round American in Paris as Shelley's man-made monstrosity.
It's all in the eye of the beholder, and Fairchild's eyes are open to new opportunities. A principal dancer at New York City Ballet since 2009, he took what turned into a literal break from the company to hide out a year in Paris and on Broadway (plus more months in London) as Jerry Mulligan, the American in Paris of the 21st century.
"I've been trying to cultivate work for myself that stretches my abilities," he says, explaining why at this career juncture he hasn't ruled out "against-type" monsters.
Wave a Tony under his nose, and this is what happens. Actually, he didn't win a Tony for An American in Paris, but he did pick up just about every other award that wasn't nailed down in 2015: the Drama Desk Award, the Outer Critics Circle Award, the Theatre World Award and even the next-to-the-last Astaire Award (which has since turned into a Chita). A windfall like that could send a fella hunting for new frontiers.
Astaire notwithstanding (and with the exception of a one-night Roundabout concert staging of Kiss Me, Kate at Studio 54 last December), Fairchild has only appeared on New York stages in Gene Kelly movie musicals. In addition to his conspicuous stint in An American in Paris for director-choreographer Christopher Wheeldon, the two reteamed last month for six performances of Brigadoon on the New York City Center Mainstage. (Fairchild had the big dancing part—Harry Beaton, the sore loser and uber-wedding crasher who ends Act I—not the lead Kelly did in the 1954 flick.)
Is there any other Gene Kelly movie that he might consider recycling here? "Singin' in the Rain." There was no thoughtful pause there. "Gimme a break. That'd be my dream." Harvey Weinstein had been plotting to transfer a Paris revival to Broadway but got distracted. "Things could be cooking out there." Jokingly, Fairchild leans into the reporter's tape recorder and pretty-pleads, "I'm just speaking out to existence."
His only other foray into good old-fashioned musical theater was in the BBC Proms production of Oklahoma! at London's Royal Albert Hall. "I loved playing Will Parker. He's just so open-hearted—and so slow—but he's a good guy and fun to play. It was a fabulous experience for me."
ERC's ever-innovating artistic director, Wolf, has cobbled together this new Frankenstein from a variety of the arts, which is sorta appropriate for a creature who was originally assembled from used body parts and other graverobber scraps.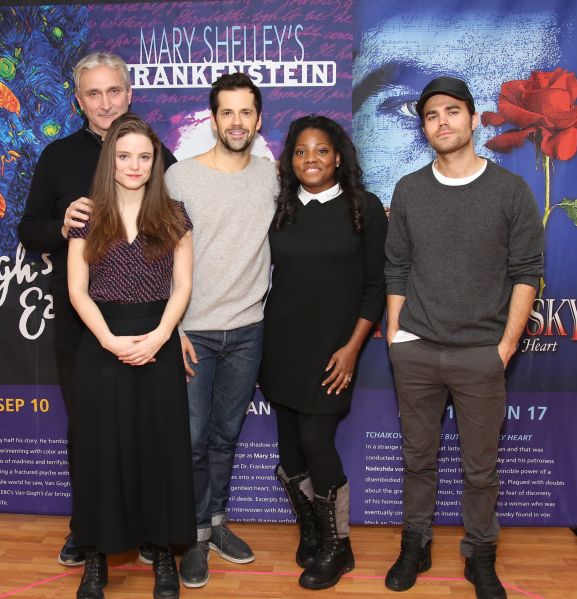 Fairchild describes the recipe as "equal-parts chamber music, equal-parts dance, equal-parts acting and equal-parts opera. I think that we're trying to take each opportunity of music to further the story along. There'll be storytelling elements throughout all of the music, so there'll be less time where it's just the music alone.
"So many art forms are represented here, and it's their collaborating with one another that's interesting. It's music and dance. It's music and acting. It's music and opera. It's opera and dance. We're knitting them all tightly together to tell a story."
Mary Shelley's Frankenstein, beyond being a massive change of pace, is full of firsts for Fairchild: his first time Off-Broadway, his first time to choreograph and, put together, his first as a theatrical hyphenate. "There are staging elements that we're all contributing to, but I've been hired just to choreograph my own steps, that's all."
That's enough. The Monster that Boris Karloff cranked up and lunged into cinematic immortality was not known for fluid movement or grace. Fairchild has changed that game right at the starting gate. "We're taking the Monster abstractly," he explains.
"He's the only one of the characters who embodies something different from his physical appearance. We are showing his heart. I embody his heart. This is a journey of a creature who is born without any human contact, without any love. The only thing that he has known from people is rejection. The one person who pays attention to him, talks to him, doesn't hurt him or run away in fear is a blind man.
"I want to show in movement how the lack of human love and affection can taint the soul, can turn the heart bitter, can really become evil. There's a physicality that some people would take doing a monster—legs that aren't functioning, for instance—but this is a fractured heartbeat, and it causes a similar lack of coordination in the body."
"To show a heartbeat that's fractured is really fascinating. The ideas that come up—do you move when things are starting to feel whole for the Monster? is there a physicality of that? does it go with the music?—all this is unfolding. It's peeling the layers off this guy. I think Brigadoon's Harry Beaton is a lot like the Monster. He was unloved and motherless. His mother died when he was born. He wants so much to be a part of a world that doesn't include him. I felt all of that was practice to find a character lower in the body, more burdened. the Monster's on a whole other level."
This show will have just six previews and run only through January 7. "Which is good for my body. The physicality of this is such that I can't imagine doing fifth position right now. What it's taking for me to find these things that are not held, that are not structured—it's fractured, and that's a really fascinating place to be at physically, but you just cannot do that very long, so it's appropriate that this will be a short run."
In this new musical offering, the monster doesn't sing, but he does speak—and sometimes eloquently: "All men hate the wretched," he declares at one point. "How then must I be hated, who am miserable beyond all living things!" For Fairchild, this calls out the Frankenstein in anyone who hates certain people because of their race or orientation. "It's important to understand what it's like to be forgotten, to be ignored, to feel like you don't have a voice. There is a lot of that in our culture now."
Karloff's stance that the Monster that would talk over his undead body lasted only for the 1931 original. By the time, Bride of Frankenstein arrived four years later, his creature not only talked but had developed some pretty primitive billing 'n' cooling.
Elsa Lanchester, who was actually screen-credited as "?" for that title role, had only three iconic minutes as the bride—greeting her mate with white-heat hissing and spitting—then spent the rest of the film playing authoress Shelley in sedate drawing room settings, entertaining poets (Lord Byron and her husband, Percy Bysshe Shelley) with a scary tale that she had concocted for the evening's entertainment.
In point of fact—exactly 300 years ago, come this New Year's Day—the first edition of Frankenstein; or, The Modern Prometheus (to give the full formal title) came out without credit, too, anonymously in London (back then, women writers were quiet closet cases). Shelley had started writing it two years earlier when she was 18 but wasn't acknowledged for it till the second edition was published in France in 1823.
Mary Shelley's Frankenstein adopts the same split-level type of storytelling as the 1935 film sequel. "You see the story unveiled through Mary Shelley's life," says Fairchild. "We go back and forth from her relationship with her husband to her relationship with her story and the Monster. By this point, she had gone through miscarriages, and I think her writing Frankenstein was her way of beating science."
Mia Vallet doubles as Shelley and the novel's Agatha; Paul Wesley plays her husband and Victor Frankenstein; Rocco Sisto is her father and the blind man, and so forth.
Fairchild's fourth first will follow in a few months: his film-acting debut in The Chaperone, a '20s-vintage drama from a Downton Abbey duo (writer Julian Fellowes and actress Elizabeth McGovern). To be hair-splittingly truthful about it, he says, it's not his first film. "In 2010, two soloists of New York City Ballet decided to adapt Jerome Robbins' NY Export: Opus Jazz for the screen. It was quite West Side Story-esque. We danced in sneakers all over the city, which was really great fun." He was top-starred in that with Tiler Peck; their three-year fairytale marriage ended in June.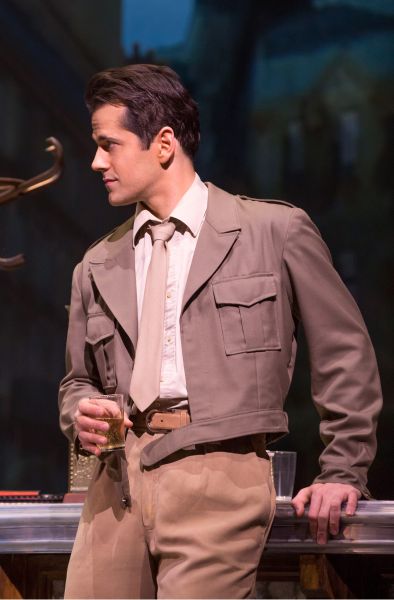 In The Chaperone, he plays Ted Shawn, one of the pioneers of American modern dance who, with former wife Ruth St. Denis (Miranda Otto, Fairchild's primary scene partner), created Denishawn, a company that included Martha Graham, Isadora Duncan and Louise Brooks. The movie focuses on Brooks (Haley Lu Richardson), whose fame came as a flapper and actress when flickers turned into talkies; indeed, she was one of the candidates for the heroine role in the original 1931 Frankenstein.
Fairchild had a hunch that Ted Shawn might have crossed paths with Gene Kelly—"because they had the same mission statement: they wanted to make it cool and acceptable for men to dance"—so he contacted Kelly's widow, Patricia Ward Kelly.
"She told me Gene actually said that he went and saw Ted Shawn and His Men Dancers in Pittsburgh when he was younger, and it really inspired him. These are the guys who really carried the torch of furthering dance along, especially for men."
Dance has deepened into a kind of identity for Fairchild. "As a person, I've found myself through my performance opportunities on stage. There's something you get as a performer when you put your heart out there. Getting it out there is like therapy for you to see who you are. Seeing what you've put out on a given night, reflecting on what that performance was on the cab ride home—you learn a lot about yourself."
His was an early calling. "I remember in elementary school we had this oral report project where we had to pick a famous American and do an oral report. In the first grade, I chose Davy Crockett. In the second, I picked Fred Astaire and even did a little tap dance. Our classroom was carpeted so I had the whole class go to the cafeteria where there was linoleum and you could hear the tap sounds. For third grade, it was Gene Kelly, and I tap-danced in brown penny-loafers." Then, realizing he lacked a finish, he feigned a heart attract brought on by all that joyful dancing, "died" on stage and had a friend read Gene Kelly's obituary over his collapsed body. "It was a silly way for a kid to show to his classmates how much he loved to dance."
Before that, at four, he was on his way to becoming one of the world's preeminent ballet dancers. Formal training at the School of American Ballet kicked in when he was 15. Within four years of joining NYCB, he became Principal Dancer and stayed one till October when he exited with George Balanchine's "Duo Concertant." Now 30 (despite a IBDB goof that has him born in 1988), he's the company's youngest dancer to have a farewell event. At that last curtain call, he came with a basket of roses and distributed them to fellow principal dancers and his boss, Peter Martins.
"You only know where you are now, especially now that I'm not part of the ballet company—and I purposely did that so I could be available for the next project."
"Each project leaves its mark. The different pieces you do reveal different parts of you. Like, there's so much of the Monster I can really relate to. The joy I'm finding that is hopefully getting across to everybody in the audience is that there's a part of them that relates to the Monster, too. There's some sort of connection they have.
"This journey that I'm on, you can only take one step at a time. You can only have space in your head for whatever project you're in, so I'm not really thinking—well, of course I am thinking about what's next. February will be the first time that I haven't known what I was going to do next, but that's just the name of the game. To be available, you have to be available. I'm really realizing life is what you make it.
"I've been in a company where somebody told me what to dance, when to dance and where to do it. Nobody's telling me that now, and I feel a huge sense of ownership of my artistic voice, of where I want to go and what I want to do. It's all up to me. It's how far I want to push myself. I like to work, so hopefully I'll push myself a lot."