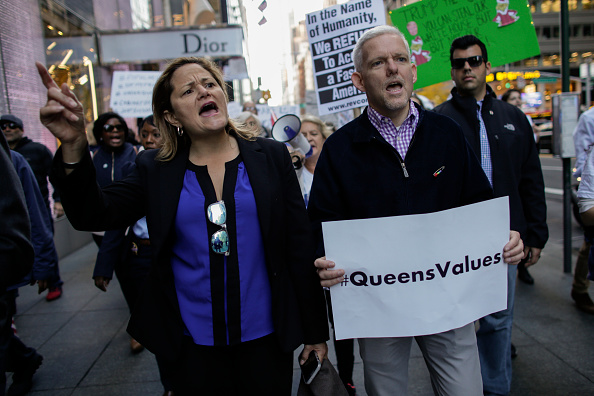 Longshot City Council speaker candidate Jimmy Van Bramer, who has been dubbed the "dark horse" candidate, says his working class roots and experience in the LGBT movement—including working on the campaigns of LGBT candidates—have given him the resilience and edge necessary to win the speaker's race.
Every four years after an election, the 51 members vote to pick a new leader in January via an internal process usually influenced by the county Democratic organizations—Queens, the Bronx and Brooklyn. Candidates must receive 26 votes to win.
This time around, members want a speaker who is willing to stand up to Mayor Bill de Blasio. Manhattan Councilman Corey Johnson and Upper Manhattan Councilman Mark Levine have been cited as frontrunners. Brooklyn Councilman Robert Cornegy has also been perceived as a leading candidate.
Van Bramer, 48, who was first elected to the Council in 2009, is gay, white and represents a diverse district in Queens that includes Sunnyside, Woodside, Long Island City, Astoria and Dutch Kills. Johnson and Levine are also white, which means the next speaker could be white for the first time since Christine Quinn led the body from 2006 to 2013. The current speaker, Melissa Mark-Viverito, is a Latina.
Van Bramer, who serves as the Council's Majority Leader, maintained the race has still not reached the point where it is down to one or two candidates.
"I would say this: I've been a dark horse all my life. I've never been expected to win any race I've ever run and my career has been about defying conventional wisdom," he told Observer in an interview at his office at 250 Broadway last week. "So I have been working real hard, meeting with lots of members and lots of key stakeholders including the county leaders, including Congressman Crowley, labor leaders and others and making the best case that I can and I believe the race at this relatively late stage is still wide open."
And he is actively seeking support from Rep. Joseph Crowley (D-Bronx/Queens), head the Queens Democratic Party and the House Democratic Caucus Chairman. Crowley, who is rumored to be seeking the House speakership in the future, has reportedly gotten commitments from 32 members to vote for his preferred candidate.
"I know the conventional wisdom is that Queens doesn't want a Queens speaker but I believe that Joe Crowley wants Queens, the borough, and Queens members, to do very well and I think just as I would be thrilled for a Woodsider to be speaker of the House of Representatives, I would hope that Congressman Crowley would be thrilled to have a Sunnysider as the speaker of the New York City Council," Van Bramer continued.
He had lunch with de Blasio a few weeks back when he was campaigning in Sunnyside and they talked about the race "a little bit" in "pretty general ways."
"I mean, clearly he knew that I was a candidate," he added. "We talked about some of the work we've been able to do together and he said that he obviously is not yet focused on it but would be thinking about it more."
He noted he and the mayor have worked together in the past but that there are times where they have disagreed. He insisted he is "not afraid to disagree." The mayor told him they would be continuing the discussion—and Van Bramer suspects they will be meeting again.
"I think the mayor is one of many key stakeholders here and I think given the enormity of the situation, given the importance of the role, I don't think it's inappropriate for the mayor to be talking to the speaker candidates who he will be working with for the next four years," the councilman said.
Working Class Roots 
Born and raised in Astoria, Van Bramer is one of eight kids. His family is Catholic. His father worked as a pressman and his mother worked in local supermarkets. Neither of them graduated from college. They split up when Van Bramer was seven years old.
His future stepfather came into the picture very soon after and was a janitor at the local junior high school he and his siblings attended. As a poor working class family, they struggled. When his mother and father were young, the family was homeless. They were evicted from their Woodside apartment and couch-surfed with relatives until they moved to a commercial hotel in Manhattan.
"He said the moment where they hit rock bottom was when he walked into the welfare office with me in his arms and he said, 'I need a bottle of milk for my son,'" he remembered his father telling him. "And so even though I don't remember that moment—obviously, 'cause I was the baby in the arms—I was always told that story and obviously the struggles that my family has encountered follow me and inform a lot of what I do in public life."
Van Bramer attended Bryant High School in his district, then went on to attend St. John's University, becoming the first person in his family to graduate from a university. He worked at a law firm answering telephone calls to pay for college.
Coming Out 
The most "formative thing in my life," Van Bramer noted, was when he realized at the age of 10 or 11 that he was gay. From that time up until he came out at 20 years old, he struggled with depression. He would often skip school. His life got better in 11th and 12th grade when he made a few friends and had a teacher "who was really important to me in my life."
He described coming out as the "biggest moment of my life." He immediately got involved in politics.
In 1989, he grabbed a copy of the Village Voice and saw an ad for a gay and lesbian youth group in Queens. At one of the meetings, they played the Academy Award-winning documentary "The Life and Times of Harvey Milk," the 1984 film that chronicled the life of Harvey Milk, the first openly gay elected official in California.
"I remember thinking as I was watching that, in this little room, on Queens Boulevard in Rego Park, 'Wow, gay people and they're fighting, they're fighting for their rights, they're fighting for each other and they're not taking it," Van Bramer said. "They're even breaking stuff.'"
Indeed, he has a giant photograph of Milk on loan from the Leslie Lohman Museum of Gay and Lesbian Art in Lower Manhattan. He described the photo as Milk "watching over everything that we do here."
"It has a lot to do with who I am and why I first ran for office and what brought me into politics in the first place," he explained.
When he came out that summer, he felt he had a new identity. While the youth group was on hiatus, he started going to the Lesbian and Gay Community Services Center—now the Lesbian, Gay, Bisexual & Transgender Community Center—in the West Village. That group drew to 60 to 80 people, including many youth of color.
In 1989, during Pride Month, he went to the Gay Pride rally that precedes the Gay Pride Parade. He came across the Gay and Lesbian Independent Democrats, a democratic political club, in the NYC Pride Guide. As a gay Democrat, his interest was instantly peaked.
When he called, the group's president, Dave Taylor, who happened to be running for the seat currently held by Manhattan Councilwoman Helen Rosenthal, picked up the phone. He ended up volunteering for Taylor's campaign. Taylor lost to activist Ronnie Eldridge but it was still a formative experience for Van Bramer.
Two years later, Taylor suggested he work for Thomas Duane, another gay man running for office. He subsequently spoke to Quinn, Duane's campaign manager—who would go on to become the first female and openly gay speaker in 2006—and volunteered for Duane during the summer of 1991.
Duane won he primary. He and Antonio Pagán, both elected in 1991, were the first openly gay Council members in New York City (Duane also became the Senate's first openly-gay and first openly HIV-positive member in 1998.) In his mind, the die was cast.
"The monumental shift that Tom's election signaled was something that I knew I wanted to be a part of but I also knew I didn't want to have to move to Manhattan to be a part of it," Van Bramer said. "If I was gonna run for office, I wanted to do it in Queens, where I grew up."
He was interested in politics as far back as junior high school, but thought his sexual orientation would be a barrier. It would take another 18 years and one failed City Council race but in 2009, he finally triumphed. He and his husband, Dan Hendrick, started dating in 1999 and got married in 2012.
Agenda as Speaker
The councilman told Observer he learned the power and art of organizing from the LGBT movement and his 11 years organizing for the Queens Public Library, a job he held from 1999 to 2009. The speaker, he contended, has to ben an organizer—organizing the body, around progressive causes and fighting back against President Donald Trump—a "skilled and accomplished fighter" and  a "caring and compassionate and empathetic person."
One of his campaign platforms is making sure the majority of the leadership team is made up of members of color and women, given that the number of women members has dropped from 13 to 11. He plans to institute gender and race audits of every city agency, including the Council. And the councilman recently introduced two bills that would require organizations that apply for funding from the city to report their sexual harassment policies and would prohibit groups from receiving that funding for at least five years if they have a lot of complaints.
"I think ending sexual harassment, sexual assault in the workplace and elsewhere is really something that I want us to be focused on and I think that's been part of the continuation of the legacy of the last 12 years," he said.
He also wants to undertake some Council reforms, including a better system for introducing legislation, moving bills and having them drafted in the Council. He said he would empower committee chairs to decide on hearing topics, call witnesses and commissioners they want and exercise subpoena power.
In the area of immigration, Van Bramer wants to continue to ensure that U.S. Immigration and Customs Enforcement does not have access to city institutions and keep ICE from entering courthouses. He additionally called for universal legal representation of immigrants, having libraries open seven days a week and funding the cost associated with applying for citizenship.
On term limits, he believes three terms works but will vote against any legislative attempt to overturn it. He would only support it if the people want it. Concerning police reform, he supports the Right to Know Act, a package of police reform bills, and closing the Rikers Island jail complex.
"If my career is about one thing, it's about demonstrating that never giving up, never giving in just never quitting is the single most important thing anyone can do and that's what I will continue to do, regardless of what happens in this process," Van Bramer said.