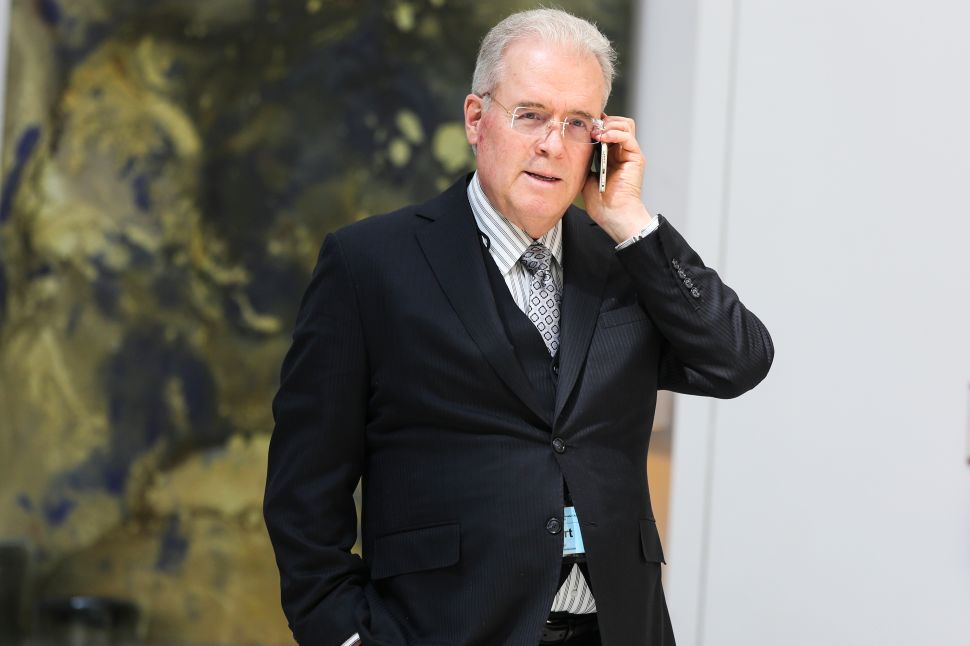 Billionaire hedge fund manager Robert Mercer has been sucked into another vortex of right-wing controversy. This time, the Koch Brothers have joined him.
According to 2012 tax filings first discovered by Eli Clifton, a fellow at the Nation Institute, Mercer funded the controversial activist organization, Project Veritas. Through Gravitas Maximus LLC—Mercer's investment shell for Breitbart that once had the same Long Island address as Renaissance Technologies—the Republican funneled $25,000 to the organization. Mercer announced his plans to resign as co-CEO of Renaissance Technologies following Buzzfeed's report linking his investments in Breitbart and Milo Inc. with white supremacists.
Meanwhile, Internal Revenue Service documents uncovered by the Washington Post indicate that Koch-affiliated organization Donors Trust poured $1.7 million to Project Veritas last year alone. Donors Trust allows Charles and David Koch and other conservative donors to anonymously finance charities and nonprofit organizations promoting free-market policies and candidates.
Project Veritas' funding from donors skyrocketed following James O'Keefe's video sting of the social services organization ACORN in 2012. It gained notoriety last week after one of its operatives falsely alleged Alabama Senate candidate Roy Moore impregnated her as a teenager to the Washington Post. Nine women have accused Moore of sexual misconduct, with several describing instances that occurred when they were teenagers, and conservative operatives have launched a campaign to erode the legitimacy of the allegations. Before Project Veritas' sting was revealed by the Post, the Mercer-funded outlet Breitbart sent two reporters to Alabama to discredit Moore's accusers.
Though Mercer threw his full support behind President Donald Trump's campaign, leveraging Steve Bannon's position at Breitbart into an advisory role in the White House, Charles and David Koch were reluctant to embrace the candidate. When Trump secured the Republican nomination, neither brother endorsed the billionaire's bid for the presidency. But since the 2016 election, all three have collaborated to promote the Trump administration's push for tax reform.
Rather than nurture the next generation of conservative academics and journalists, Republican billionaires bankroll PR schemes. To many GOP donors, the short-term benefits of electing a "fiscally responsible," alleged child predator outweigh the costs of a new conservative movement predicated in decency. Though the John Birch Society's fringe libertarianism has long overshadowed every Koch-funded institution (from Americans for Prosperity's grassroots squabbling to the harrowed halls of George Mason's Mercatus Center), the ideology now chokes the political landscape. Strangled by oligarchy, the American people gasp for air, only to be greeted by Project Veritas' James O'Keefe masquerading as a paramedic.