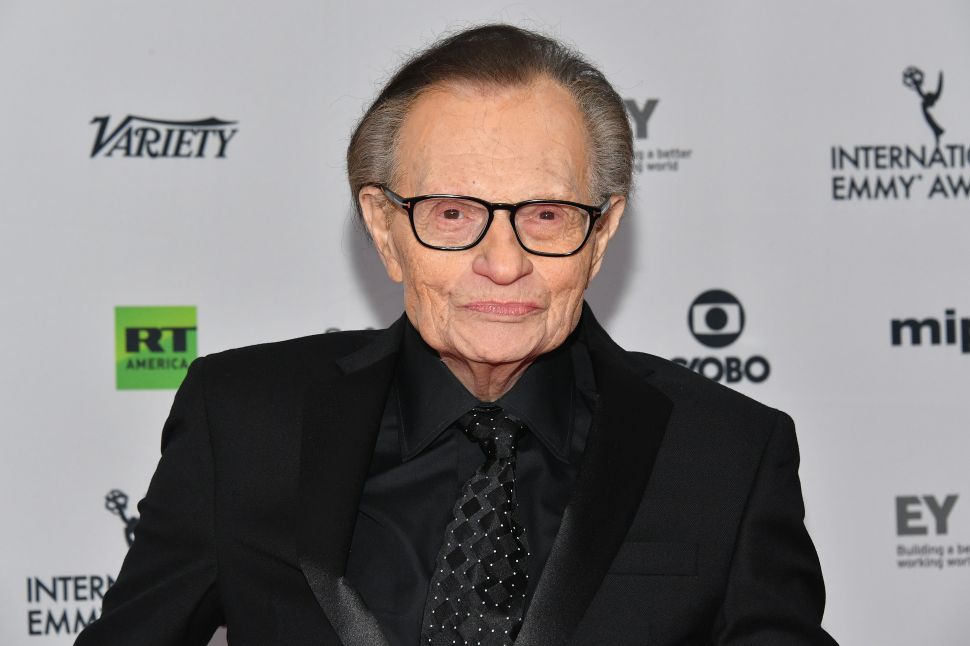 Larry King has responded to the groping allegations brought against him earlier this week by Terry Richard, ex-wife of singer and actor Eddie Fisher, with a firm denial. Richard told Daily Mail TV that the former television host groped her on two separate occasions in the early 2000s in Los Angeles.
Per the outlet, Richard "said in the first incident, while posing together for a photo, King slid his hand down her backless dress and rested his fingers between her butt cheeks…Richard claims the second time was also while they were taking a photo together, and King, now 84, squeezed her butt so hard that it left a large bruise."
Richard said both instances took place within a year of each other from 2005 to 2006. "Larry King is a groper. He groped me twice. He gets a thrill doing this in front of the camera, knowing I couldn't do anything," she told the outlet.
King has responded by denying the allegations, with his lawyer first telling Daily Mail TV that, "Mr. King did no such thing then or ever." Since then, King's camp has sent a full statement on the matter to Daily Mail, which was obtained by PEOPLE.
The statement partially reads: ""We represent Larry King. I am informed that you intend to publish a statement by a woman named Terry Richards [sic] that, 10 or more years ago, Mr. King supposedly 'groped' her at one or more baseball dinners. That assertion is entirely and unequivocally false and defamatory. Mr. King did no such thing then or ever. Your publishing this false and defamatory statement will be actionable and highly damaging."
Richard has said that she is not seeking any financial restitution from King, but "an apology would be nice."
It is unclear at this time if the allegation will impact King's Hulu series Larry King Now and RT America, or Politicking with Larry King.
The television and radio host is the latest in a long line of A-list entertainers and media members to be accused of sexual misconduct. The list includes former Today host Matt Lauer, Hollywood executive Harvey Weinstein and Academy Awards-winning actor Kevin Spacey.