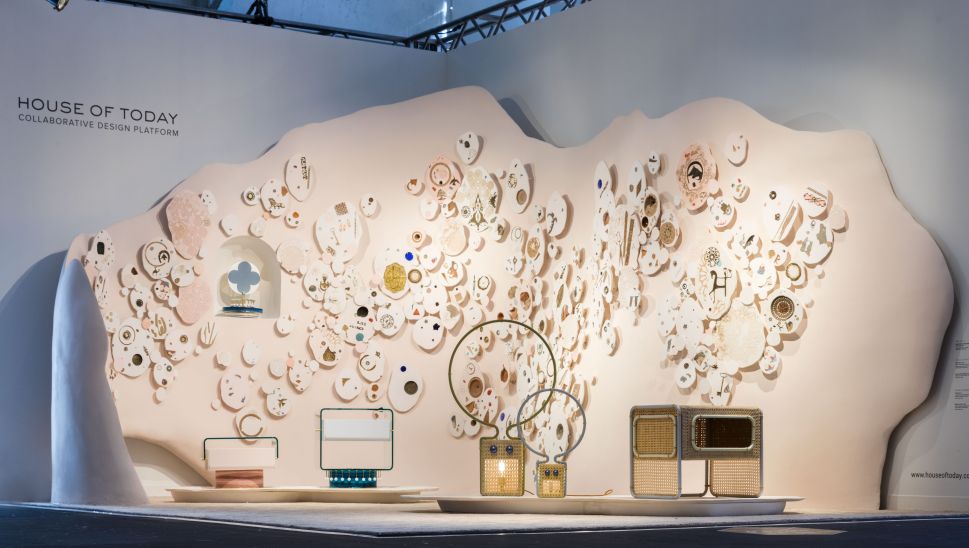 Memories, macrame, and craft traditions of a bygone Beirut fill a back corner of this year's Design Miami fair during Miami Art Week. Lebanese designers have woven local artifacts and ideas into their smart, sophisticated and fanciful creations—welcome contrasts to the slick, sponsored Audi platform featuring a car and free soft pretzels just behind them. A gently curving, light pink wall offers a theatrical and welcoming backdrop to the bed tables, lamps, mirror and plaster plates that Rami Dalle, Khaled El Mays and Sayar & Garibeh are presenting at the booth for the Beirut-based non-profit, House of Today. The organization, founded by Cherine Magrabi Tayeb in 2012, supports emerging designers throughout the country.
The youngest of the exhibited talents, 28-year-old Rami Dalle, is responsible for the wall and the overlapping plaster plates affixed to it by thin metal supports. The plates cast small shadows along the wall, heightening the booth's sense of drama. In varying sizes and imperfect round shapes, they feature embedded fragments of tile, keys, crocheted fabric and other knick knacks that Dalle has collected throughout his life. A shard of a former neighbor's coffee pot decorates one, while half a pair of scissors lies at the center of another.
Dalle grew up in a Beirut neighborhood, Bourg Hamoud, filled with artisans. He laments that local craft heritage is dying out. Sewing, carpentry, and jewelry making are no longer a part of daily life in 21st century Lebanon. "This wall very much takes an objection against that," he told Observer. "I revisited all these people, all these artisans I met when I was growing." Their home studios and the leftover materials that littered them especially inspired him. Dalle describes each plate as a diary page, the wall as a manuscript filled with intimate objects instead of text.
Tayeb discovered Dalle via word-of-mouth nearly ten years ago. Yet, she isn't the only one who's spotted Dalle's precocious abilities; Hermès regularly commissions him to decorate the windows of their downtown Beirut outpost. There, too, his intricate creations celebrate multiplicity and the process of making—different iterations have contained dozens of buttons and overlaid jewelry scraps.  
If Dalle deals in the mundane physical remnants of an older Beirut, Sayar & Garibeh are more interested in the city's intangible, storied elements. The duo, comprised of Stephanie Sayar and Charbel Garibeh, integrate cleaner lines and more luxurious materials into their work. Their inspiration, Sayar said, was stories that their parents used to tell. "It's a collective memory for all Lebanese," said Garibeh. Sayar added, "Every parent describes the streets of Beirut in the 1960s," when the city was known as the "Paris of the Middle East" for its glamour and sophistication. This romanticized period preceded a Civil War that ravaged the country from 1975 to 1990. Sayar said the duo wanted to create objects faded, soft and sumptuous, like such memories. Foam, which is similarly malleable and supple, was a natural choice of material. Their clover-shaped mirror stands connects via a thin rod of polished brass to a sapphire foam base on white marble. A glass plate bisects the brass rod, with white orbs dangling underneath like earrings. The resulting form exudes a chic and colorful warmth.
Finally, Khaled El Mays honors both local lore and technique in his furniture. In his work for the fair, he merges dual perceptions of Lebanon, at least in the 1990s, he said: a place of growing professional talent, and also a place where you could pick up a hooker. An aluminum hoop emerges from the base of his Mr. Brain lamp like a lightbulb above a mid-epiphany cartoon character's head, while the Escort of the Night table, of course, lies next to you as you sleep. El Mays exhibits his technical skill here too, wrapping a single wicker thread into intricate, interlocking shapes. "I really like when my pieces have a soul," he said. "You feel that every inch of the piece have been handheld and hand manipulated and hand built." The pieces do indeed have certain personality—they're humorous, approachable, and good-natured all at once.
Overall, Tayeb hopes the booth introduces uninitiated viewers to Lebanese design in an elegant, contemporary way. "There's a certain negativity that sheds over Lebanon," she said. "The new generation of designers don't want to talk about war…they didn't grow up in the time of the war, so there is more naivety, there's more hope, there's more happiness in their work. They're quite perfectionist in their lines." If the designers' stories about their work's connection to Lebanon's past can at times seem overly wrought, the booth and its diverse objects still create a compelling visual narrative, regardless of what country its creators are from.
Alina Cohen is a freelance writer based in Brooklyn.