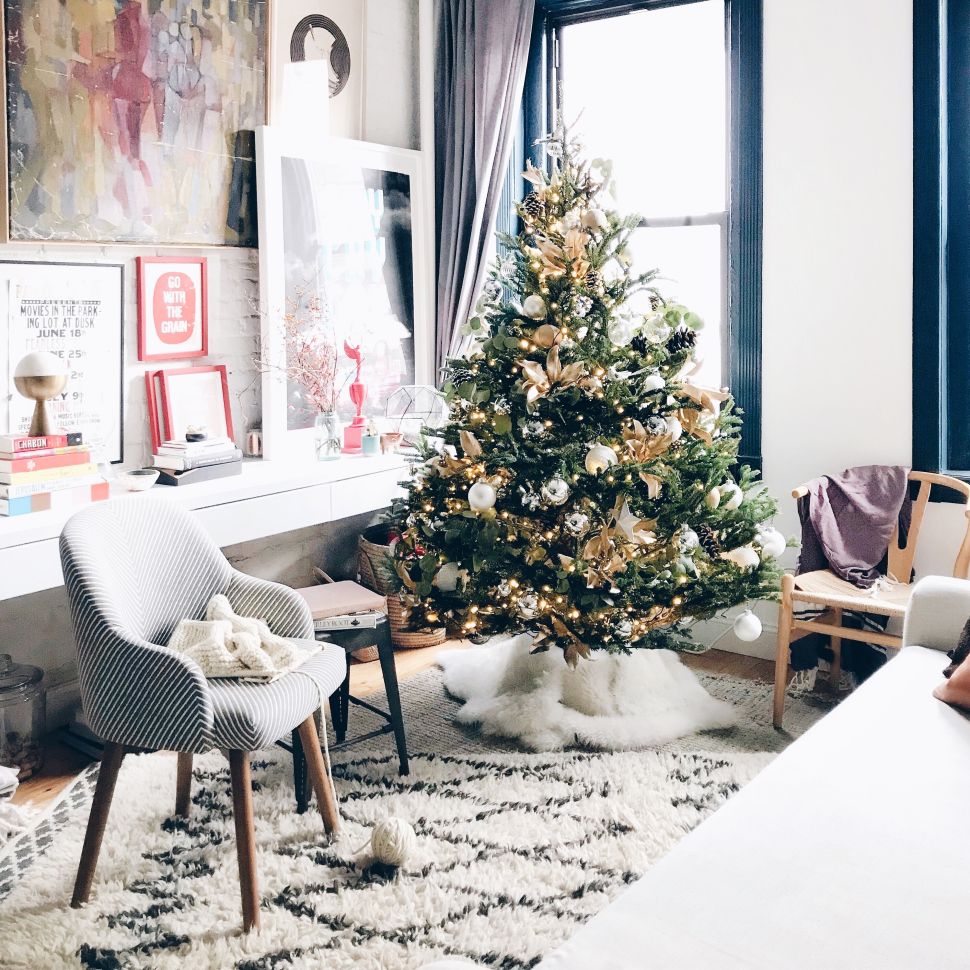 Between the parties, present shopping, navigating inclement weather changes and keeping up with the news, decorating for the holidays is only the tip of an already extremely stressed seasonal iceberg. And now, thanks to social media, there's even more pressure for your décor to be exquisite and hygge-inducing (thanks, Kylie Jenner). Though Christmas trees are beautiful, the whole process of buying one, carrying it, setting it up, decorating it, keeping it alive—not to mention reversing the process three weeks later—is quite the ordeal, especially in New York. But it doesn't have to be. Meet Erin Swift and the small troop of chic styling elves behind Holiday Workroom, a Christmas tree concierge service that will take care of all the work, including delivery and decoration, behind your perfect, tinsel-laden Tannenbaum.
Swift is the former creative style director at One Kings Lane and style and market editor for magazines including Architectural Digest, ELLE DECOR and Gourmet. Now, she's bringing her ability to conceptualize and style beautiful and intricate photos, fashion sets and interiors into your living room for the holidays, with her Christmas tree delivery service that launched in November.
"I saw a gap in the market," Swift told Observer. "I love the holidays, and I've had this vision for years. This year just felt like the right time to bring it to life. As New Yorkers, we experience the tough life of dragging a tree through the streets and up the stairs; trying to buy decorations that will fill it, before realizing it won't even fit in your home." Putting lights on a Christmas tree has probably caused as many breakups as Ikea furniture assembling and once Christmas is over, what do you do with all that festive stuff? Storage is one of the most valuable commodities in the city and using it all on holiday decorations is not a practical use of space. With Holiday Workroom, you schedule an install and deinstall date and time, with the option to keep the decorations or have them all trucked away.
Though the company is brand new, it's not surprising that they have already been booked to decorate trees at The Wing's two swanky Manhattan locations for tree trimming parties, Soho House and at the home of Christiane Lemieux, a design guru and the founder of Dwell Studio.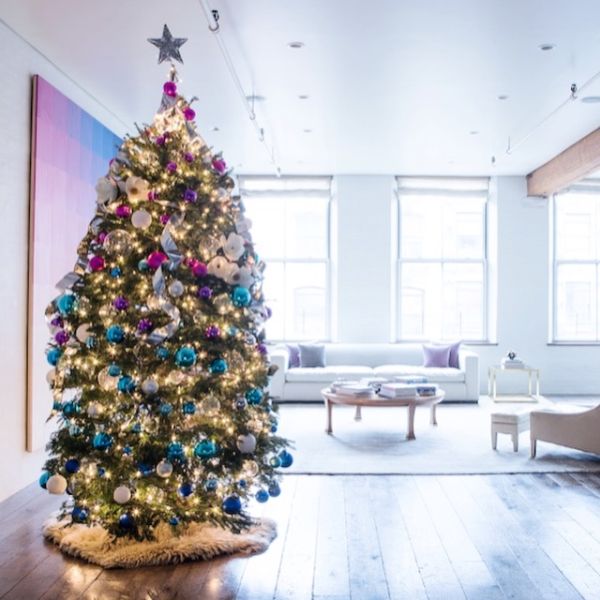 Their beautiful tree styles are perfectly in tune with holiday trends, and are sure to make a splash on your Instagram. The four styles they offer are Scandinavian Modern (whites and silver, a mix of delicate glass and less fragile ornaments); New England Classic (your standard red, green and gold mix); Uptown Royal (a chinoiserie aesthetic using blues, whites and silvers) and for the minimalist, a Greenwood Essential (mostly just lights, with a few glass ornament touches). You also can select the size and type of tree, including Balsam fir, Douglas fir, Frasier fir, Concolor fir, Canaan fir or Nordman fir.
"If the client has a dream tree in mind, we can work with him or her to create a custom tree," added Swift. Prices start at $800 for a four to five foot Greenwood Essential, up to $4,000 for a grand ten-foot tree in one of the other styles. Clients should block off about three to four hours for a visit, though the team did manage to decorate an entire nine-foot tree in under two hours once. Even Santa doesn't work that fast.
Meredith Lepore is a freelance writer and editor who has written for Instyle.com, Brides.com, LEVO, and Bustle well as magazines including Marie Claire, SELF, Women's Health and Cosmopolitan. She earned her Master's in Journalism from the Newhouse School at Syracuse University and resides in New York.