We sing the jingle every year, but when was the last time anyone actually dashed through the snow on a one-horse open sleigh? Central Park carriages come close (at least for touristy folk making a pit stop after Times Square), but to really experience a fantasy sleigh ride, you'll need to find a bonafide winter wonderland—which tend to be far, far away.
St. Moritz, Switzerland
Powder doesn't get more posh than in St. Moritz—the alpine ski town that dabbles in winter activities like snow polo. The all-suite Carlton Hotel St. Moritz will arrange for guests to break out of the snow-globe-town for an afternoon, whisking them away on sleigh rides through the white Val Roseg valley. Tucked in a classic red, fur-lined sleigh, two horses trot the snowy path towards Pontresina, an hour-long journey. It ends in a puff of sugar: In town, the sleigh halts at Colani Stubli, well-known for its opulent dessert buffet. Upon return, the resort's Michelin-starred Da Vittorio restaurant keeps the indulgences high.
Dunton Hot Springs, Colorado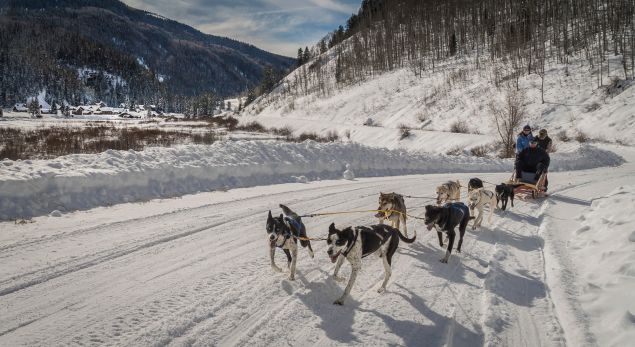 Burley meets beautiful at Dunton Hot Springs, a former ghost town which was fully restored as a ritzy retreat in Colorado's San Juan Mountains. In winter, pulling yourself from its cozy cabins is no easy feat, but luckily you're not the only one pulling; the retreat's chief adrenaline rush happens to be dog sledding. A professional musher, plus a pack of furry friends, will take guests on two-hour sleigh rides throughout the forest and alpine valley—1,600 acres of which comprise the retreat's grounds. It'll run you a rough $1,200, but in this seemingly remote wonderland, there's little roughing it. After sledding, guests can enjoy a dip in the retreat's hot springs, whether inside or outside.
Niseko Village, Japan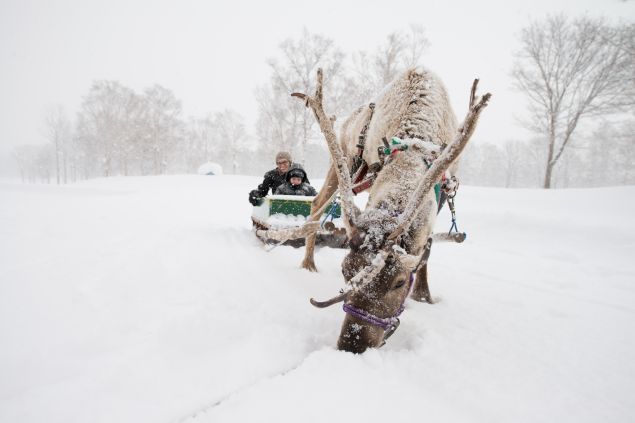 For such a tiny island nation, it's surprising that Japan can claim more than a handful of renowned ski destinations. Mount Niseko Annupuri stands among them—a secret "powder mecca" thanks to 60 feet of annual snowfall—and Niseko Village sits at its foot, a ski-in-ski-out retreat comprised of townhouses and a bevy of spa facilities. If luxury means ample family-time, the property brings the magic: A seasonal sleigh ride is pulled by reindeer (a.k.a., "Santa's helpers") across the dreamy, powdering slopes. And don't worry about grown-up thrills—the retreat is known for its traditional hot springs, and its sushi is a destination meal in and of itself.
Quebec, Canada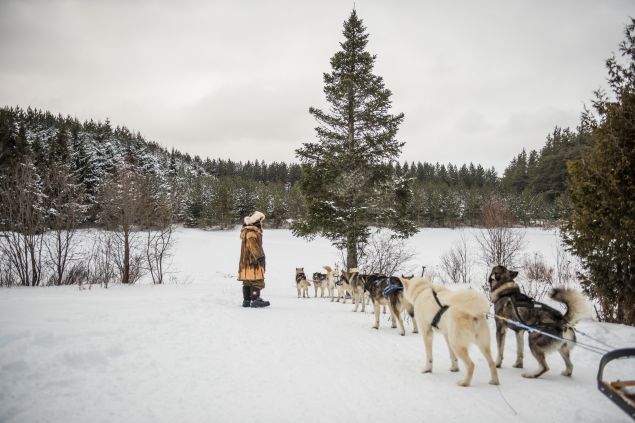 Closer to home, but still far from it, Manoir Hovey perches on the shores of Lake Massawippi—a snowy drive from Montreal. The five-star Relais & Châteaux property is known for Le Hatley, its Quebec-devoted, terroir-driven restaurant. But this season the five-star delivers new terrain: a dog sledding adventure. Partnering with Canada's Mohigan Adventures, a pro musher and ten huskies lead guests throughout Quebec's remote and snow-covered countryside, roaming along just shy of four miles in an hour across gladed paths and frozen lakes. And if you're interested in even more Canadian chill, the hotel can offer other wintery activities like ice fishing—complete with a portable pizza oven.
Monte Carlo, Monaco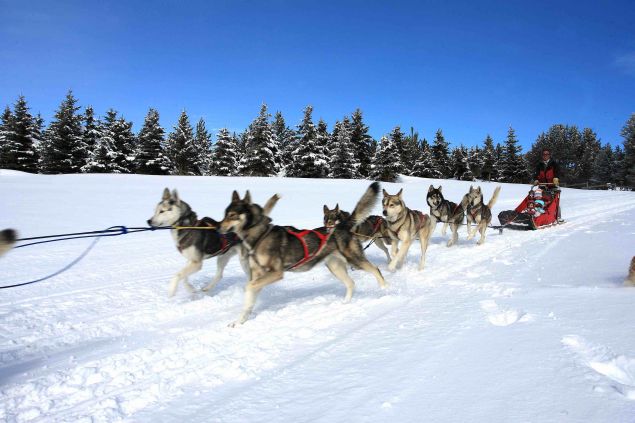 Leave your yacht behind. Head to the mountains—by way of Monaco—instead. At the grand dame Hotel Metropole Monte Carlo, a sleigh ride adventure pulls guests from its Karl Lagerfeld-designed pool to the nearby Mercantour National Park, an hour and a half from the charmed sea at the foot of the southern Alps in France. Snowy peaks abound while a professional musher introduces small groups to 11 huskies before making rounds by sleigh through snowy—yet sunny—protected valleys, larches and pine forests. It's not the finale that's most grand, rather a particularly splendid pitstop: the route winds towards Les Mélèses, a mountain chalet which serves a private Piedmont-style lunch—a hearty cuisine known for its heavy use of butter—how rich.
Lapland, Finland
As close to the North Pole as you might care to get, the northern Finland town of Rovaniemi is luxuriously remote—and bustling with reindeer. Stoking the fantasy, the town bills itself as the "Official Hometown of Santa Claus," which may seem hokey, but Finland's northernmost region keeps the experience relatively high-end. Forging the same path, the elite travel company, Abercrombie & Kent, makes the most out of a three-night itinerary called Lapland Winter Wonderland, which includes a ride to a nearby husky farm. Here, guests will sleigh their way throughout the frozen, virtually untrodden landscape—laughing all the way, if they choose. But don't get too caught up looking for Santa Claus, the real delight is the region's Northern Lights.
Keith Flanagan is a lifestyle writer who covers travel, food and design. Follow him on Instagram and Twitter: @keithflanny