Retailers have been pushing holiday season sales in full force since Thanksgiving—both Black Friday and Cyber Monday sales reached historic highs this year. However, when the shopping craze ends, many consumers will be left crying over their bank accounts. More than half of renters in the largest cities in the U.S. are not making enough to cover their holiday season spending, a new study by real estate blog RENTCafe shows.
The study compares holiday spending forecast with average renter household income in the 50 largest American cities, factoring in average cost of living and rent. Here are the main findings: 
Renters in 26 out of the 50 most populous cities in the U.S. will spend more money in November and December than they make.

Renters in Manhattan will be the most debt-burdened of the 50 cities. An average renter home in Manhattan, where average rent is the highest in the nation and median household income the second highest, needs $4,349 in savings to break even in November and December. (An analyst for RENTCafe told Observer that, because the rental market in New York City is highly diverse, they singled out Manhattan from the other boroughs to have some homogeneity.)

Boston, San Francisco and Oakland, Calif. trail Manhattan in top cities that will leave renters in debt by year end.

On average, city renters will need $549 in savings to cover holiday season spending;

Virginia Beach, Va., Wichita, Kan. and Tulsa, Okla. have the most affluent renters, in relative terms. Renter families there will have, on average, at least $500 still left in the bank after all their holiday spending.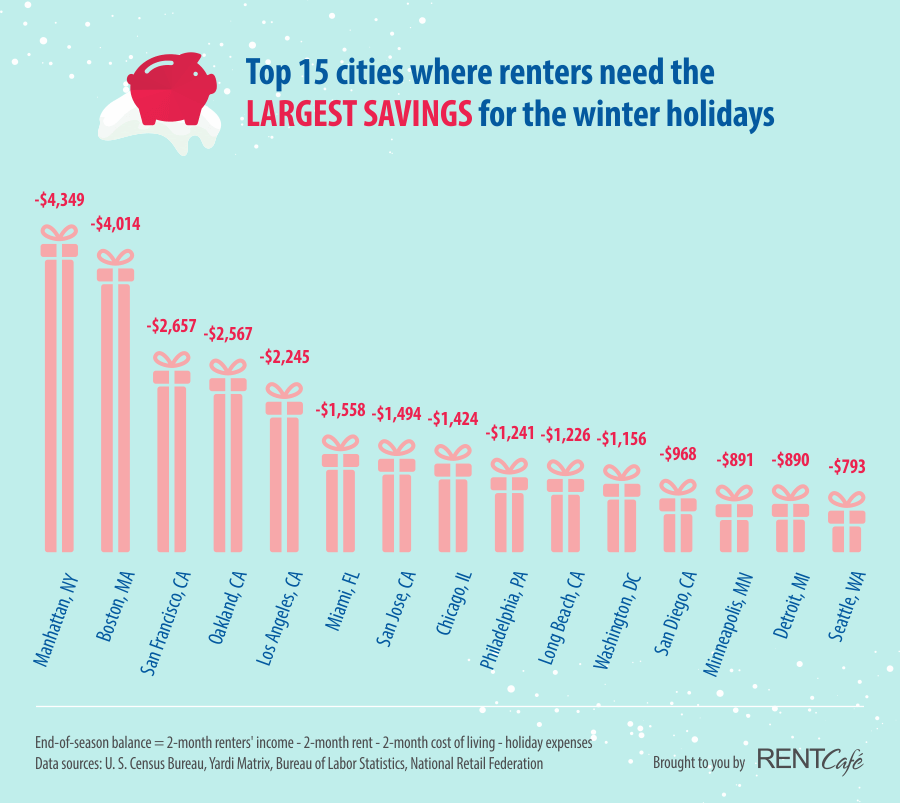 It's somewhat shocking to notice that, in top debt cities like Manhattan, Boston and San Francisco, monthly rent takes up the majority of income for average rental families. In Manhattan, for example, an average home in rental communities with 50 or more units cost $4,089 a month, while median renter household income is only $5,181.
In Boston, the second on the list, monthly rent matches up to 96 percent of the average income. Even with zero holiday spending, renters will see about $3,000 in red ink at the end of December. (The calculation assumes that renters start with a zero balance at the beginning of November.)
"It was a surprise for us as well to see how cost-burdened renter households are, even without the additional holiday expenses. But the cold hard fact remains: renters have much lower incomes, about half that of homeowners," a spokesperson for RENTCafe's research team told Observer. "[Manhattan] has the highest average rent in the U.S., followed by San Francisco and Boston. The cost of living is also extremely high in these cities, which means the holiday season expenses are simply an addition to an already strained budget."
San Francisco, in comparison, has a healthier rent to income ratio (60 percent), but the cost of living, which includes food, insurance, transportation and other necessary expenditures, is the highest in the country, according to 2016 data from the Department of Labor.
Rent in major metropolitan cities have far outpaced wage growth in recent years. In San Francisco, for example, fueled by the technology boom following the Great Recession, the average rent is 68 percent higher than it was 10 years ago, according to real estate group Paragon. That's a 6.4 percent growth annually. As a rough reference point, the median household income in California has increased only 3 percent annually since 2010, according to U.S. Census data. (Historic data for city-level income isn't available.)
A similar disparity between wage and rent growth is seen in New York, where rent has increased twice as fast as wages since 2010, according to New York real estate platform StreetEasy.