Humans are great storytellers; it's one of the defining characteristics of our kind. Our unique ability to string together specific events, past and present, to legitimize our actions and question (if not totally undermine) others' is what we call the history of civilization. For a long time—at least since the Enlightenment—we've been telling the same story of progress, rooted in the assumption that whatever we do next is better than what we were doing before.
Artist Liz Glynn, however, asks exactly how this nearsighted sense of advancement might ultimately pan out. Her exhibition "The Archaeology of Another Possible Future," on view at Mass MoCA in North Adams, Massachusetts, through Labor Day 2018, is a multi-level, multi-sensory installation spanning the entirety of Building Five, the largest gallery in the former-warehouse-turned-museum. It's the most ambitious project the 39-year-old artist has taken on to date, featuring site-specific works, videos and sculptures, in which she asks what exactly are we progressing toward?
"I realized I focus on the past in a lot of my previous work, so I wanted to look to future for this project," Glynn told Observer. Indeed, the Los Angeles-based artist often returns to key cultural moments or the legacy of certain figures in art history. Earlier this year, Glynn garnered acclaim for her Public Art Fund open-air installation "Open House" that transformed the southeast corner of New York City's Central Park into a trompe l'oeil, Gilded Age ballroom through 26 cast-concrete pieces, including densely detailed arches, couches, and chairs. Adjacent to the ostentatious wealth of the luxury shops, apartments, and office spaces of Fifth Avenue, it cast into sharp relief the income inequality that has shaped New York real estate over the decades and how this perpetual issue leaves most of the city's public out in the cold—literally, in the case of "Open House."
"Look at graphs and data on this kind of growth in inequality over the years—that's the shape of progress," said Glynn. She started thinking about what happens to all the stuff that society produces, the incessant creation of which becomes a benchmark of advancement, as seen in the constant stream of new and improved iPhones hitting Apple Store shelves routinely. The products and technology we base our lives around inevitably become outdated in just a few years. "What happens to this stuff once it's outmoded? What happens to the people using it and making it?" she said.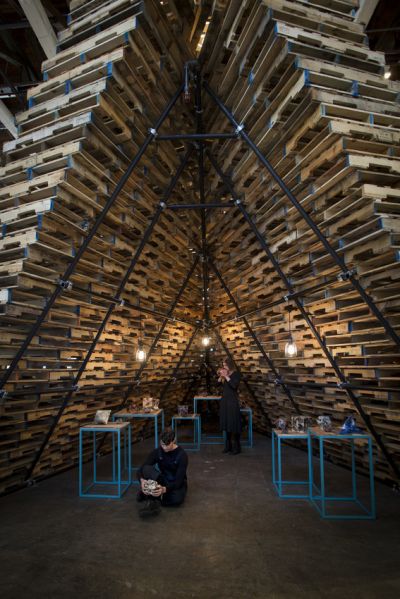 "The Archaeology of Another Possible Future" uses these questions as its starting point. Through five distinct sections, it explores not only the loss of material "stuff," but the loss of jobs in the wake of digital commerce and robotic manufacturing—and the loss of self in the face of an increasingly virtual, service-oriented society. "Liz is a big thinker. She has a long view of history and can make it seem very present," Susan Cross, curator of the exhibition, told Observer.  "She really takes on the history of the building, as well, as a former site of manufacturing in and of itself."
Glynn grew up outside of Boston in the 1980s, where she witnessed firsthand the effects of the seismic economic shift we've been experiencing as we move toward a postindustrialist society. Her grandfather worked in a nearby shipyard, which she remembers shutting down and putting many out of work. Her father was forced to pivot from a career as a corporate engineer to a consultant once his job was outsourced. "Our entire economy is becoming more and more abstract and, with it, our place in it," she said.
Entering the football field-sized space of Mass MoCA's Building Five, visitors first pass through Glynn's Analog Caves, pyramid-like structures built out of discarded shipping pallets; inside they encounter sensory experiences that rely on touch, sound, and scent. "We're finding ourselves in this dematerialized society but we're still physical bodies," said Cross. "So this first section of the show wants you to reconcile that and put you back into contact with your corporeal form."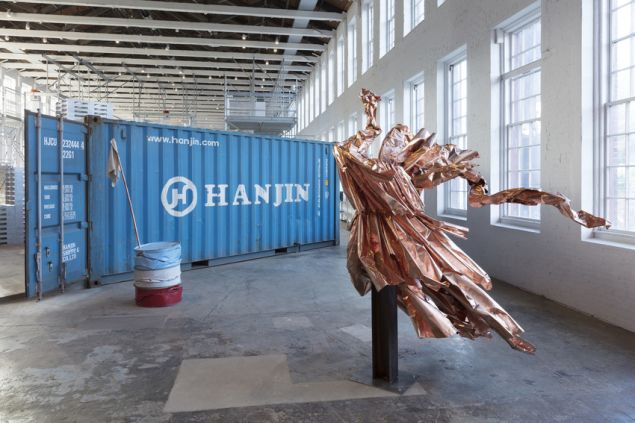 From there, a labyrinth of shipping containers, scrap metal, and cement create a dystopic landscape, dotted by delicate metal tumbleweeds around a series of catwalks. It terminates at a "vacation destination" comprised of hospital gurneys placed under tanning lamps; I.V. bags filled with B Vitamins and AntiFreeze stand by for use—a nod toward the trend of cryogenic preservation. It's inspired by Aldous Huxley's pessimistic musings about a future era of automated labor and lackluster leisure in his 1937 book Brave New World, in which humanity becomes bored and complacent under a totalitarian regime empowered by boundless consumption, genetic engineering, and prescription drug dependency.
What's conspicuously absent from this grim landscape is the human figure. There's only one figurative work in "The Archaeology of Another Possible Future," and it's a riff off of American artist John Gast's 1872 painting American Progress, in which an ethereal maiden—the embodiment of the Manifest Destiny sentiments so pervasive at the time—glides over an expanse of land dotted with trains, ships, and wagons as white settlers till soil into straight lines and herd buffalo and Native Americans off the left edge of the canvas. "I really wanted to address this this myth of American exceptionalism that's built around industrialism," Glynn explained of her interest in the painting. "It's just a story, and it's in decline."
John Gast, American Progress, 1872.
Glynn isn't suggesting the end of the human race, per se. Instead, she's posing a question about the purpose of "progress"—or really "purpose" under the tyranny progress. "It's been said that machine intelligence will surpass our own within the next 10 to 15 years," she said. "What will we do when we're no longer needed to do anything?" In essence, will we even have a story left to tell once we've played out our manifested destiny?
Margaret Carrigan is a freelance writer and editor. She planned to go to law school but she did terribly on the LSAT, so she got a master's in art history instead. She lives in Brooklyn with her cat, who is named after Alyssa Milano's character from the early aughts CW smash hit series Charmed.