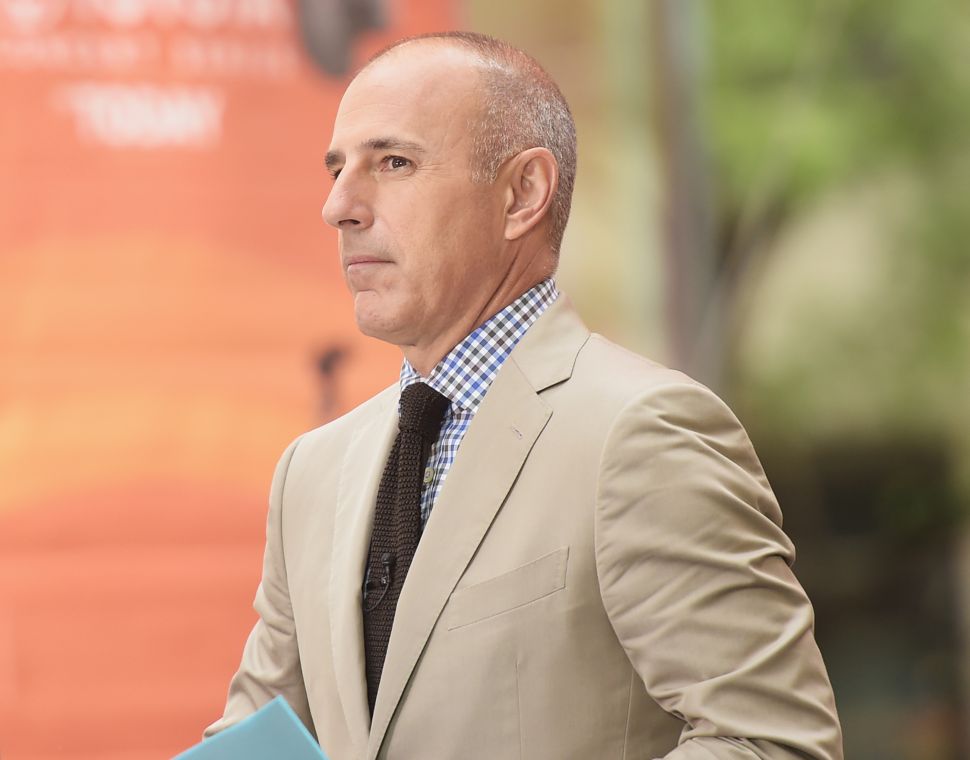 Huh, so your ratings may actually improve if you fire alleged sexual harassers? Interesting.
NBC's Today show ratings rose a huge 43 percent since Matt Lauer was fired last week, according to Nielsen data (per TheWrap). Already the No. 1 morning show in the advertiser-friendly 18 to 49 and 25 to 54 demographics, Today's ratings actually spiked 43.2 percent in both age targets.
Overall, Today's overall audience grew by 36.4 percent in total viewers, day over day, per the outlet. That's a huge bump that has NBC sitting pretty at the moment. Network executives surely expect that number to come back down to earth in the coming weeks, but it goes to show you that all press may be good press in this day and age.
Need some more data? Week over week, the 7 a.m. Wednesday Today edition (whose November 22 show was considered a special due to Thanksgiving) floated up 41 percent overall, including 44 percent among viewers aged 25-54. Go get that disposable income, advertisers!
Today easily paced the competition in ratings among morning shows last week, a stark change from recent years. Year-to-date, Today had dipped 10 percent in total viewers with a worrisome 15 percent drop in the key 25 to 54 demo, per Nielsen. Both figures mark the worst changes among all of the major morning shows. The curiosity factor is clearly playing in NBC's favor for now, but long-term, it won't be easy to replace its most famous face. At least the network has the 2018 Winter Olympics to help goose ratings in February. Is Ann Curry available by any chance?
Here's how the three main broadcast TV mornings shows compare in 2017 total-viewer averages and the advertiser-friendly demo, according to the outlet:
1. Good Morning America: 4.315 million
2. Today: 4.104 million
3. CBS This Morning: 3.539 million
1. Today: 1.517 million
2. GMA: 1.366 million
3. CBS This Morning: 964,000
Lauer has anchored NBC News' morning program since 1996 and co-hosted Today since 1997. NBC fired him last week after a "detailed complaint" from a colleague alleged "inappropriate sexual behavior in the workplace."