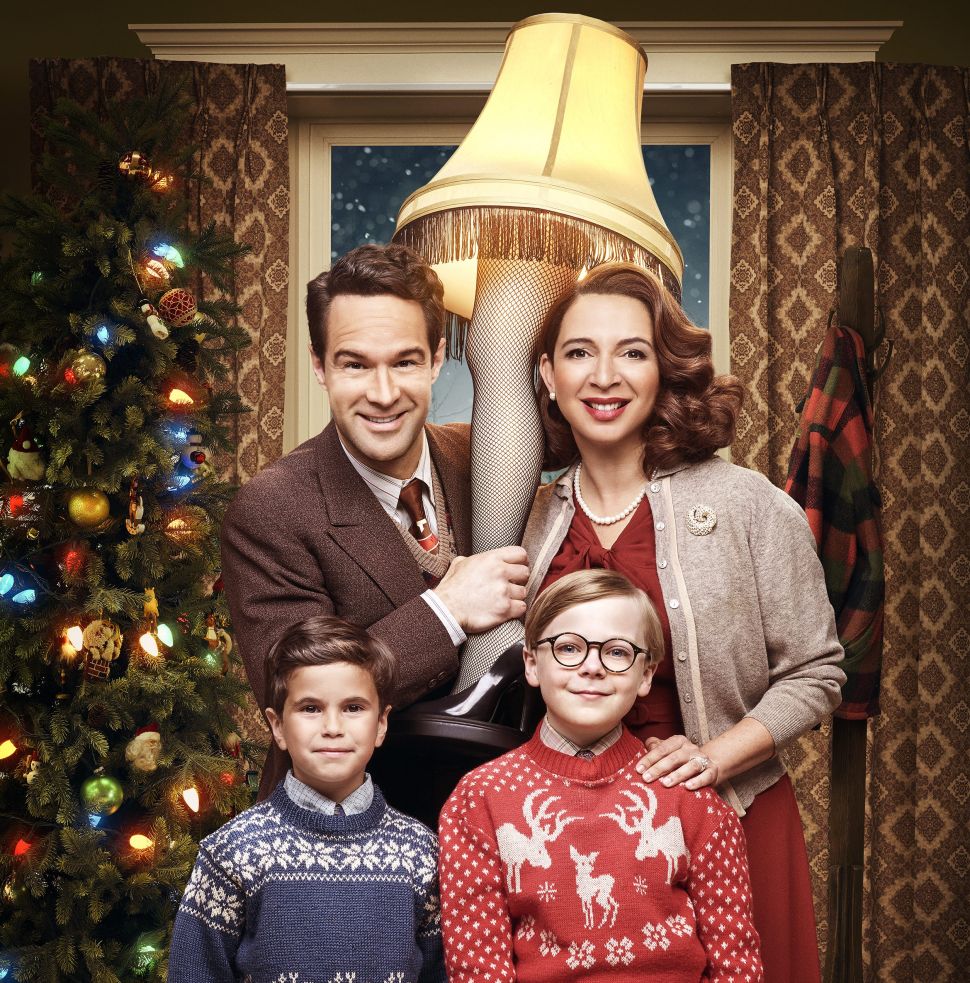 After the success of mounting an enormous production in Grease Live! back in January of 2016, FOX (FOXA) announced that this Holiday season they would tackle another live adaptation of a popular movie.
This Sunday, the net will present A Christmas Story, the cult classic that features young Ralphie Parker in his quest to get the only thing he wants to see under the tree: a Red Rider BB Gun.
The story of Ralphie and his quirky family and wacky classmates first appeared as a feature film in 1983. The movie wasn't initially a hit, but became a Holiday favorite a few years later when it was released on videotape. Then, in 2012 a musical version ran on Broadway in a limited run.
This live version stars young Andy Walken in the lead role, Saturday Night Live veteran Maya Rudolph as Ralphie's mother, and frequent Broadway actor Matthew Broderick as Ralphie as an adult.
Marc Platt, who produced Grease Live!, again serves as executive producer of A Christmas Story while Benj Pasek and Justin Paul, who wrote the music for the stage version, are adapting their work for the live television presentation. The duo are the Tony, Oscar and Golden Globe-winning songwriting team behind such projects as the musical stage show Dear Even Hansen and the movie La La Land.
"It's one of those movies that you grow up loving. We were so excited to get the opportunity to work on it as a musical and so we're thrilled to be able to do it as a live broadcast," said Pasek at a recent press event.
Platt was quick to add, "One of the great things about this story is that, when you think about it, there was no magic. A Christmas Carol and It's a Wonderful Life, are movies we love with magic in them. The only magic in A Christmas Story is in [Ralphie's] imagination. That's what we're going to bring to the telecast: imaginative, wild ideas and experiences that an audience can interact with and make their own."
In adapting the narrative from film to stage play to a live television event, Platt says that the team plans to, "Take the fantastic music that Benj and Justin wrote that leads into the subversive comedy but also extracts from the subtext the warmth of that family. We will play tricks with you to accomplish this because it will be very cinematic. But we'll always pull back and go, 'oh, my gosh. This is actually happening live before our eyes.'"
Pasek and the team are aware that because the story is so well-known they have to set up this production just right. "Audiences know the movie back and forth. So, it's really our responsibility to make sure that we're digging into the emotional moments. It's really a dance that we're always trying to do to figure out in how we can make a moment larger than life and then figure out how to preserve the moments that you really want to see. Trying to find that kind of balance is really important."
Fans can rest assured that the writers will preserve the integrity of the narrative, as Paul, says, "We honor those things in the movie that are really the sacred moments of the story."
Paul explained the process that he Pasek used to create the soundtrack, saying, "The thing that we're always looking for as songwriters, as composers, is finding what about this particular group of characters and this setting would allow us to write songs that really do something for the piece that otherwise wouldn't be done."
He went on to say that some of the elements of the story lend themselves well to adaptation, "We took the moments of Ralphie, the main character, his fantasies and his wild imagination. Those [were] sort of screaming out to become musical numbers and to be realized on stage with choreography and production values that are very different from the classic movie."
Pasek explained some of those numbers, saying, "We have the song "A Major Award," which becomes a big fantasy number with the dad. There's leg lamp kick lines that take place, and it becomes a really, really big moment. [There's also the number entitled] "Red Ryder Carbine BB Gun," which takes place when Ralphie is imagining the gun at Higbee's Department Store. And, of course we have "You'll Shoot Your Eye Out," which is a big, big production number with tap-dancing kids. It really is larger than life."
While this live show will incorporate the songs that have been part of the stage show since its inception, there will also be some new songs that have been created just for this production, said Platt. "One of the new songs is a very contemporary song that's about the universality of Christmas and how we all have a Christmas story to tell."
As the entire story rests on Ralphie and his desire for the Red Ryder BB Gun, Platt admitted that, no, he did not have a BB gun as a kid. "I didn't have one because my mom always said it would shoot my eye out," he laughed. But he did recall a toy that he became fixated on as a child. "For me, I just remember one year, it was something called "Kelly's Car Wash," which was this toy car wash, and you put the cars through, and you could wash and polish the cars. So, it wasn't a BB gun, but it was that."
Platt said that the live show obviously presents some unique challenges, with one being the weather. "No matter what happens. A Christmas Story is going to take place outside. Weather will be a factor."
(Of note is that the production will take place at Warner Brothers Studio in Burbank, California, where the current forecast is for a sunny 70 degree day.)
He also wanted to assure the audience that the 'Live' in the title really means live. "It will be all be live. That's not even a question. Some of the music, the orchestral music, will be prerecorded, but every [singing] performance will be completely live."
Above all else, Platt says he and his team picked A Christmas Story because, "I feel like [with this] we can deliver something exciting—that's true to the original but yet is new and innovative and you haven't seen on live television before. That's our goal and we're going to satisfy it."
'A Christmas Story' airs Sunday beginning at 7 p.m. ET on FOX. The broadcast will be tape-delayed on the West Coast.
Anne Easton is a West Coast based writer for Observer. She's an Emmy-award winning writer and producer who has worked in news, sports and children's television for FOX, ABC/Disney and the ReelzChannel. Follow her on Twitter at @anne_k_easton.