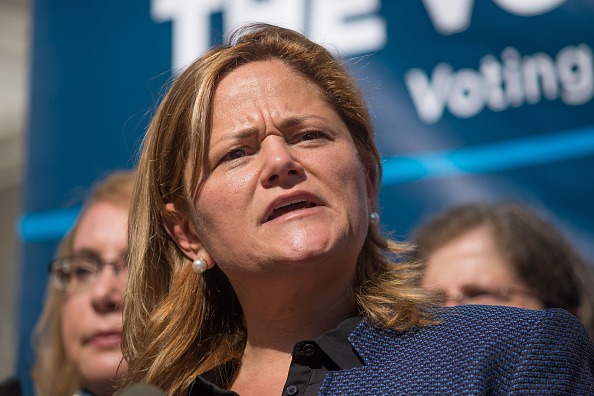 City Council Speaker Melissa Mark-Viverito says she has no plans to run for governor of Puerto Rico but appeared to indicate she is weighing bids for other positions, including New York City mayor and Congress.
In November, Mark-Viverito indicated she plans to help Puerto Rico in some way when she finishes up her tenure as speaker, leaving the door open to a possible run for governor of Puerto Rico. She maintained her trips to Puerto Rico in the aftermath of Hurricane Maria were rooted in the fact that she is Puerto Rican and wants to help her people. Still, she insisted Puerto Rico needs another governor.
In an interview with independent news program Democracy Now! on Wednesday morning, Mark-Viverito shut the door on rumors she wants to be governor of Puerto Rico.
"The issue of Puerto Rico is definitely not a priority on anyone's agenda," Mark-Viverito said. "It's not on anyone's agenda and this Congress is demonstrating its turning its back. So there is serious work to be done. I wanna help, I wanna be a voice. I wanna continue to give of my time and leadership on this issue. I think I can best do that on the mainland here so I don't see myself running for office on the island. But I would definitely, with all the effort, there's a lot of support here from philanthropy and other entities."
The outgoing speaker vowed to figure out the best way she can serve the island and help formulate an agenda "to help Puerto Rico get back on track." That agenda, she argued, has to be defined by the people of Puerto Rico.
"We have to have the voices and people on the ground being able to help define what that future looks like and so I wanna figure out what that is," Mark-Viverito continued. "I don't know right now. It is such an overwhelming task and there's so much work to do. We have to advocate in the Congress. We still, we have great leadership in some of our representatives but obviously the Republicans are not listening. But there's a lot of work to do and I have to figure out the best way to do that."
She told Democracy Now! that her mother just got her power back on Tuesday after nearly four months without it. She contended President Donald Trump and the GOP's tax reform plan, which Trump signed into law before Christmas, "is gonna make it [the situation] worse" for Puerto Rico.
"An economy that was already fragile because of the emergency and the fiscal crisis now is gonna be made worse when you have a 12.5 percent tax on products that are coming in, products that are manufactured on the island that are being brought on mainland are gonna be taxed," Mark-Viverito added. "Potentially, we could lose 200,000 jobs."
Carmen Yulín Cruz, mayor of San Juan, Puerto Rico and Mark-Viverito are close and have both critiqued Puerto Rico Gov. Ricardo Rossello's response to the hurricane. Cruz also rumored to be mulling a run for governor of Puerto Rico.
Mark-Viverito has repeatedly said she is keeping her options open when asked if she is planning to run for mayor of New York City or Congress. She is rumored to be considering running for the seat currently held by Rep. Jose Serrano (D-Bronx), who is said to be retiring soon.
She said she has not looked at running for governor of New York. But when asked whether she is weighing a mayoral bid, she seemed to imply it is among the paths she is exploring.
"I have four years to figure out what I'm gonna do," she said. "There are gonna be positions available. I'm not gonna close the door. I'm gonna be exploring."
And she did not appear to rule out a bid for Congress or Senate, either.
"I will explore options as they come," she continued. "I'm not closing any doors. I think I've done a great job. I have a great track record and I think that I would definitely like to continue to serve this city in whatever capacity I can best do that."
During the interview, Mark-Viverito noted the Council passed about 700 bills under her leadership and that she is proudest of her work in the areas of immigration and criminal justice reform. She spoke on her work in securing funding for legal services for undocumented immigrants, including those convicted of serious crimes, as well as how she got Mayor Bill de Blasio to agree to a plan to close the Rikers Island jail complex.
She also insisted the final Right to Know Act, a package of police reform bills that drew opposition from from activists and Council members on the left as well as members on the right, was a "big step forward."