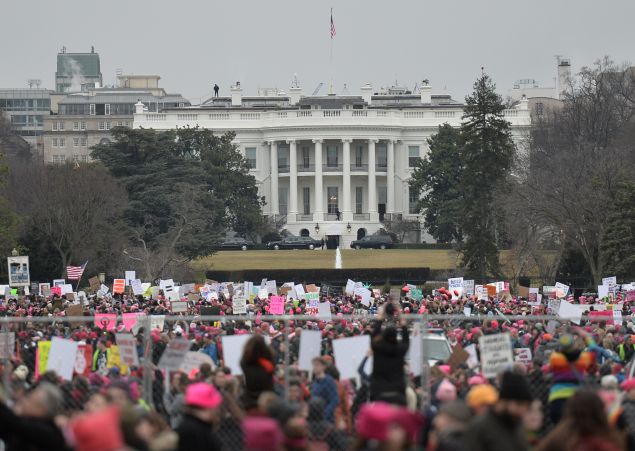 What one word can sum up a year marked by Women's Marches, sexual misconduct allegations and the #MeToo movement?
According to Merriam-Webster that word is "feminism."
Today the dictionary publisher unveiled its annual "Word of the Year" list, which features the terms most frequently searched on the company's website throughout the year, along with the reasons why. "Feminism" was the leader of the pack, with a 70 percent increase in lookups over 2016.
The word was first defined by dictionary founder Noah Webster in 1841 as "the quality of female." But in modern language, it actually has two definitions: "the theory of the political, economic and social equality of the sexes" and "organized activity on behalf of women's rights and interests."
Not surprisingly, "feminism" was looked up most frequently this year in conjunction with female-focused events. The first spike came in January after the Women's March on Washington, and it peaked again the next month when Kellyanne Conway said she didn't consider herself a feminist because she's not "anti-male" or "pro-abortion."
Lookups of feminism also increased in the final months of the year as more women came forward with stories of sexual harassment and assault. And popular movies like Wonder Woman and TV shows like The Handmaid's Tale also led to interest in feminism.
"No one word can ever encapsulate all the news, events or stories of a given year, particularly a year with so much news and so many stories," Merriam-Webster editor-at-large Peter Sokolowski said in a video announcing the choice. "But when a single word is looked up in great volume and also stands out as one associated with several different, important stories, we can learn something about ourselves through the prism of vocabulary. There is an ongoing national conversation, and Merriam-Webster has a front row seat."
Number two on Merriam-Webster's list was "complicit," which Dictionary.com named "Word of the Year" last month. Like the earlier site, Merriam-Webster pointed to Ivanka Trump as the main reason for the word's popularity. The first daughter said in an interview that she didn't know the meaning of the word, leading to a Saturday Night Live parody. (For the record, "complicit" means "helping to commit a crime or do wrong in some way").
The year's other top word searches included:
We can't wait to see which words define 2018.