When scientist Amanda Schochet and designer Charles Philipp unofficially started MICRO, they wanted to make the world's smallest museum about mollusks, a passion of Schochet's.
They realized that might be easy, considering there were no real mollusk museums at all. But as they started developing content and design, the pair realized that even small museums could have a big impact.
In a year-and-a-half, they've created five 6-foot-tall natural history museums that have been installed around New York City, with the latest unveiled in mid-December at the Ronald McDonald House on the Upper East Side. The goal for Schochet and Philipp is to foster equal access to fundamental knowledge by creating installations that can be found outside of the traditional museum setting, running from one month to a year, essentially structured as a subscription service for the host location.
In addition to planning a series of pop-up science talks, they've partnered with the Brooklyn Public Library to create reading lists filled with weird science stories, and snagged Sean Rameswaram of WNYC's RadioLab to make an audio guide for the museum. It seems like their hard work is paying off. The duo recently netted the Editor's Choice Award at the World Maker Faire and the Tribeca Film Institute's New Media Award.
With intentions to become the most-visited museum in the country within five years—a goal they can feasibly achieve with fewer than 100 units in circulation based on the visitor statistics gleaned from their five operational sites—Schochet and Philipp plan to debut a new MICRO museum module every year, starting with the core sciences before delving into math and art. Their first physics edition, the Museum of Perpetual Motion, will launch in early February. Observer spoke with Philipp about how MICRO got its start and the challenges of fitting a ton of quality information into a tiny museum.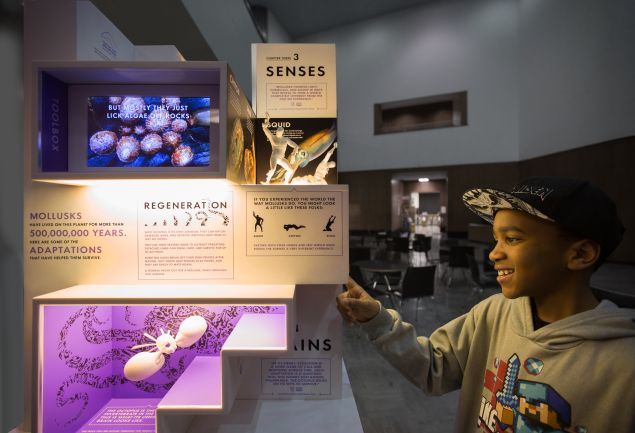 Where did the idea to make a micro-size museum originate?
It started as a kind of tongue-in-cheek idea just between my partner, Amanda, and I. Amanda is a computational ecologist and knew there was a really rich history of mollusks in New York, especially oysters. So when she first moved here a few years ago, we started looking into whether we could go to a museum about mollusks. But we couldn't find one, so we joked that if we made the smallest mollusk museum it would also de facto be the largest. That was amusing enough to me as a designer to start messing around with the idea for what something like that might look like. But it wasn't until we had a four-hour wait in a doctor's office that it seemed like there could really be a market for something like this. There was a captive audience right in front of us looking for entertainment, and something to distract them that wasn't just whatever rerun was on the office television. It was then we realized a mini-museum could have an impact, and we bounced the idea off some friends who worked in museums who really saw some sort of potential.
We started doing some research and found that something like 90 percent of museum visitors across the U.S. are non-Hispanic whites. We also found that there are 135 museums in Manhattan, but in the Bronx—which has a comparable population—there are only eight. These both seemed like problems that could be addressed by bringing more museums to areas where there were few institutions with larger populations of minorities. And one way to do that was make small museums that could be installed anywhere.
Who comes up with the curatorial and educational content for MICRO?
It's a bit patchwork and done largely in-house right now. But Amanda has worked with NASA and the Smithsonian Institution, so she's a trusted science authority, and we were able to get input from about 35 scientists for the mollusk museum. We're currently working with award-winning writers, as well as curators and designers who have done stuff with major museums like the American Museum of Natural History, the Whitney and [the Museum of Modern Art] over the years.
Just because your museums are small doesn't mean they're simple, right? What are some of the biggest challenges you've encountered as you've developed MICRO?
The challenges are multiple! We're redesigning how museums can curate their information, and we're also redesigning how to build and distribute that information. We don't have enough room in MICRO to get into a lot of history and context, so we have to be really mindful about how to present information and how best to do it that would entice the average passerby: How do we make someone with little knowledge of the subject who is perhaps just in the middle of running an errand and totally focused on the day-to-day stuff they need to be doing interested and curious enough to spend 10 minutes learning? We've come up with some interesting ways of solving that. In the mollusk museums, we've installed an eye-catching hologram in the base of it that boasts a digital aquarium. And we chose to use recognizable B-movie alien characters as a way of introducing mollusks to the viewer, since we found that many of them are based on these organisms because they seem so otherworldly.
The other big design consideration is how to get these out to as many places as possible. So we decided to make all of them out of an antimicrobial material so that they could be installed in places like hospitals that have to be sterile. And each unit is plug-and-play so it only requires a single outlet. Additionally, we designed a modular furniture system to accompany them and made sure they could be transported quietly so as not to disturb people living and working in the area when they are installed and [uninstalled].
You've installed MICRO in several different kinds of locations, including within another museum. How do you go about selecting the best site for one of your modules?
We had one of the units installed at the New Museum for a while because we were part of the New Museum's cultural start-up incubator program, called New Inc. But in general we're not trying to partner with museums since our mission is to get museum-quality content outside of typical museum settings and to a larger audience. We believe that informal learning environments, like the Ronald McDonald House, can be incredibly powerful because of the element of surprise and the element of discovery. We ultimately want to see MICRO museums in places like hotels, transit hubs and [Department of Motor Vehicles]. We want to democratize cultural institutions.
Margaret Carrigan is a freelance writer and editor. She planned to go to law school but she did terribly on the LSAT, so she got a master's in art history instead. She lives in Brooklyn with her cat, who is named after Alyssa Milano's character from the early aughts CW smash hit series Charmed.