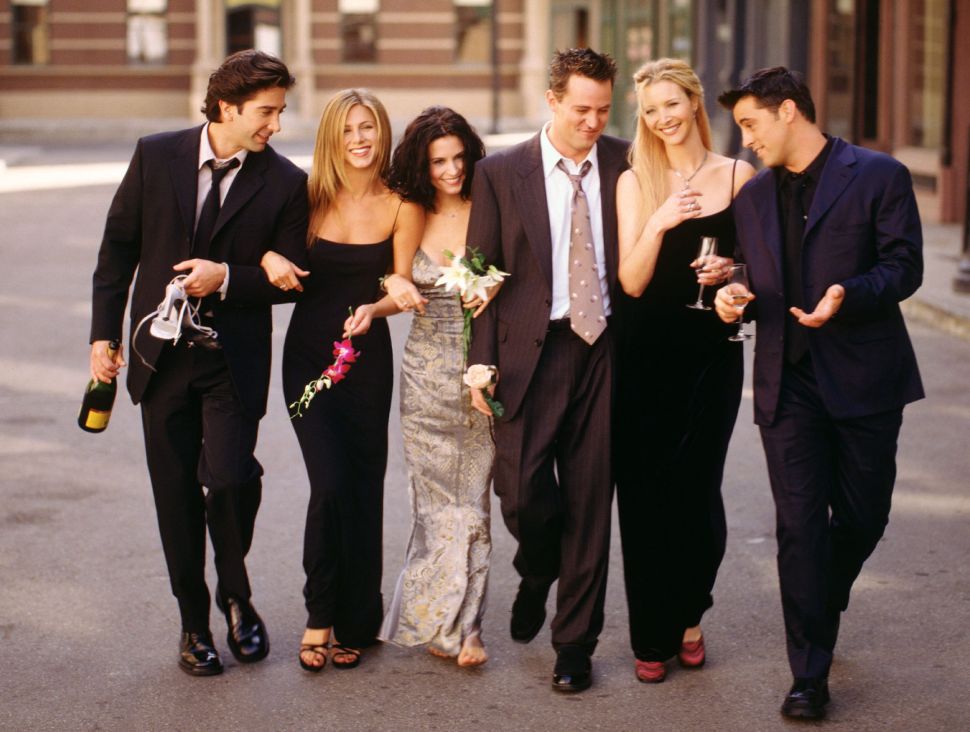 With hours and hours of new content being released into the world nearly every single day, one would think that discerning viewers would gravitate toward whatever is being called the hottest new show. But, strangely, one classic series is bucking the trend, increasingly attracting millennial fans who can't seem to get enough.
Friends may have ceased broadcasting new episodes over a decade ago, but plenty of new young viewers are bingeing the series (now on Netflix), which premiered in 1994 and concluded after 236 episodes over the course of a ten-year run.
Steve Silveri who was a writer and executive producer on Friends from 1996 through the end of the series, offered his thoughts on why a whole new generation has become enamored with the sitcom. "The show was originally on the air when network TV was the only game in town, so that's where actors worked, and that led to there being so much talent concentrated in that cast. It took me a couple of years of writing on the show to realize that you don't get to write for six people like those six people very often."
"Also," he continued, "Marta [Kauffman] and David [Crane], created a show that had endless possibilities of where it could go with that group of people, watching them all deal with life's up and downs with so much humor, and heart as well."
He also believes that part of the charm of Friends is that it actually resonates with several different age groups, saying, "I think the series as a whole captures a time in one's life that everyone looks to fondly. Kids can watch it and look forward to being on their own in their 20s and making their own decisions, people in their 20s watch it and see some of the challenges the are facing played out, and then those who have moved past that stage in their life can watch it and look back thinking about what a fun time in their life it was."
Heather Floyd, a twenty-three-year-old production assistant living in Los Angeles, explained why she queues up the concluded comedy on Netflix most nights instead of streaming a newly released series. "I'm personally a fan of ensemble situational comedy. We're starting to see a little resurgence of that kind of show but for a long time it was just a lot of zombies, vampires, anti-heroes and other world stuff."
She went on to say that she's drawn to the simplicity of the sitcom's narrative. "I love dialogue and that's what Friends really is—a lot of talking and joking about things. If you think about it, not a lot happens in each episode, but it's the small moves that then make the bigger story and I think that's reflective of real life."
Floyd believes that Friends continues to appeal to her age group because its story is fairly timeless. "It's people who find these bonds with each other to help them get through life. They laugh together and cry together. Who doesn't want to have those kinds of relationships?"
But the real key to its popularity is that many 20-somethings, who grew up thinking of these characters as the cool paragons of early adulthood have now reached that age themselves. "I'm at the age now when the show started, so it's fun to see how they did things at that time in their life," said Katherine Faulk, a twenty-five-year-old social media manager from Memphis. "And, it's really entertaining to watch them have fun at this time in their life, when they really have the whole world in front of them and they're finding themselves and who they're going to be. A lot of people can connect with all of that."
In-depth analysis aside, Evan Painter, a twenty-nine-year-old nursing assistant from Carrboro, North Carolina, said, "You know, the storylines are great and all, but the bottom line is that it's just really funny. I find myself laughing out loud at it all the time, even episodes that I've seen a bunch of times. That's what keeps me coming back to it."
Despite the passage of time since Friends ended, the series holds up well for a few reasons, said Faulk. "Everyone remembers that time in your life when your friends were everything to you. Like when that guy broke your heart and your friends were there to take down all the pictures in your apartment and help you through it. You can see things like that reflected in the show."   
Even given the current resurgence in its popularity, Friends star Jennifer Aniston has famously said that she doesn't believe that the series would be possible today because of, among other things, technology. To this, Floyd responded, "I agree to an extent. The internet has completely changed the way the world works, how people meet, how they communicate with each other, all of that. So, I don't know think [the series] could be in the exact same format—a bunch of friends living near each other meeting in a coffee shop—but I do think the basic storyline about friends sharing life together could be modernized. I would love to see what friends would look like if they made it now, but it would definitely be different—how could it not be?"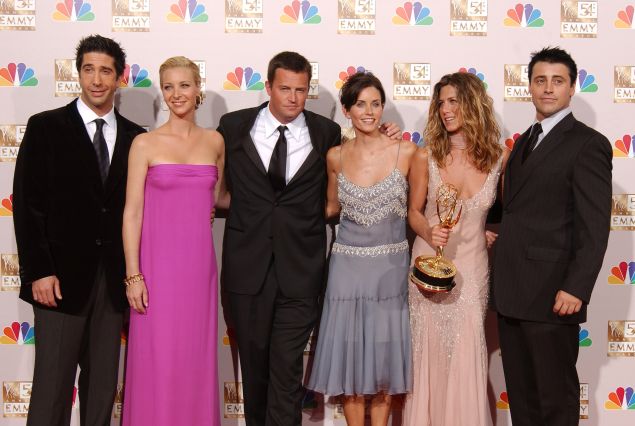 "I think people spend time dissecting how the series would work today," said Faulk. "They say things like, 'oh there's no diversity and there's some homophobia in that show,' but you have to accept it for what it is. it's not going to hold up perfectly. I mean look at other shows, like All in the Family, shows don't always hold up because society changes."
Agreeing with this thinking, Painter added, "I definitely think it was a very time specific show. Sure, it's still very funny, but I don't know if people in the age group portrayed on Friends and people who are that age right now even lead similar lives at all."  
Faulk laughed as she said, "I love the show, but I don't think I would have done well in the '90s because every job I aspire to requires the internet."
There's one simple fact that leads Silveri to believe that the series couldn't exist today. "There was this unique, undeniable chemistry among those six lead characters that's not replicable. You could do a new version of Friends but it was really those actors that made those characters work. They were the people who you wanted to spend time with. You could try and try, and it's extremely unlikely that you could bring together six people who generate the feelings that group did."
The revival of series such as Will & Grace and Roseanne thanks to popularity on Netflix and other streaming services has no doubt caused some fans to long for a Friends reboot with the original cast. "If they came back that would be great. I would definitely watch," said Floyd, "but, at the same time, I'm completely happy with the way the show exists in the world right now. I'm thrilled with where the characters ended up and I'm happy that they get to live on in my imagination that way. I'm very comfortable with that."
Faulk is a bit more definitive about the possibility, or lack thereof, for any kind of continuation of the series, saying, "Everyone can wish for it, but we all know that there's no way that group is going to come back. it's just not going to happen so people need to stop talking about it and accept it as is."
Basically: it's good as it is. Don't ruin it with an update, or let the hype of a reboot take away from enjoying the series as it stands.
Whatever the reason for its persistent popularity, Silveri is just happy that Friends continues to attract new audience members. "To me, it's really pretty cool that this thing that we did years and years ago remains valid. It's the best, most bizarre thing. If you think about it, at the time it originally aired, the show was well-liked but there were other shows that felt like they would have more staying power, like Frasier and Seinfeld. Those felt so timeless back then. We felt like we were timelier, more specifically of that time period. So, to see people embracing it this way now is just so fun."
Silveri added that for him, personally, there's another unexpectedly satisfying twist to this situation. "We're approaching a time when that show will make me cool with my daughter, so that's pretty great for me. And, the fact that my friends tell me that their kids watch it and people still ask me for Friends swag is pretty awesome as well."
While Faulk said that she and her friends don't specifically try to model themselves after the Friends characters, they do try to emulate one aspect of the group. "They really are like a model of what loyalty means. You just don't see a lot of groups like that now so I think watching this has helped people learn how to be loyal and that if you have friends that are really loyal, hold onto them, they're special."
Citing her biggest takeaways from the series, Floyd said, "I think it's a show that almost anyone can watch. It's just joyful. We need more shows like, that with people being kind to one another and being there for one another and that's what Friends really is. I think it's an overall extremely positive thing that's been put out into the world, and I love that it continues to exist for everyone to watch and enjoy."
All episodes of 'Friends' are available for streaming on Netflix.
Anne Easton is a West Coast based writer for Observer. She's an Emmy-award winning writer and producer who has worked in news, sports and children's television for FOX, ABC/Disney and the ReelzChannel. Follow her on Twitter at @anne_k_easton.