Mississippi is marking its bicentennial of statehood this month through three major museum events that offer an uncomfortable confrontation rather than a celebration of the state's 200 years of racially charged history. Last week, the capital city of Jackson opened two brand new museums, the Museum of Mississippi History and the Mississippi Civil Rights Museum, that explore in depth the state's politically fraught and sometimes dark past. But at the Mississippi Museum of Art (MMA), the exhibition "Picturing Mississippi, 1817‒2017: Land of Plenty, Pain and Promise" offers an in-depth look at how the state has changed over the last two centuries while envisioning a more inclusive future. The museum is also launching the Center for Art and Public Exchange (CAPE) in tandem with the exhibition, a community engagement initiative that addresses racial inequality through art.
"Mississippi's history has been central to the way our country has developed; it was ground zero for a lot of movements that have rippled out and affected the country as a whole," said Julian Rankin, MMA's Director of Art and Public Engagement who is spearheading the CAPE program. "This exhibition really reflects what America was about, but we're just as invested in creating opportunities to think about what it could be about."
The state played a pivotal role in shaping the American economy as we know it today, because of its booming slave labor-fueled cotton industry in the early 19th century. The Mississippi River not only provided valuable trade and travel routes as white settlers moved westward, but also fueled the burgeoning cultural identity of the nation thanks to depictions created by artists like George Caleb Bingham—whose iconic "The Jolly Flatboatmen" is on view in the exhibition—and the writing of Mark Twain. It was also the site of key moments in the 20th century's Civil Rights movement, such as the infamous Woolworth's sit-in in 1963 and Martin Luther King's March Against Fear in 1966.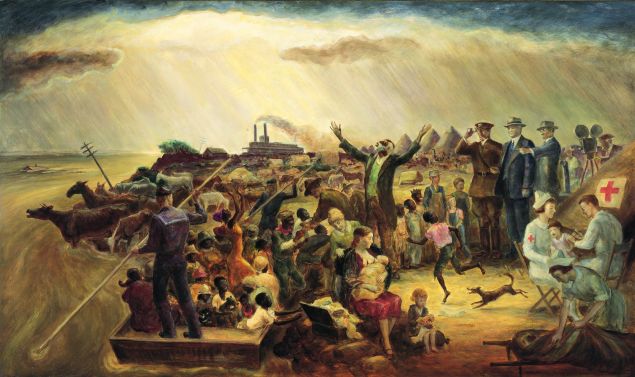 Betsy Bradley, director of MMA, says it was top of mind for the curatorial team to put together an exhibition that revealed how complex the state's history is, and the importance of uncovering stories that haven't always been told or have been forcibly hidden, but were very central to the Mississippian psyche. "We already know how history has been written so far, so we need to keep finding new stories," she told Observer. "If visitors to this exhibition realize how little each of us knows and how much there is to learn in order to reach deeper truths about our collective identity, then we will have done our job."
On view through July 8, 2018, "Picturing Mississippi" boasts nearly 200 works by 100 artists who have either lived in Mississippi or have drawn inspiration from the state. The breadth of the show encompasses everything from Choctaw objects and 19th century landscapes to portraiture and contemporary works by the likes of Andy Warhol, Jean Michel Basquiat, Carrie Mae Weems and Kara Walker.
The exhibition brings to light the contentious relationship between European Settlers and Native Americans in the area through works like George Catlin's Mó-sho-la-túb-bee, He Who Puts Out and Kills, Chief of the Tribe from 1834 to Benny Andrews's Mississippi River Bank (Trail of Tears Series) from 2005. Traditional landscape scenes of Natchez—the first settler town in the state made wealthy through free-labor cotton farming—are echoed through Jean Michel Basquiat's 1985 collage painting, Natchez.
The devastation of the Civil War and the price of Reconstruction are addressed through several works referencing sharecropping, a tenant farming practice that came into use widely in the south at the turn of the century; Thomas Hart Benton's 1945 painting of sharecroppers is juxtaposed with contemporary New York-based Choctaw-Cherokee artist Jeffrey Gibson's Everlast punching bag laden with Native American beadwork titled Sharecropper. And numerous works depicting Civil Rights-era strife from artists ranging from Norman Rockwell to Carrie Mae Weems reveal racial tensions that are still prevalent today.
"This isn't just a story about Mississippi. This is a story about this country and its original sins, so to speak," said Bradley. "It's about how we move forward from that and how we develop new models of living, for sharing prosperity in fair and ethical ways, and seeing the world anew by including those who haven't always been included."
Margaret Carrigan is a freelance writer and editor. She planned to go to law school but she did terribly on the LSAT, so she got a master's in art history instead. She lives in Brooklyn with her cat, who is named after Alyssa Milano's character from the early aughts CW smash hit series Charmed.