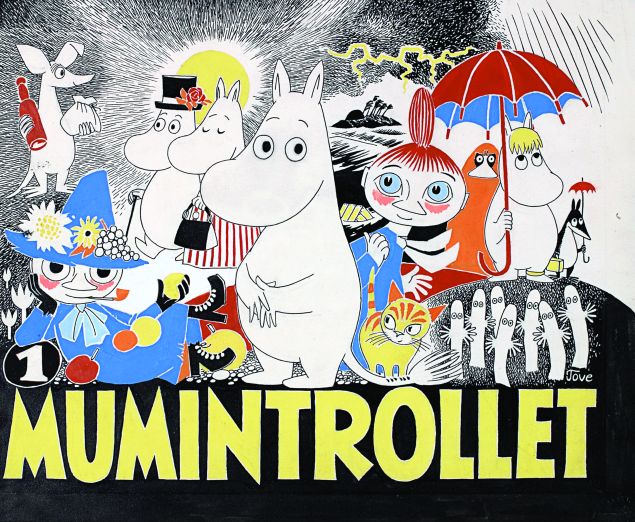 "Maybe my passion is nothing special, but at least it's mine." So wrote Finnish author and illustrator  Tove Jansson in her book, Traveling Light. Though she was best known for her delightfully squishy, hippo-esque cartoon creatures known as Moomins, which debuted in 1945 and were featured in a series of nine books over the years and a long-running comic strip, Jansson's passion wasn't illustration—it was painting.
Now an exhibition at London's Dulwich Picture Gallery is giving one of the 20th century's most beloved illustrators her fair due as a painter. Boasting 150 works ranging from self portraits to landscapes, her Surrealist paintings from the 1930s to her abstract works from the '60s, along with various other drawings and early sketches of the Moomin characters, the show is the first major retrospective of the artist's career in the U.K.—despite the fact that the Moomin comic strip debuted in London's The Evening Standard in the 1950s.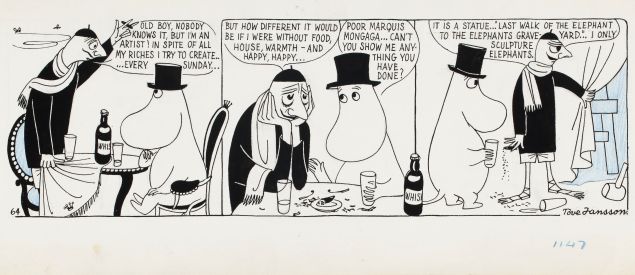 "Painting was something very private and precious for her, and being recognized as painter was her biggest dream," the exhibition's curator, Sointu Fritze, told Observer, noting that Jansson's art has shown quite broadly in international exhibitions but had, until now, been mostly Moomin-related material, either illustrations or cartoons, not paintings or other artworks by her. The artist passed away in 2001.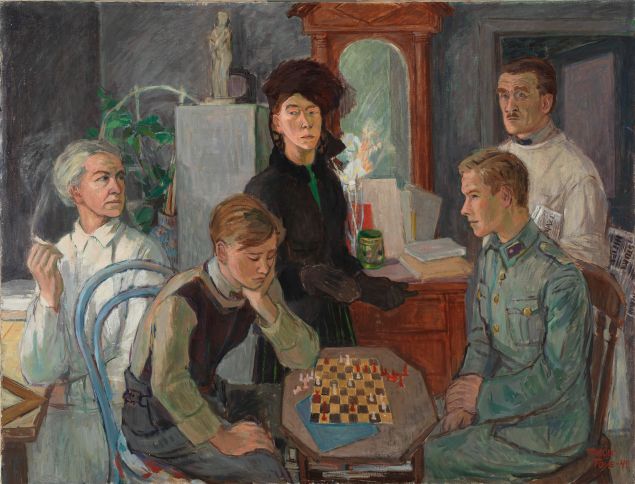 Jansson grew up in a bohemian household of other artists and creatives, her father a sculptor and her mother a graphic artist. Many believe buoyant Moominpappa and demure, grounded Moominmamma from her comic series to be inspired by her family. Moomintroll, the Moomins' young son, is naive and endearing; Jansson didn't claim the character as auto-biographical but she did admit that her depression that developed living in Europe during the World War II prompted her to create a character who could be excited about life again.
Her paintings, however, don't always boast the same ebullience. According to Fritze, one of the biggest differences between the artist's paintings and illustrations is that her painterly expression evolved a lot during her career, whereas her drawings and illustrations were always recognizable. "Her line is unique, as well as the way she brings words and images together," Fritze said. "Also she can let her humour flourish freely in her illustrations and drawings but not that much in painting, which was a serious matter to her."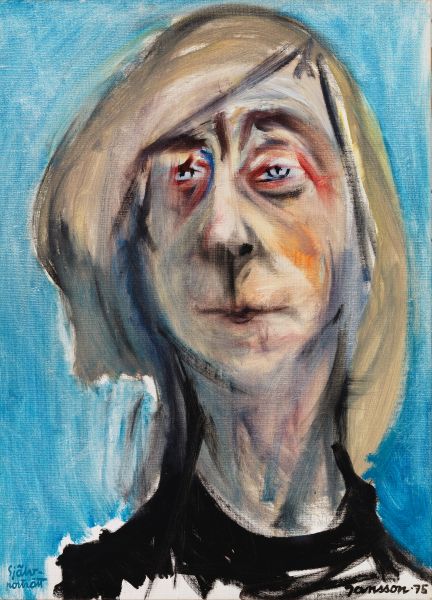 In painting, Jansson was always searching for her own style, responding to many of the major artistic movements of the time. She started out in a mystical vein in the 1930s, inspired by the likes of surrealist painters like Salvador Dali. The artist transitioned into realism during and just after the war before finally settling into non-figurative experiments in the 1960s, around the same time Abstract Expressionism had become a global phenomenon.
"Painting and drawing were actually two quite separate realms for Jansson," Fritze said, noting that Jansson often saw her illustration work as a way to make ends meet in order to experiment in her painting. With more recent attention finally being paid to under-recognized female artists from the 20th century, Fritze said she thinks "the time is ripe for a full-scale presentation of this multitalented—and slightly unusual—artist."
Margaret Carrigan is a freelance writer and editor. She planned to go to law school but she did terribly on the LSAT, so she got a master's in art history instead. She lives in Brooklyn with her cat, who is named after Alyssa Milano's character from the early aughts CW smash hit series Charmed.