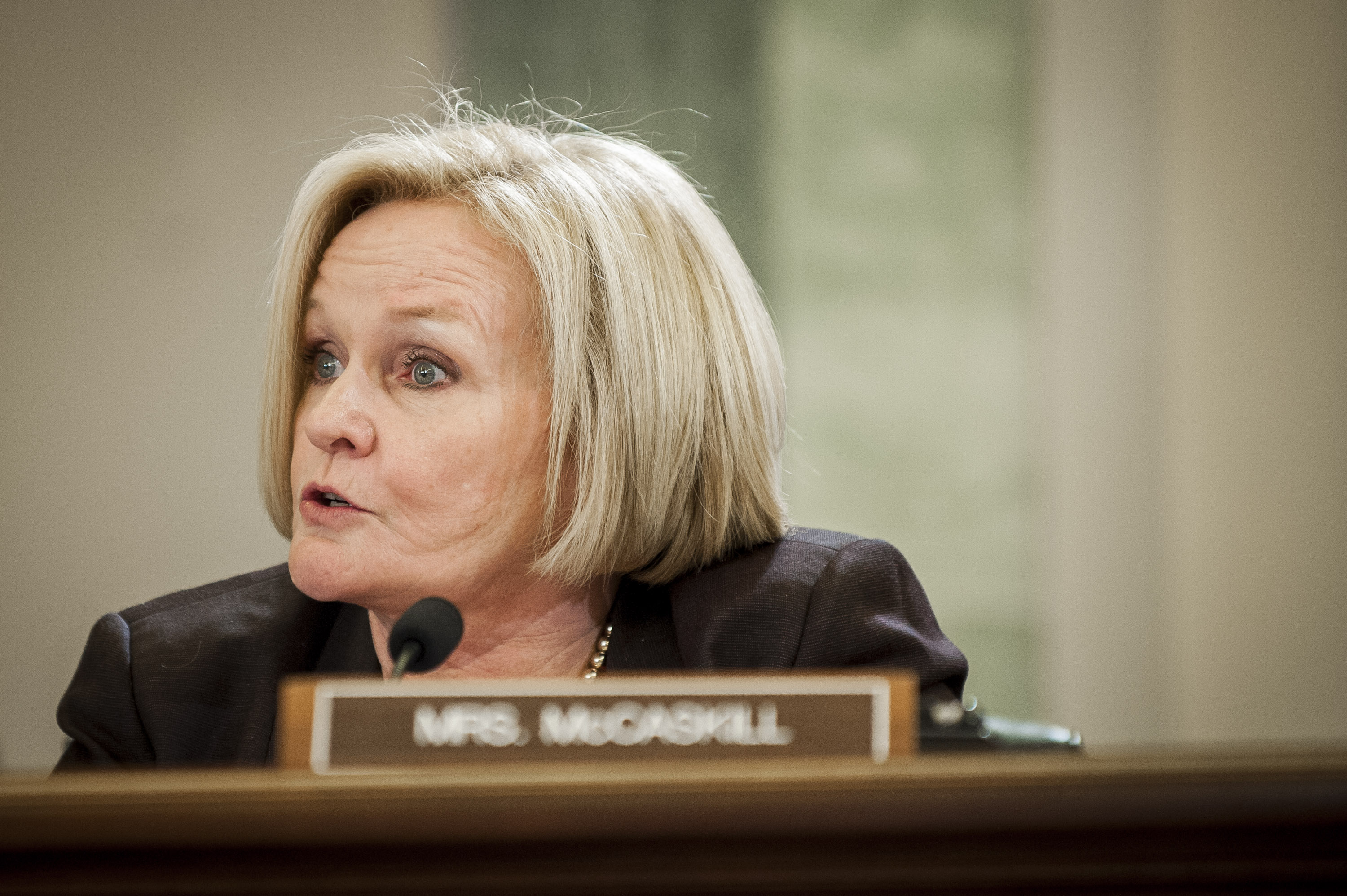 With a narrow GOP majority in the U.S. Senate, all eyes will be on a handful of contested seats up for grabs. Though more than 30 are at stake, here are the five that are most critical to the balance of power between Democrats and Republicans.
1.) Arizona: When U.S. Senator Jeff Flake, an Arizona Republican, announced he would not seek another term, it set off a scramble in both parties to try and win a seat this battleground state. Former State Senator Kelli Ward has already announced, as have a pair of other Republican candidates. Ward is the best known from her challenge to Senator John McCain two years ago, but she's also known for having a town hall on the conspiracy theory that the government is killing people with airplane jet trails, earning her the unfortunate nickname "Chem-Trail Kelli." Wary of Ward's vulnerabilities, several current and retired congressional representatives are looking at the race for the GOP . These include Rep. Paul Gosar, and Rep. Martha McSally, as well as former Reps. Matt Salmon and Ben Quayle, the son of the former Vice President Dan Quayle.
Congresswoman Kyrsten Sinema is favored to win the Democratic Party's nomination. Others in the race include businessman Bob Bishop, attorney Chris Russell, attorney Deedra Abboud and businessman Jim Moss, as well as Che' Fowler. The most intriguing candidate is astronaut Mark Kelly, who is married to former Congresswoman Gabby Giffords.
2.) Nevada: Nevada is trending Democratic, and its GOP Senator Dean Heller only won by a narrow margin six years ago. He also faces several primary opponents, who perceive him as insufficiently conservative. Most notable among these foes is Danny Tarkanian, a former UNLV basketball player. Also in the fight against Heller is Sarah Gazala, a teacher.
Rep. Jacky Rosen is probably the toughest Democratic candidate; she defeated Tarkanian in the 2016 election. Also in the mix for Democrats are businessman Bobby Mahendra, attorney Jesse Sbaih, and retired firefighter Jay Craddock.
3.) Missouri: Democratic Senator Claire McCaskill was considered one of the most vulnerable incumbents in 2012, but she held on because Republicans nominated Congressman Todd Akin, whose comments cost him the seat. Six years later, she's still vulnerable, despite trying to straddle the fence between the national Democratic Party and her increasingly conservative state. Plus, she'll have to fend off a challenge from health insurance verification specialist Angelica Earl.
Luckily for McCaskill, the GOP field is crowded, which could divide the party. So far, Attorney General Josh Hawley is the best known among the Republican candidates, and he has the support of Steve Bannon. Also in the mix is businessman Austin Petersen, a former Libertarian Party presidential candidate. The ballot features Navy Veteran Courtland Sykes and airport executive director and retired Air Force Officer Tony Monetti.
Hawley may be too conservative for Missouri voters, so other GOP candidates are considering jumping in as well. These include former Lt. Governor Pete Kinder, former GOP chair and frequent candidate Ed Martin, and State Rep. Marsha Haefner. Dark horse candidate Aaron Hedlund, an economist and college professor, also waits in the wings for his chance.
4.) Indiana: Six years ago, when Rep. Joe Donnelly was drawn out of his district, he probably figured to be a sacrificial lamb to popular centrist Senator Richard Lugar, who had occupied the seat since 1976. But State Treasurer Richard Mourdock stunned the political establishment by ousting Lugar in the primary. Then, like Rep. Akin, Mourdock showed how far out of the political mainstream he was, handing the race to Rep. Donnelly.
Donnelly has crafted a moderate voting record, but it's a red state that has only gone Democrat once (narrowly in 2008) since 1964. As a result, he's drawn two tough opponents in Rep. Luke Messer (a former state GOP leader, state representative and attorney), and Rep. Todd Rokita (Indiana's former secretary of state and also an attorney). The race between the two of them is the nastiest primary in the country. But both can't overlook several other primary challengers, like former State Representative Mike Braun, University official Andrew Takami, attorney Mark Hurt, and truck driver Kiel Stone. And Attorney General Curtis Hill is eyeing the race, complicating matters for Republicans. With independent candidate John Piper, a businessman, drawn to the race, it may help Rep. Donnelly hang on, but nothing is given in 2018.
5.) Florida: Democratic Senator Bill Nelson, a longtime Senate veteran, should be a shoe-in for reelection, shaving topped strong Republicans. And it is a state that at least leans blue, if not purple. Senator Nelson also faces a weak field of announced Democratic candidates, including real estate developer and frequent candidate Howard Knepper, life coach and frequent candidate Lateresa Jones, chiropractor and frequent candidate Dr. Joe Smith, and frequent candidate and white supremacist activist Augustus Invictus.
However, wealthy Governor Rick Scott, who is term-limited in 2018, is strongly considering running against Nelson. And that would make this the most-watched race next year, as both are nearly tied in the polls.
Conclusion
With nearly three times as many seats to defend, it is unlikely that Democrats will retake the Senate, barring a major scandal, mistake, or severe economic downturn. In fact, if the Democrats only lost a seat or two, it could be considered a moral victory, given the odds. The 2018 election is shaping up to be a Republican year, despite Trump's low approval ratings and the 2017 election favoring Democrats.
However, Republicans need to watch out for crowded primaries and the risk of a candidate emerging that's too far right for the average voter. Democrats have several Senate primaries with multiple candidates, but other state-wide offices have no Democrat on the ballot, which shows a lack of teamwork and coordination. Should both parties solve these problems, the 2018 Senate elections and state-wide could races the most interesting in years.
John A. Tures is a professor of political science at LaGrange College in LaGrange, Georgia. He can be reached at jtures@lagrange.edu. His Twitter account is JohnTures2.