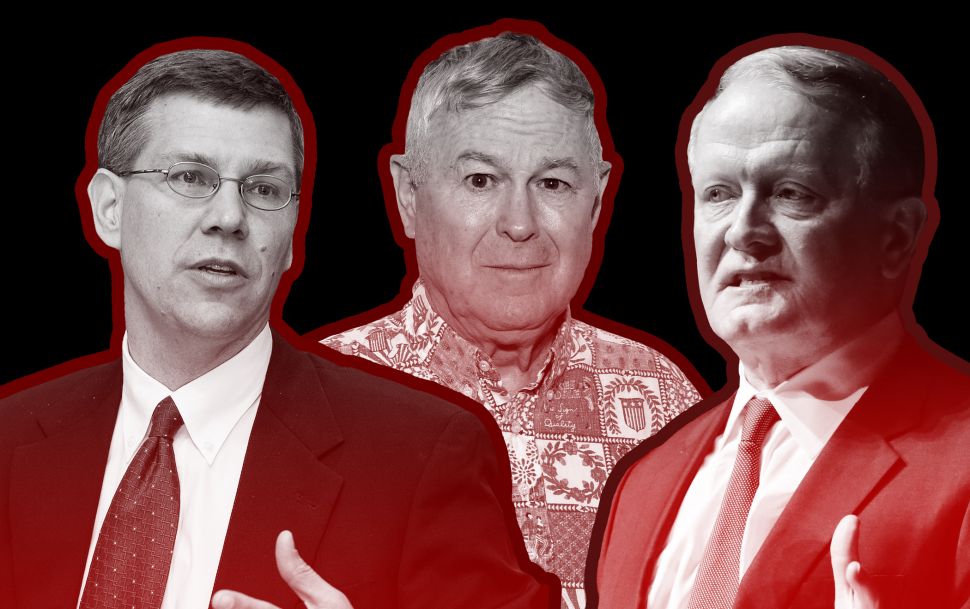 Amy McGrath is a battle-hardened fighter pilot. She retired as a lieutenant colonel after spending 20 years in the Marines, flying 89 combat missions, including bombing strikes against al-Qaeda and the Taliban.
And now she is running for Congress—much to the delight of the Democratic Party.
Democrats want to believe that this glass-ceiling-shattering, bomb-dropping, tough-talking first-time pol will flip Kentucky's 6th District back to the Blue Team.
Yet despite the warm and fuzzy optics of the McGrath effort, she is actually doing her party a massive disservice—taking in dollars from donors big and small for a race that, barring some unforeseen scandal, cannot be won. Viral videos, even ones starring female Top Guns, don't turn deep red districts blue. Every dollar that goes to a candidate like McGrath is a dollar that isn't going to help far less flashy candidates in districts where there is actually a chance of flipping a House seat from red to blue next November.
With this in mind, Observer identified three key congressional races worth watching in 2018. In these three races, a trio of youthful, energetic and C-Span-ready Democrats are poised to take on—and likely beat—a cadre of longtime GOP incumbents in districts that, absent Trump, might never have been considered competitive in years past. They are now, however, front and center in the Democratic Party's plans to take back control of the House in 2018. This impressive class of Democrats—all first-time candidates—have decided to put their successful and oftentimes lucrative careers on hold so they can run for office.
The criteria for making our list were quite simple:
First, our list looks only at Democratic challenger candidates running in districts that broke for Hillary Clinton in 2016. (There are 23 such districts across the country, in case you're wondering.) Secondly, the candidates on our list are all first-timers—political outsiders who are packing light when it comes to political baggage. And, finally, the candidates who made our list must have impressive backstories that will feed the media's endless need for story angles. They don't have to be as flashy as an Amy McGrath; they just need to be good enough to win.
We have ranked these three candidates in order of their likelihood of winning.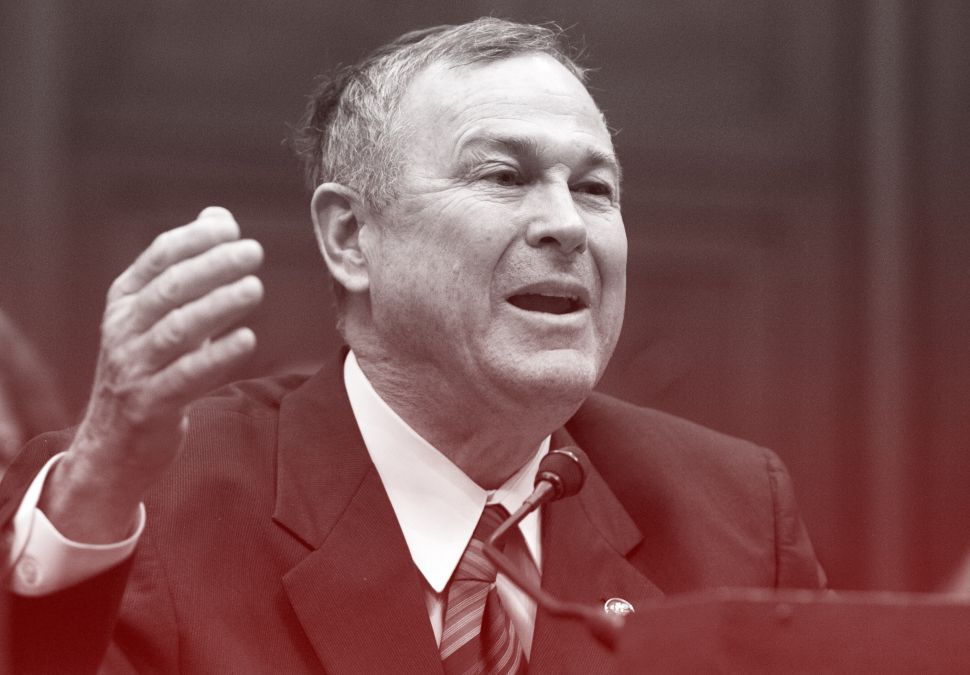 1.) California's 48th (Orange County)
Incumbent: Dana Rohrabacher (R)
Main Democratic Challenger: Hans Keirstead, bio-tech entrepreneur
In California's 48th District, a conservative-leaning slice of beach midway between Los Angeles and San Diego, Republican Dana Rohrabacher has held court for 30 years, coming into power during the final days of President Ronald Reagan's second term in office. Democrats see 2018 as a vulnerable year for the incumbent, not only because Hillary Clinton won the district by two points in 2016, but also because Rohrabacher himself has come under increased scrutiny by Robert Mueller's expansive investigation of potential foreign meddling in the 2016 U.S. elections for his deep ties with Russia and Putin associates. His entanglements with Russia are so complicated that, according to a recent report by the New York Times, the Kremlin has even given the congressman his own code name.
Leading the charge among the Democrats seeking to send Rohrabacher into retirement is Hans Keirstead, 50, a PhD stem cell and cancer researcher from Laguna Beach who founded a biotech company that was sold for $124 million in 2014. A native of Canada, Keirstead became an American citizen in 2008, and his story of success in business and science is proving to be a strong counter narrative to the GOP's hardline stance on the perils of immigration. "I chose to become an American because I love this country," Keirstead told Observer. "I am running for Congress to serve the citizens of my district and the American people. I wish I could say Rohrabacher has the same allegiances that I do, but it doesn't appear that that's the case."
The Cook Political Report, the beltway bible of political odds-making, recently rated California's 48th as "Toss Up" despite Rohrabacher's double-digit margin of victory in 2016. "Democrats in D.C. are thrilled with Hans Keirstead," writes Cook's David Wasserman, who analyzes and handicaps U.S. House races. "Keirstead will talk about helping spinal cord injury victims recover function and the need to cut through FDA red tape."
Democrats smell blood in the water.
"While Hans Keirstead is able to weave a compelling narrative of success in science and business as well as his love for his newly adopted country, Dana Rohrabacher's entanglements with Russia have cast an increasingly ominous shadow over his legacy and have given his hitherto avuncular tales—such as how he once lost an arm-wrestling match to Vladimir Putin—a grim subtext," Ethan Bearman, a popular California radio talk show host and Fox News political analyst, told Observer. "I think Orange County should get used to the phrase 'Congressman Keirstead.'"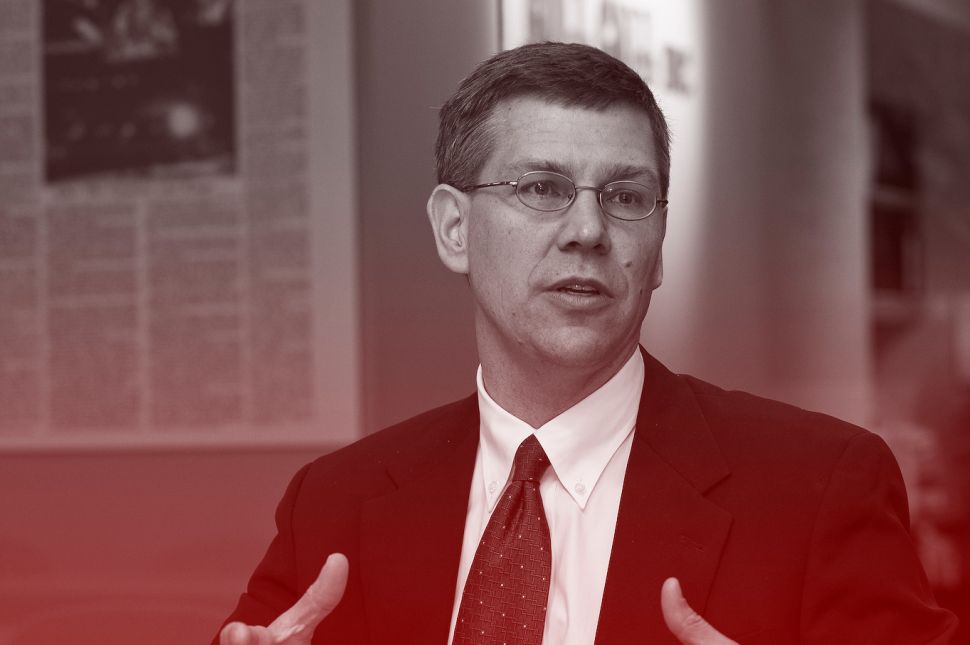 2.) Minnesota's 3rd (Minneapolis Suburbs)
Incumbent: Erik Paulsen (R)
Main Democratic Challenger: Dean Phillips, vodka and gelato magnate
Minnesota's 3rd district brackets the western edge of Minneapolis from North to South, and despite the state's penchant for liberal politics, the district has been solidly in GOP hands since 1961. Carrying the party mantle for the past 10 years has been the duty of Erik Paulsen, who much like Rohrabacher, has spent the entirety of his career in politics, first as a political staffer then as an elected official.
"It's kind of funny that as soon as someone has been in office for a just few terms, the media begins branding them as a 'career politician,'" remarks Dean Phillips, 48, the scion of the liquor empire that introduced Belvedere Vodka and many other libationary delights to American bars and dining rooms. "But with Paulsen, he is quite literally a career politician—he has never held much of a real job in the private sector; all he knows is politics."
Phillips, who also happens to be the grandson of Pauline Phillips (who is better known by her pen name Abigail Van Buren and her "Dear Abby" syndicated advice column) is a successful entrepreneur in his own right, having jump-started the popular Talenti Gelato ice cream brand, which he and his partners grew into a $120 million a year business until it was sold to Unilever in 2016. Now as first-time pol, Phillips, a Democrat, is looking to unseat an increasingly unpopular Republican incumbent.
Unlike Rohrabacher, Paulsen doesn't have a Russian-made noose hanging around his neck, but his march to the gallows in 2018 will come as no less of a surprise to people following the race. "If Erik Paulsen's advisors are telling him that he will coast to victory in 2018 like he has in past cycles, then I would say he should get new advisors," David Shultz, a professor of political science at Minnesota's Hamline University, told Observer. "Paulsen will really have his work cut out for him if he wants to hold on to his seat—especially if he has to face someone who can overpower him financially, like a Dean Phillips. This is a district where other races are often tending to vote Democratic, and with Paulsen's voting record far more conservative than his constituents, this is a seat ripe for a pickup."
"Erik Paulsen's seat is really up for grabs in the midterms," says Fox's Bearman. "He has aligned himself with a president who is very unpopular in the district and, to make matters worse, now he has to face off against Dean Phillips, successful businessman and political outsider who brings tremendous financial firepower to the battle. Paulsen and the National Republican Congressional Committee ought to be concerned."
3.) New Jersey's 7th (North-Central New Jersey)
Incumbent: Leonard Lance (R)
Main Democratic Challenger: Tom Malinowski, former Assistant Secretary of State
New Jersey's 7th District looks like an ink blot smattered across the Northern half of the state, a gerrymandered hodgepodge of pieces and parcels of six different counties and 74 municipalities, including the affluent Short Hills community, a popular bedroom neighborhood for Manhattan commuters.
Republican Leonard Lance has been the district's man in Washington since 2009. A lifelong pol, Lance got his start in the early 1990s in New Jersey's State Assembly. Over the course of his nearly 30 years in public office, Lance's politics have become increasingly conservative. "Lance has moved steadily to the right since he started drinking the water in Washington after winning his seat in 2008. Now, even his admirers are wondering if he's sold his soul for political advantage," wrote Tom Moran of the New Jersey Star Ledger's editorial board.
Clinton eked out a slim margin of victory in the district in 2016, giving hopes that it could be flipped in the midterms. Although there is a crowded field of challengers, one hat thrown into the ring belongs to former Assistant Secretary of State Tom Malinowski, 52, who served under President Barack Obama.
A Rhodes Scholar and seasoned diplomat, Malinowski has friends in high places, such as former Secretary of State John Kerry, who will be making sure his former protégé gets an all-access pass on the Democratic Party fundraising circuit.
"It takes a great advocate to be a great member of Congress. Tom is an advocate to his very core, with a fierce sense of right and wrong, and a moral compass always pointed due north," Kerry said. "He fights for people. It's just who he is. I saw that firsthand, every day, in the State Department, and I know that's exactly what he would do in Congress."
Malinowski's strategy is simple—he is not Trump and he is not Lance: "I've stood up to dictators on behalf of America. I'll stand up to Donald Trump and Leonard Lance for the people of our state."
Arick Wierson is a six time Emmy Award-winning television executive and former senior political and communications adviser to New York City Michael Bloomberg. He is the founder of NYC TV and NYC Media Group, the largest publically-owned broadcast entity in the United States. Currently, Wierson is a political and branding consultant to clients in the United States, Africa and Latin America. You can follow him on twitter @ArickWierson.
Richie Hecker is technology entrepreneur and investor. He has been operating tech companies since 2000. He has bought and sold assets that have had enterprise values over a billion dollars and has taken one company public. He is a leading organizer in the startup and cryptocurrency community. He co-founded the Crypto Working Group, which aims to be the FINRA for Crypto. He is a frequent op-ed writer for leading publications including TechCrunch, Wall Street Journal Accelerators, HuffPo and Observer. He also lectures at universities including Columbia, Parsons and NYU on entrepreneurship and finance. You can follow him on twitter @RichieBlueEyes.