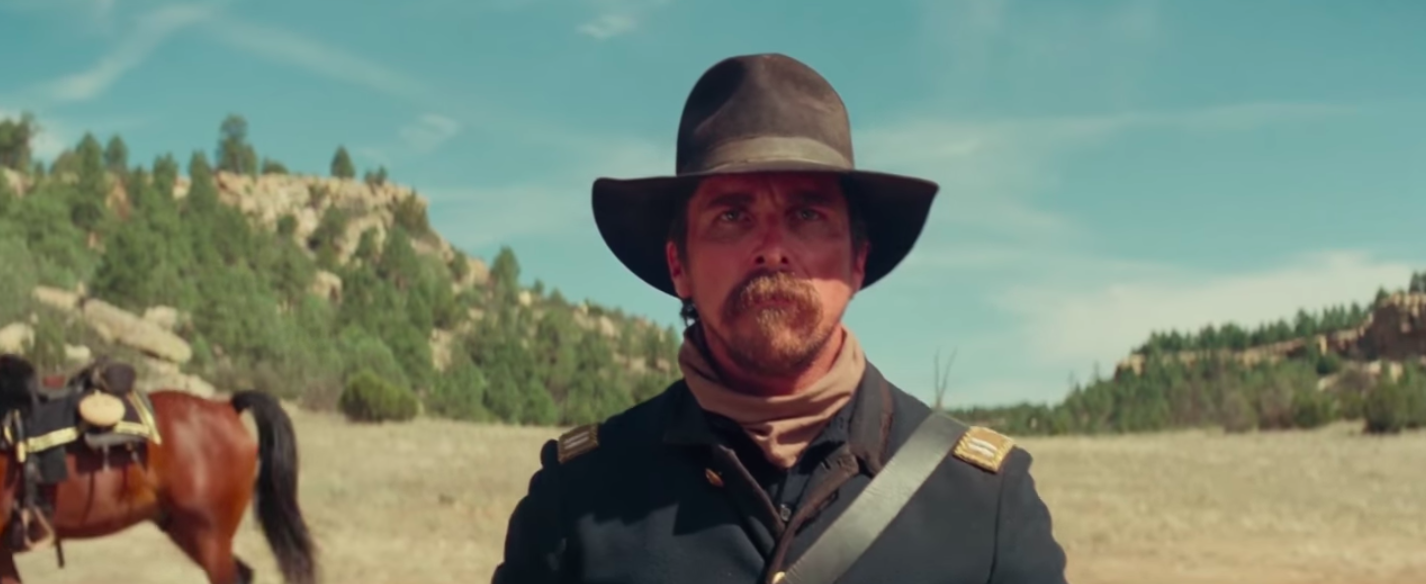 Defying tradition, here is a holiday western for 2017 that has nothing whatsoever to do with Christmas. Hostiles is a western for people who hate westerns (like me).  Scott Cooper is an iconoclastic writer-actor-director with an adventurous curiosity about unusual subject matter. His films include the marvelous Crazy Heart, with Jeff Bridges as a fading country-western singer, and the excellent, underrated Black Mass, starring Johnny Depp as notorious Boston criminal Whitey Bulger, who turned FBI informant to take down the Mafia family threatening his brother, a Massachusetts senator. Cooper doesn't take the easy out, and you wouldn't call a sagebrush saga about cowboys and Indians—at a time when westerns have gone the way of Gene Autry in spurs—taking the easy way out in 2017. Fortunately, this is a filmmaker as talented as he is brave and stubborn. Hostiles breathes fresh oxygen into a genre as old as a Confederate cough.
---

HOSTILES ★★★
(3/4 stars)
Directed by: Scott Cooper
Written by: Scott Cooper
Starring: Rosamund Pike, Christian Bale, Wes Stud, Ben Foster, Adam Beach
Running time: 133 mins.

---
It begins with a massacre that slaughters a pioneer woman's hard-working, law-abiding husband and their three children, and leaves their house burned to the ground. The year is 1892 and Comanche raiders are on the rampage. The surviving widow (played by patrician beauty Rosamund Pike) has every reason to believe the only Native American is a corpse with a tomahawk through its skull, but when cavalry captain Joseph Blocker (Christian Bale) is dispatched from Fort Berringer, New Mexico on a government errand to escort his terminally ill old enemy, an Apache named Chief Yellow Hawk (Wes Stud) and his family to their tribal lands in Montana to die, the widow Rosalie joins them, opening the door to endless troubles and almost certain death.
Joe is merely following orders. He despises Yellow Hawk, but if he doesn't get him to his burial grounds before he dies of cancer, he'll leave his army pension and face a court martial. Enduring cruelty and death from the heat and rains of Mother Nature, a kidnapping by vicious fur trappers, and the constant danger of marauding villains brings out the best and the worst in them all. Played out against the peppermint skies and occasional green valleys of the American desert, it's a saga that foretells the changing landscape of the Old West and the men who are forced to change along with it. Ben Foster as a brain-damaged victim of war who orchestrates his own fate on the journey, and the terrific Adam Beach as Yellow Hawk's son Black Hawk are especially noteworthy. Hostiles recreates the past with an eye on the forgiving psychological insights of the 21st century. A welcome diversion from the generally depressing pile of junk the movies unloaded during this year's holiday season.