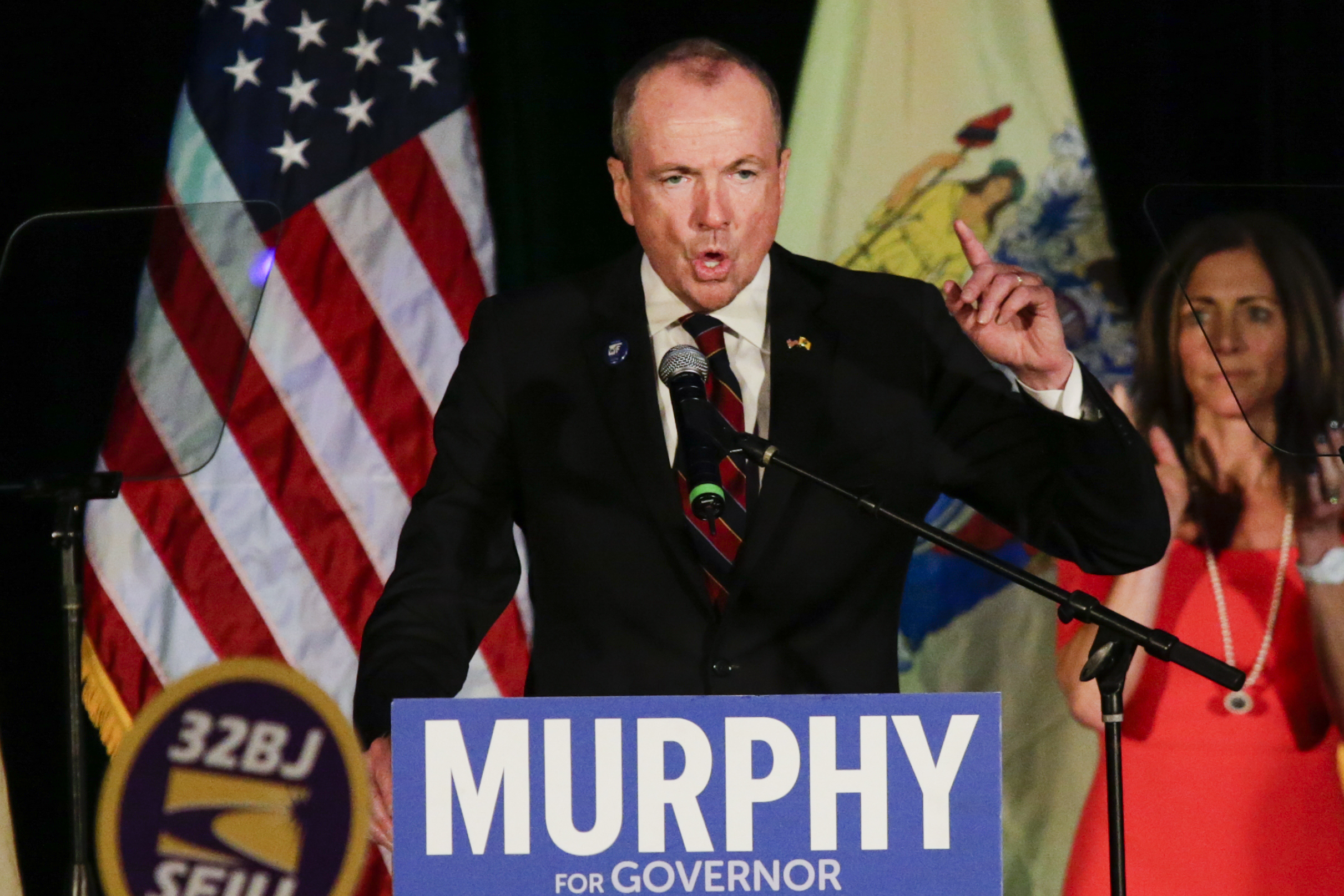 Governor-elect Phil Murphy and the governors of New York and California railed against a Republican tax plan moving through Congress on Monday, but they didn't have a specific plan to stop the GOP tax overhaul from becoming law.
In a conference call with reporters, the Democratic governors called the tax plan "evil," "divisive" and a "scam" meant to punish blue states by eliminating much of the State and Local Tax (SALT) deduction. They warned the proposed GOP tax overhaul would be devastating to their states since it would force many of their residents to send more money to the federal government.
But they also acknowledged there was not much they could do at the moment other than sound the alarm and hope Republicans in Congress vote against the final version of the bill. Murphy once again raised the possibility of legal action, but didn't have details on the legal grounds the states could sue on.
"It's not over yet. We may be in the ninth inning," Murphy said. "We have five Republican members of the House in New Jersey. The last time this came up, four of them voted the right way. We need all of them to vote the right way." (Rep. Tom MacArthur was the lone New Jersey member of Congress to vote for the House tax bill.)
Separate bills that passed the House and Senate, respectively, would remove the SALT deduction for state and local income and sales taxes, but cap it at $10,000 for property taxes. High tax states such as New Jersey, New York and California would be hit particularly hard by the move. New Jerseyans could pay $137 million more in federal taxes over a decade if the House-version of the bill becomes law, according to a report from the Institute on Taxation and Economic Policy.
Murphy and New York Gov. Andrew Cuomo said they were still studying whether scaling back the SALT deduction was legal, and they didn't cite any existing law on Monday in making their arguments. They have said curtailing the SALT deduction amounts to a "double tax" because residents would have to pay federal income taxes on earnings that are already taxed by their state and local governments.
Murphy said the SALT deduction has been in the tax code since the federal income tax became legal in 1913. "So this goes back over 100 years that Congress recognized that taxing people twice was unfair and unsound," he said.
"This is double taxation, and I'm not even sure it's legal. And we're gonna find out whether or not it is," Cuomo said. "They are taxing taxes."
MacArthur (R-3) said he voted for the House tax bill after securing language that would cap the property tax deduction at $10,000, rather than eliminate it. He has said the cap "will cover nearly every taxpayer" in his 3rd district. The Washington Post fact-checked the claim and concluded the cap would cover 93 percent of taxpayers in his district, but those who benefit from the cap "still might find themselves with an increase in taxes."
In a statement responding to the Democratic governors' press call, MacArthur attacked Murphy for his plans to raise taxes on the wealthy and large corporations in New Jersey.
"If Phil Murphy is so concerned about higher taxes in New Jersey, then why is he planning to raise them?" MacArthur said in a statement responding to the Democratic governors. "Perhaps Phil Murphy should get his ducks in a row in Trenton, where legislative leaders are already questioning his disastrous fiscal policies, before he attacks a bill that reduces tax rates, doubles the standard deduction, provides tax credits for childcare and care of adult dependents, and preserves the property tax deduction. The reality is simple: The bill I voted for will cut taxes, while Phil Murphy wants to raise them."
If Republicans succeed in rewriting the federal tax code, Cuomo predicted Democrats would rally around repealing the tax bill, comparing it to how Republicans campaigned for years on repealing the Affordable Care Act.
Cuomo said the tax bill would harm the 12 states that make up 40 percent of the nation's gross domestic product and already give a larger share of taxes to the federal government. California Gov. Jerry Brown said the measure would "further divide America when we're at one of our most divisive periods in history." He then said the congressional Republicans are "acting like a bunch of mafia thugs."