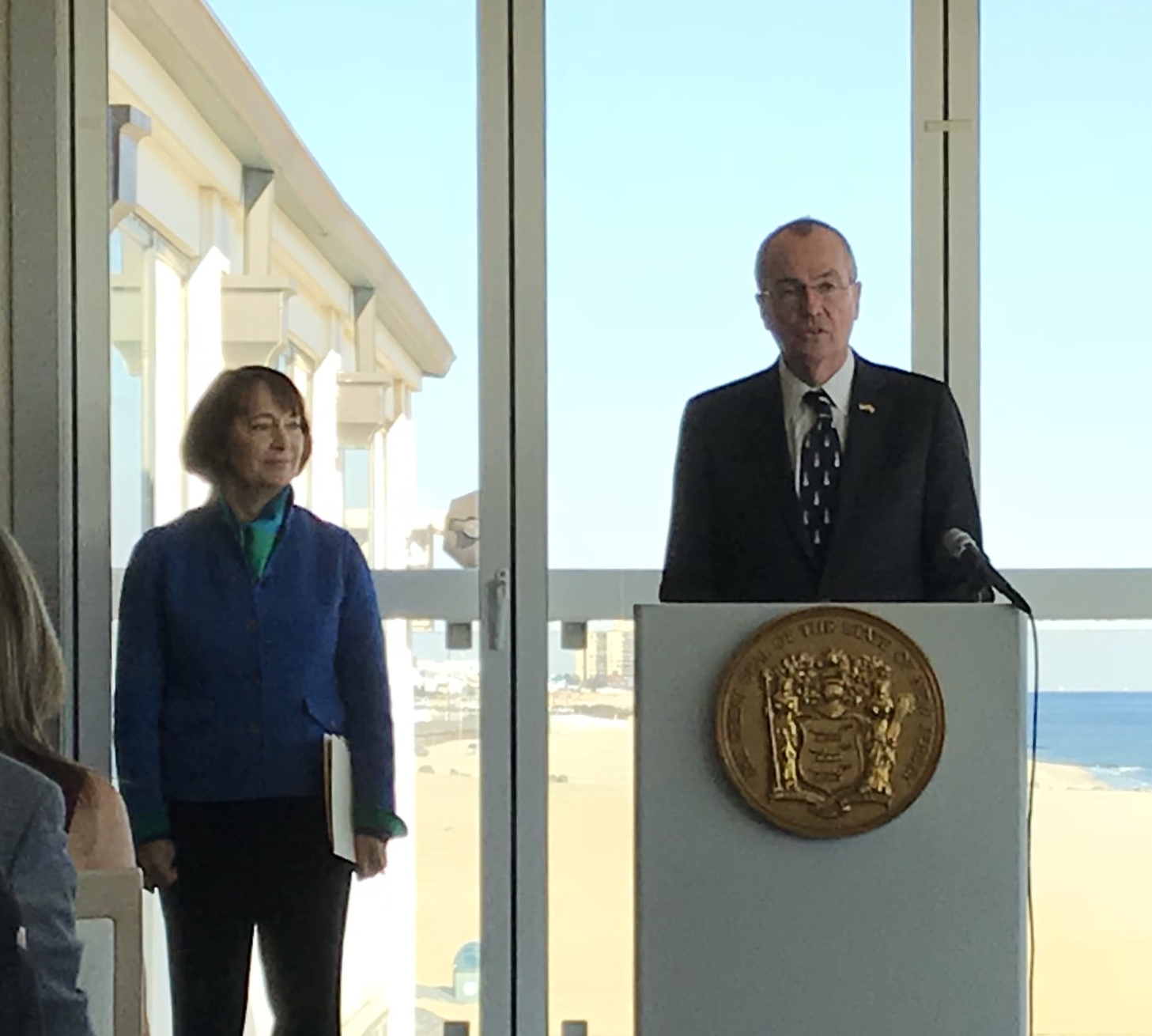 Governor-elect Phil Murphy announced Thursday that he will nominate Catherine McCabe, a top official in the Environmental Protection Agency, to be the next commissioner of New Jersey's Department of Environmental Protection.
McCabe, a former EPA acting administrator, would be in charge of managing the state's natural resources and solving pollution problems if her nomination is confirmed by the state Senate. The DEP oversees the state's conservation efforts and enforces environmental protection laws.
With the Long Branch beach as a backdrop, Murphy said he wants to tackle climate change and grow the "green energy economy" through solar and offshore wind. He said he wants New Jersey to rely completely on clean energy by 2050. And he plans to enforce "environmental justice" by ensuring clean air and water for residents.
"We will ask Catherine to step up and re-assert New Jersey's leadership on the national and global stages," Murphy said during a news conference. "We need solutions rooted in science and fact-based analysis. We need to look at good models in other states and in other countries, so we can make our own residents safer and their communities stronger."
McCabe was acting administrator of the EPA in January and February after President Trump took office. She has served as deputy assistant administrator of the EPA's Office of Enforcement and Compliance Assurance, and was both deputy and acting regional administrator of EPA's Region 2, which includes New Jersey. Prior to joining the EPA, she worked at the Department of Justice focusing on environmental issues.
"New Jersey was an early and progressive leader in environmental protection, leading the way, for example, in tackling a legacy of contaminated superfund and other sites that are left over in too many places from our industrial past," McCabe said. "It is time for New Jersey to lead again. Climate change is clearly happening."
Both Murphy and McCabe emphasized that environmental protection and economic growth can go hand-in-hand and are not mutually exclusive.
New Jersey faces other environmental challenges, such as an antiquated water infrastructure and planned natural gas pipelines through the Pinelands. Murphy said he wants better transparency on decisions related to pipelines and was subtly critical of Gov. Chris Christie appointees to boards that issue permits for the projects. "Let's make sure the umpire is not in the tank for one of the teams," he said.
Environmental groups that clashed with Christie praised Murphy's choice of McCabe.
"She's the opposite of Bob Martin," said Jeff Tittel, director of the New Jersey Sierra Club, referring to the current DEP commissioner. "She's an environmental professional who's dedicated to enforcing environmental laws." (Christie called Tittel an "idiot" on Wednesday.)
"Her many years of experience in environmental enforcement demonstrates her commitment to protecting public health and communities, not polluters and wrongdoers," said Amy Goldsmith, state director of Clean Water Action.
Murphy has rolled out several planned nominations in the last week. So far, he has picked Lieutenant Governor-elect Sheila Oliver to be the commissioner of the Department of Community Affairs; Bergen County Prosecutor Gurbir S. Grewal to be the next attorney general; Assemblywoman Liz Muoio (D-Mercer) to be state treasurer; former administrative law judge Passaic County freeholder Tahesha Way to be secretary of state; and Florida Turnpike Enterprise chief Diane Gutierrez-Scaccetti for Commissioner of Transportation.