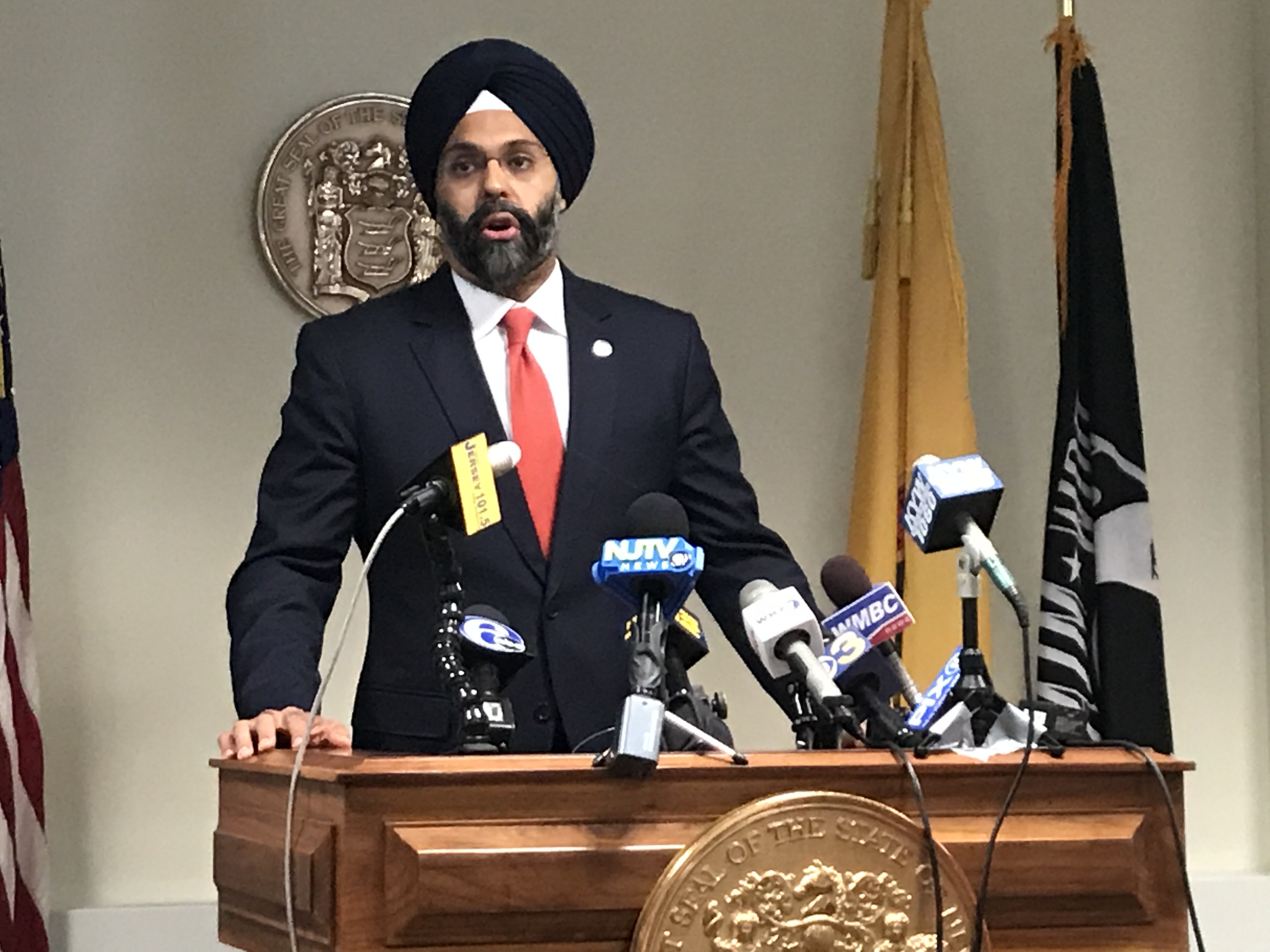 Governor-elect Phil Murphy announced Tuesday that he will nominate Bergen County Prosecutor Gurbir Grewal as the state's next attorney general.
Grewal would be the first Sikh attorney general in the United States and the first South Asian attorney general of New Jersey if his nomination is confirmed by the state Senate, as is expected. New Jersey is one of seven states that does not elect an attorney general.
"A proud son of New Jersey and of immigrants, Gurbir has committed his life to giving back to the state and nation that have given his family so much. His story is the American story," Murphy said during a news conference in Trenton. "Gurbir has excelled at every stage and he is ready to help us lead."
Grewal has served as Bergen County's chief law enforcement officer since January 2016, when he was named acting prosecutor by Gov. Chris Christie.
He was later confirmed by the state Senate and sworn into office in November 2016.
Grewal is a former federal prosecutor who led the economic crimes unit at the U.S. Attorney's Office in Newark. He was previously an assistant U.S. attorney for the Eastern District of New York.
Grewal ticked off a list of priorities he had while leading the Bergen County Prosecutor's Office, including addressing the opioid crisis, improving police and community relations, and promoting social and racial justice. He said those initiatives will also be important in the Attorney General's Office under his leadership.
"These are all initiatives that I know the governor-elect shares," Grewal said. "They are all initiatives and programs that are required to implement his vision for a safer, for a stronger, for a fairer New Jersey for all 9 million residents, and that's a vision that I share wholeheartedly."
Under Grewal, the Bergen County Prosecutor's Office found that former Wyckoff Police Chief Benjamin Fox violated state guidelines barring racial profiling in policing. Fox had sent an email that urged officers to watch out for "suspicious black people in white neighborhoods." A few months after Grewal released his findings, Fox resigned from the department.
"As someone who has experienced hate and intolerance first hand throughout my life, I wanted to work to make sure we all live in … a fair and just society," Grewal said Tuesday on why he pursued a career in public service.
In 2017, the Bergen County Prosecutor's Office declined for the second time to pursue Bridgegate-related charges against Christie, even though a municipal judge found there was probable cause to go forward with a complaint alleging Christie was aware of the September 2013 lane closures on the George Washington Bridge and could be prosecuted.
Grewal recused himself from the matter because Christie had named him acting prosecutor and nominated him for the Bergen County job.
In a statement, Christie commended Murphy for proposing Grewal to serve as the next attorney general. "Gurbir's intellect and experience is what attracted me to him and what led me to fight entrenched interests to make him Bergen County prosecutor. I am sure it is those same qualities that attracted the governor-elect to him as well. His tenure, almost without exception, has been exemplary. I am confident he has the skills necessary to be an attorney general we can be proud of in New Jersey," Christie said.
Grewal earned his undergraduate degree Georgetown University and received his law degree from the Marshall-Wythe School of Law at the College of William & Mary in 1999. He is a past president of the South Asian Bar Association of New York and a member of the New Jersey Asian Pacific American Lawyers Association.
On the campaign trail, Murphy frequently said he wanted an attorney general with a "steel backbone" who will help him stand up to President Trump's policies. Murphy has already suggested New Jersey could file a legal challenge to the proposed Republican federal tax overhaul, and has said he also wants to protect undocumented immigrants who came to the United States as children from deportation. Grewal said Tuesday that it was too early to discuss litigation priorities.
Grewal's nomination drew praise from officials across the state.
"I'm looking forward to having the opportunity to interview Mr. Grewal for this most important position in the new administration," Senate Majority Leader Loretta Weinberg (D-Bergen) said in a statement. "I think it is an excellent nomination and I think he has been a terrific prosecutor in Bergen County."
"I applaud governor-elect Murphy for today's decision to appoint Gurbir Grewal as attorney general," Bergen County Freeholder Chairwoman Tracy Zur said in a statement. "In his tenure in Bergen County, Gurbir Grewal has proven himself to be an exemplary prosecutor who commands the respect of the men and women who serve under him as well as our entire community."
Attorney General Christopher Porrino, also a Christie appointee, praised Grewal on Twitter and promised a smooth transition. "Grewal is the kind of public servant who leaves his ego at the door & does the right thing for the right reasons. He's smart, trustworthy and tenacious; qualities which will make him an extraordinarily successful AG," Porrino wrote.
Grewal is the second cabinet nomination announced by Murphy. He chose Lieutenant Governor-elect Sheila Oliver to run the Department of Community Affairs. Murphy has announced Pete Cammarano as his incoming chief of staff and Matt Platkin as his chief counsel.
The attorney general has some of the most extensive powers in state government, overseeing thousands of law enforcement officials, the state police, and all 21 county prosecutors. The office enjoys a measure of independence from the governor. According to the state constitution, the governor may dismiss the attorney general only "for cause."
Update (3:18 p.m.): Christie issued a statement praising Murphy's proposed nomination of Grewal for attorney general. His comments have been added to this story.