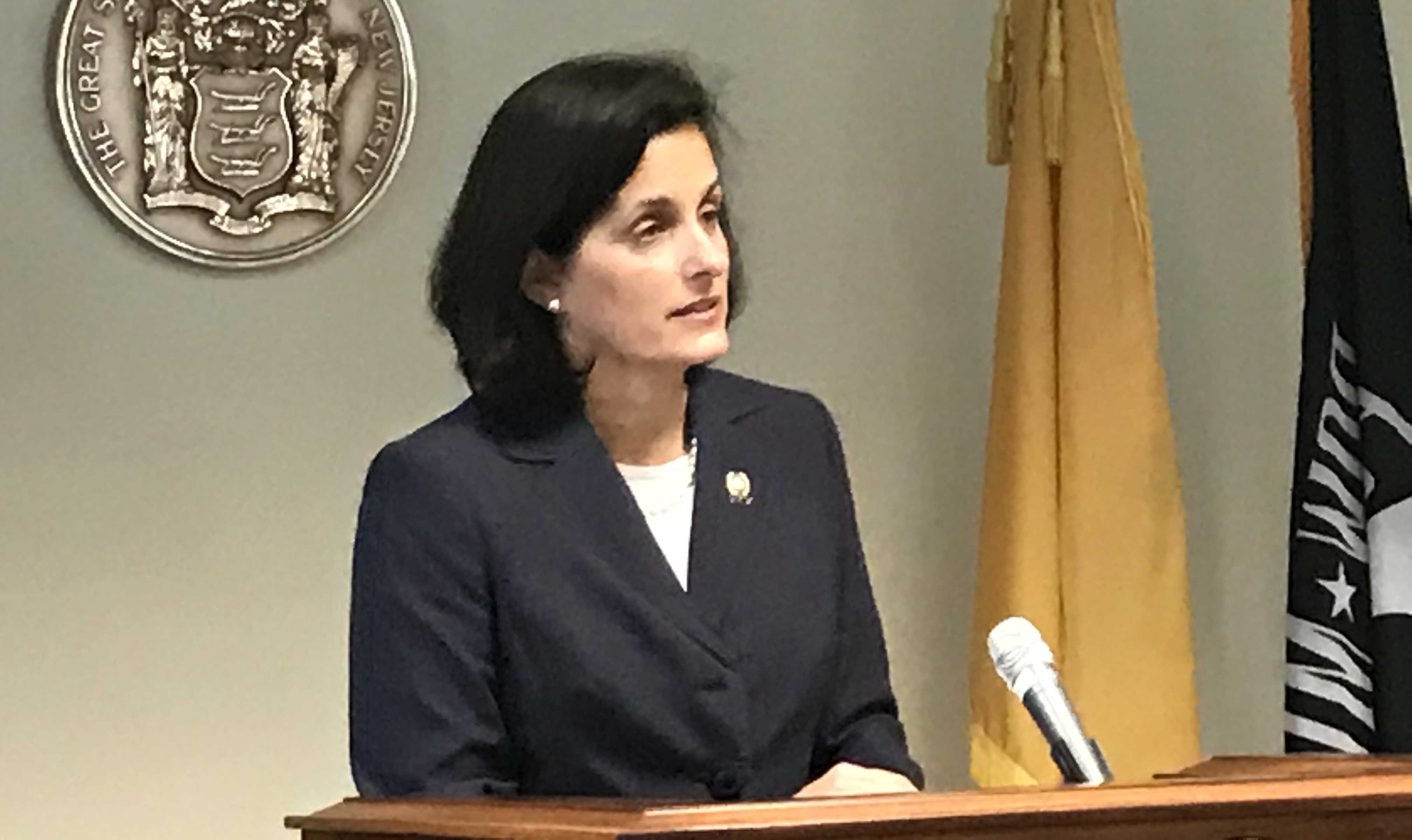 Governor-elect Phil Murphy announced Wednesday that he will nominate Assemblywoman Elizabeth Muoio to be the next state treasurer, selecting a rising star in Democratic politics for one of the toughest jobs in state government.
If confirmed by the state Senate, Muoio (D-Mercer) would oversee the state's roughly $35 billion budget and be in charge of addressing the state's cash-starved pension system. New Jersey's finances consistently rank among the worst in the nation.
Muoio, who was appointed to the Assembly in February 2015 to replace Bonnie Watson Coleman after she was elected to Congress, is a member of the Assembly's Budget, Economic Development and Judiciary committees. She's also Mercer County's director of economic development and a former chair of the Mercer County Democratic Committee.
"Liz is exactly the right person for this job," Murphy said during a news conference in Trenton. "We all know the fiscal challenges we face as a state. As a member of the Assembly Budget Committee, so does Liz. She's used her position to ask the hard questions of the current administration and advocate for those who most need the support of state government."
Muoio would be just the second woman confirmed to be New Jersey state treasurer, and the first in more than 30 years, according to Murphy. She would replace current Treasurer Ford Scudder.
Muoio's first order of business will be to prepare a state budget by the end of February, when the governor is due to propose a spending plan to the Legislature for the coming fiscal year. Murphy, a Democrat who takes office on Jan. 16, campaigned on making significant changes to the state budget, proposing more funding for schools, pensions and other liberal priorities.
The budget is the most important policy vehicle in the state as it determines which programs get funded.
"I look forward to working closely with my friends and colleagues in the Assembly and Senate to develop a fiscally responsible budget that, as the governor-elect stated, is not only balanced but holds our values in the balance," Muoio said, adding that she wants a budget that is "both fiscally responsible and progressive."
New Jersey has one of highest debt burdens in the country and has had its credit downgraded several times under Gov. Chris Christie. The state's unfunded pension liability is now roughly $90 billion, according to a Christie-appointed commission that released its final report this month. That report recommended further cuts to state workers' pension and health benefits plans, warning that without an overhaul, pension and health benefit costs will make up 26 percent of the state budget, or $10.7 billion, by 2023.
Murphy didn't get into details on how to tackle the state's pension burden on Wednesday, but again signaled that he won't be asking for concessions from public workers. He said the state has not delivered the funding it has promised to public workers' pension system for two decades.
"Recommendation number one … is the state must own up to its obligations," Murphy said. "When you've been left at the altar for 20 years in a row and somebody says, 'Listen, give me a little bit more. I promise I'll be there for you next year' — Why would you do that?"
Muoio's proposed nomination drew praise from the Communications Workers of America, New Jersey's largest state workers union. Muoio was seen as an ally of public workers while in the Assembly.
"After eight years of regressive and misguided policies from Governor Christie, the next Treasury commissioner will face many challenges in reversing course and getting New Jersey back on the right track," CWA New Jersey State Director Hetty Rosenstein said in a statement. "We are extremely happy to see Governor-elect Murphy appoint Assembly member Liz Muoio to helm the state's finances. Her thoughtful approach to public service will serve our state well."
New Jersey Chamber of Commerce President Tom Bracken said Muoio's background in economic development and in business would serve her well. "The New Jersey Chamber stands ready to work with Assemblywoman Muoio and with the new administration to help improve New Jersey's economy and make our state more competitive and more affordable," Bracken said in a statement.
Senate Budget Chairman Paul Sarlo (D-Bergen) called Muoio an "excellent selection" for state treasurer.
"She possesses a working understanding of the interrelationship of finances among the different levels of government and its impact on the lives and livelihoods of the residents of New Jersey," he said in a statement. "Her experience as chair of the Mercer County Democratic Party equips her with added political skills that are so important in moving effective policies forward."
Muoio sided with Assembly Speaker Vincent Prieto (D-Hudson) in the budget showdown that a led to a government shutdown in July. She was an initial 'yes' vote on the budget, while other Democrats withheld their votes until a deal was reached with Christie over a bill to restructure Horizon Blue Cross Blue Shield, the state's largest health insurer. Christie and Democrats ultimately agreed on a watered-down bill that didn't allow Christie to raid Horizon's reserve fund.
"Assemblywoman Muoio has been an outstanding addition to our caucus, demonstrating both a superior intellect and a commitment to smart, progressive policies," Prieto said in a statement. "While she will be sorely missed in the Legislature, she will be a tremendous asset to the new administration."