Up until today, every single one of NASA's contracted Space Station resupply missions has flown on a brand new rocket.
In what has become a landmark decision, NASA authorized SpaceX to deliver over 4,800 pounds of critical space items to the world's premiere orbital laboratory, on a rocket that has already gone to space and back. No federal mission has ever made it to space on a reused, private-sector rocket before, and today's liftoff may be sign that NASA plans to utilize more flight-proven boosters in the future. It's a huge victory for Elon Musk's SpaceX, which pioneered the reusable tech.
At 10:36 a.m. EDT Elon Musk's 17th, and potentially most important Falcon-9 launch of the season took flight from the recently refurbished Launch Complex 40, in Florida's Cape Canaveral Air Force Station. Just minutes after successfully sending their Dragon cargo capsule on a rendezvous trajectory with the Space Station, the rocket booster intelligently returned itself to Earth for a smooth landing, just miles from where it took off. This marks SpaceX's 20th landing to-date.
After Elon Musk's first ever successful Falcon-9 landing on a drone ship in the Atlantic, he remarked "We'll be successful, ironically, when it becomes boring." He added that when the public response is, "Oh yeah, another landing, no news there," then SpaceX will have achieved its goals.
In addition to the booster, SpaceX also employed a reused cargo capsule that previously flew supplies to the Space Station in April of 2015, potentially making this one of the most efficient cargo launches to have ever seen service. Flight proven boosters and capsules have been re-flown before, however this mission is notably the first time a used booster has flown in conjunction with a used capsule. This event makes SpaceX the first entity to build, launch, land and reuse their own rocket boosters, and cargo capsules together. SpaceX's Jessica Jensen, director of Dragon mission management, also noted during a prelaunch broadcast on December 11 that they have up to seven active Dragon capsules on reserve that can be prepared for service, or used for parts if needed.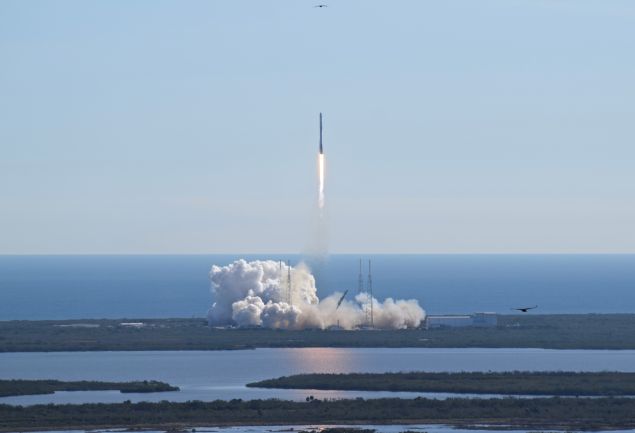 This is SpaceX's 13th contracted mission to deliver supplies to the International Space Station for NASA, with seven more remaining in their Commercial Resupply Services agreement, which is estimated to value over $2 billion dollars. NASA declined to release total flight costs for this mission when questioned, claiming it to be "Proprietary information." Yet with a reused rocket and capsule, the mission's price tag is assumed to be much cheaper than their status quo.
Packed among the cargo are the materials for a multitude of investigations, which intend to study how plants respond in microgravity, the accuracy of a device for diabetes management and the impact and effect of space debris, among others.
When asked what kind of edge reusability gives SpaceX above its competitors during a post launch conference in 2016, Elon Musk commented that "The cost to refuel our rocket is only $200,000 to $300,000 dollars, but the cost of the rocket itself is $60 million." A substantial saving, indeed. He continued, "It's really quite fundamental. If you've got a rocket that can be fully and rapidly reused, it's somewhere in the order of 100-fold cost reduction—in marginal costs."
Space travel is known to be prohibitively expensive, yet SpaceX's recent accomplishments, and anticipated trajectory are on track to combat the two largest restrictions behind orbital launches: price, and cadence.
Thaddeus Cesari is a Photojournalist, Commercial Videographer, and Newspaper Columnist with a passion for aerospace. When not filming, or reporting on rocket launches from inside NASA's Kennedy Space Center, Thaddeus can be found mountaineering, practicing photography, and helping communicate science by creating documentary short videos.